Chefs celebrate the cuisine of their homelands in new event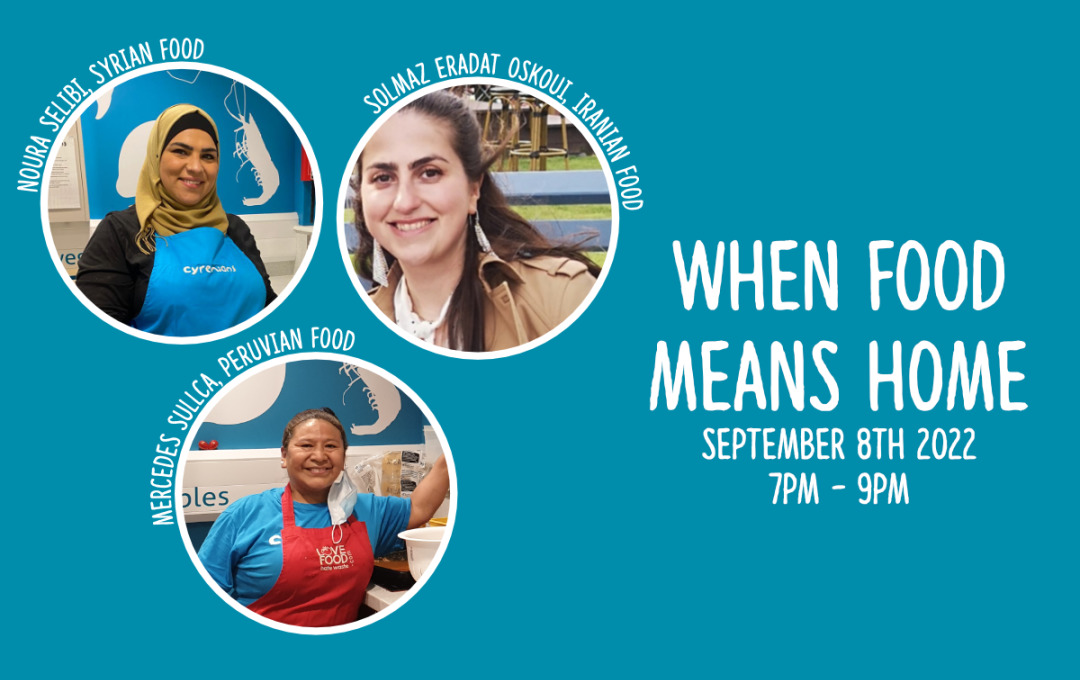 The Edinburgh branch of the global grassroots organisation 'Slow Food', partners with Cyrenians for a new event, 'When Food Means Home' sharing the delicious cuisines of three different countries.
The Edinburgh-based charity Cyrenians, which tackles the causes and consequences of homelessness, has in the past held popular events such as their sell-out Syrian Supper Clubs, and masterclasses with local culinary talent such as Larah Bross, owner of Bross Bagels.
Their new event in partnership with Slow Food Edinburgh, a not-for-profit seeking to promote a better way to eat, celebrate the rich food traditions of the different nations that make up the UK, and protect edible biodiversity, is inspired by the themes of food, comfort and nostalgia. The event celebrates the foods of Iran, Syria and Peru through the skills, knowledge and cultural identity of three fantastic chefs, Solmaz Eradat Oskoui, Noura Selibi and Mercedes Sullca.
The evening will involve each chef preparing three dishes from their respective homelands as a way of expressing why, for them, food means home. Not only will attendees enjoy delicious food, but the event will also provide them with the opportunity to meet new people and learn about the chefs, their food journeys and the history surrounding the dishes.
Lucia Ortisi, Slow Food Edinburgh, said: "For many of us, home is a familiar street, a friendly neighbourhood, and a peaceful environment in which you can grow up and discover yourself. But when home isn't there anymore, and you find yourself in a new place with a new life, food from home is able to bring back wonderful memories, full of the flavours and faces that we love
"But food from home is also about communication. It can tell your story to others. It can define your place in the world, right now, combining old and new in eloquent ways. 
"That's because food from home is nourishment in every sense of the word. And that is what Slow Food and Cyrenians have come together to celebrate."
Solmaz Erdat Oskoui, who has previously held Persian cuisine masterclasses at the Cyrenian's Flavour and Haver cook school, will be sharing the cuisine of Iran on the night. "Sharing food is a way of connecting and bringing people from all walks of life together. Some of my best memories from my childhood in Iran are centred around sharing food with my family and friends and creating lasting memories.
"I hope through this experience of sharing some of my favourite recipes and adding an infusion of my Scottish roots, it will be a great evening of bringing people together."
Noura Selibi, who has hosted the sell-out Syrian Supper Clubs, will be sharing the cuisine of Syria. "For the past ten years, many refugees began to work on building a new life in asylum, as each of us took our own way to overcome it, but the most important thing that accompanied many refugees were to bring some details from their motherland to their new life as a kind of nostalgia or clinging to the past. I am one of those refugees. I remember a lot about our tradition and try to teach it to my children, including the dishes of my mother and my aunts, every day and every beautiful occasion, to feel that I still have something from my county, my home, my family, and the beautiful gatherings with family, friends and neighbours.
"I would like to present to you the most delicious dishes that I can cook for this beautiful occasion, filled with love and all the beautiful memories."
Tickets are available for the event being held at Coffee Saints on September 8th from 7pm - 9pm.