At Cyrenians we tackle the causes and consequences of homelessness. We understand that there are many routes into homelessness, and that there is no 'one size fits all' approach to supporting people towards more positive and stable futures. That's why all our work is values-led and relationships-based.
We meet people where they are, and support them towards where they want to be.
Our organisation was created in 1968 by a group of students angry and disillusioned at the way people experiencing homelessness were treated. They developed a residential community model where volunteers live alongside those who had been street homeless; reflecting the newly formed Cyrenians movement which had grown out of the Simon Communities approach.
It was at this community that our values-led approach was developed, which remains at the heart of our working ethos today.
We have come a long way from those humble beginnings, with over 50 projects all working towards our vision of an inclusive society in which we all have the opportunity to live valued and fulfilling lives. Our mission to support people excluded from family, home, work, and community enables us to engage with people at any point on their life journey.
Our values
Our way of working is built around our four values:
Compassion: We believe that everyone should have the chance to change, no matter how long that might take.
Respect: We believe in tolerance, acceptance, valuing diversity and treating each other as equals.
Integrity: We are committed to the highest quality of work, grounded in honesty, generosity, sincerity and professionalism.
Innovation: We are willing to take risks, challenge convention and be creative in our search for new ways of working, in particular by taking account of the environmental impact of our decisions.
Our person-centred work is always evolving; reflecting and supporting the changes we see within the community on both a local and national scale. We are proud of what we have achieved over the last 50+ years and are incredibly grateful for every individual, business and organisation that has joined us in our journey.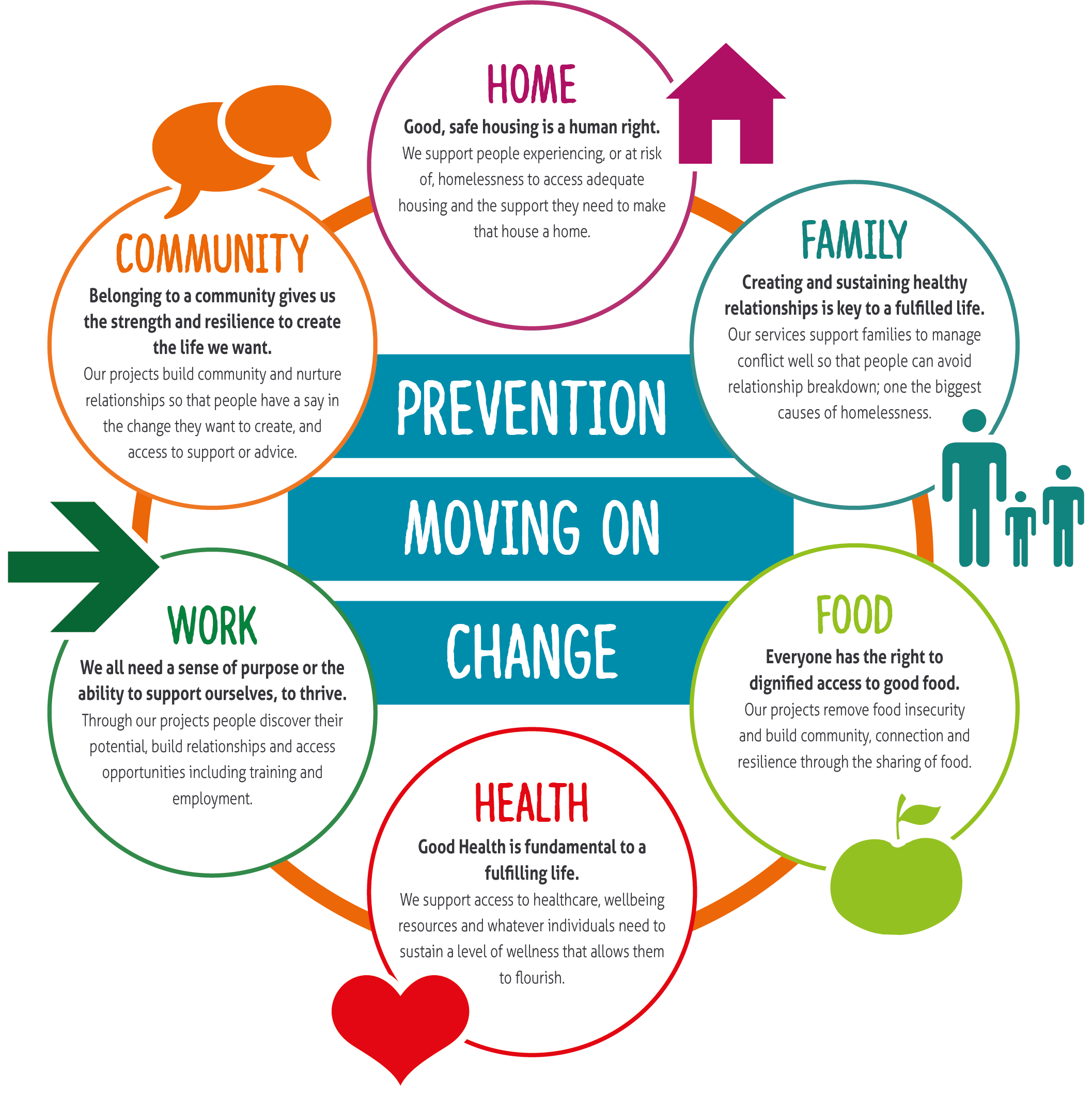 If you'd like to find out more about our work visit "how we help" to find out more about our different projects.