Community Hospital Garden celebrates a decade of innovation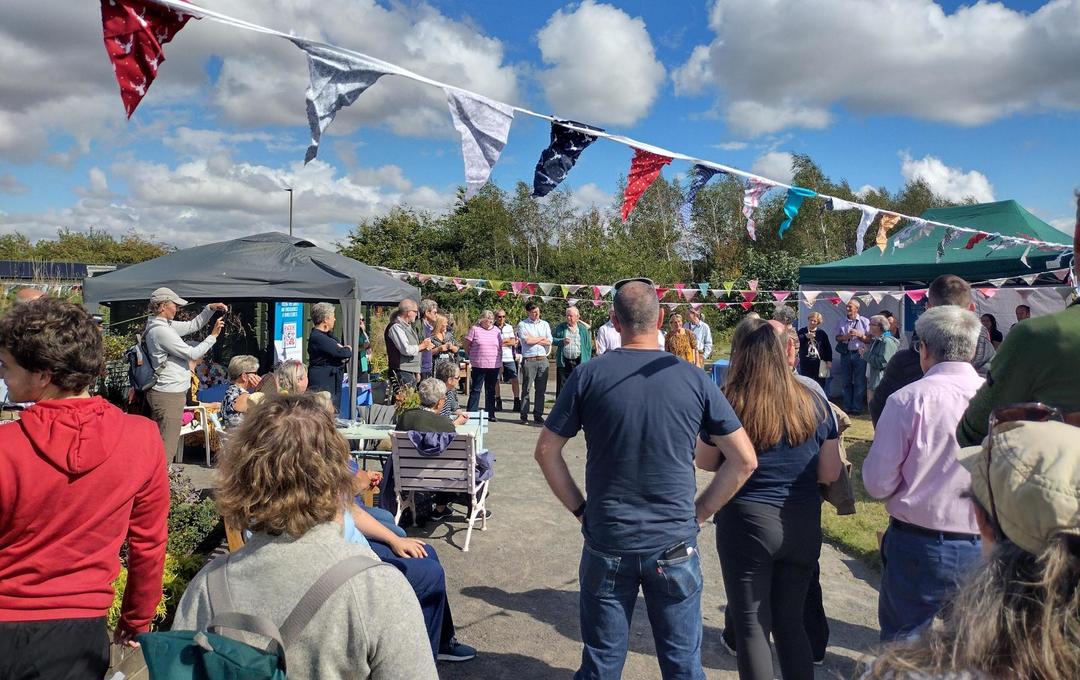 Staff, patients and volunteers at the Midlothian Community Hospital, Bonnyrigg, yesterday gathered to celebrate the tenth anniversary of the Cyrenians Community Hospital Garden.
The garden, which opened in 2012 following the great success of the first Cyrenians hospital garden at the Royal Edinburgh, is designed to offer everyone – staff, patients, and the local community – a welcoming and supportive green space that promotes community and wellbeing.
Set up in partnership with NHS Scotland, the Cyrenians Community Garden is set in the grounds of Midlothian Community hospital, which specialises in care for elderly patients dealing with mental health issues. Since opening a decade ago, the activities available at the garden for volunteers and visitors have expanded hugely, offering education, exercise, purpose and community to everyone who needs them.
The community garden, which is planted and maintained by a wide range of volunteers from the hospital and surrounding community, provides a community growing space which is accessible and supportive, and allows volunteers to work and build community in a way which suits them. As one volunteer said,
"The best thing about being here is the support network. If someone's not having a good day – you know, for whatever reason – we're all here to take a load off and support them"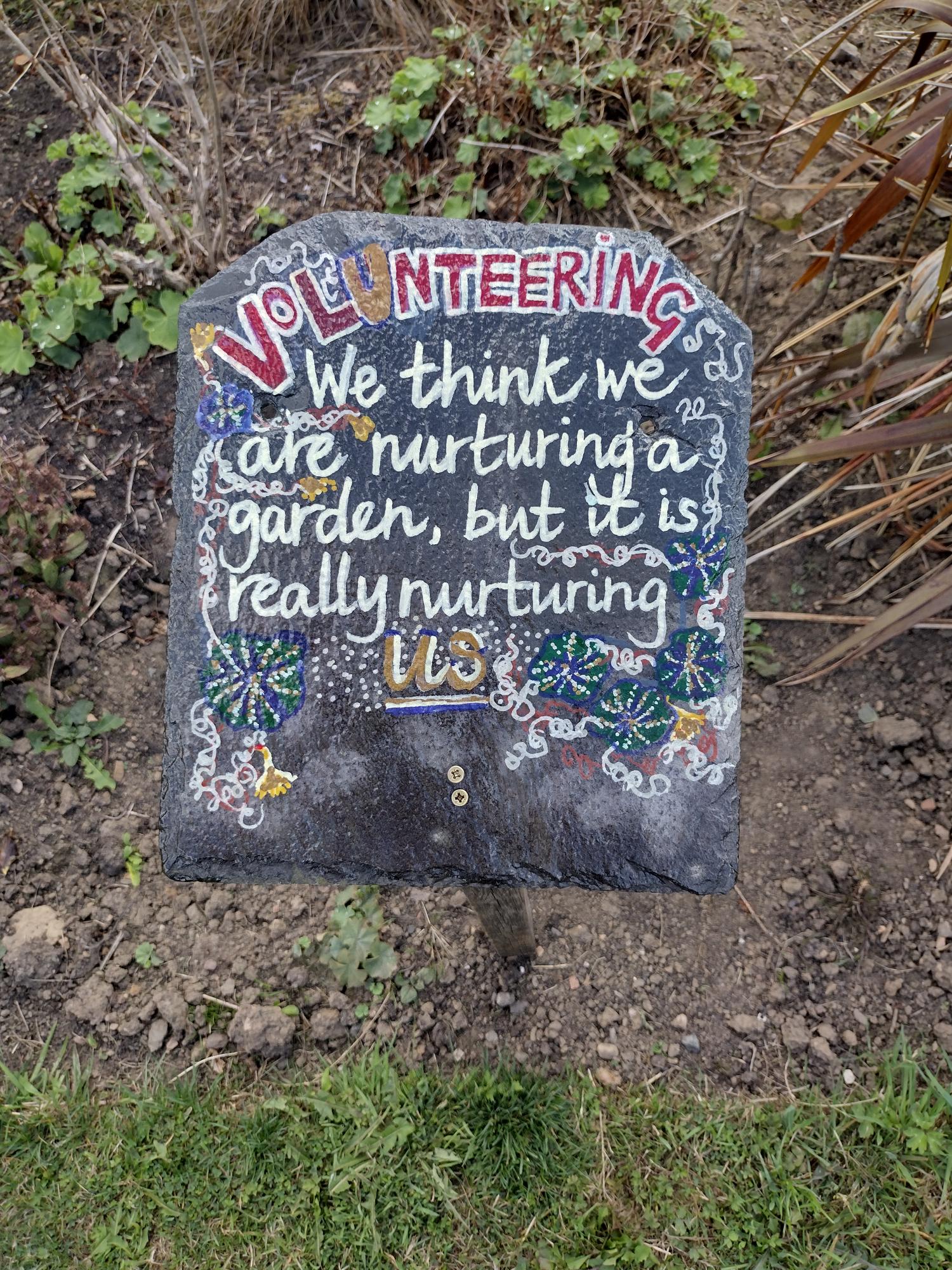 The garden provides an opportunity for patients to build connections in the local community, helping prevent the isolation and social exclusion that often leadscontributes to a higher rates of homelessness among those leaving hospital. And, being open to all, it is also a space for local residents to look after their own mental health and gain the benefits of green space.
Whether it's being used as a community growing space, a venue for horticultural learning, a source of "green prescribing", or just somewhere for staff and patients to stretch their legs and eat lunch in the sun, the Cyrenians Community Hospital Garden has become a central hub for the hospital and its surrounding community – as evidenced by photos collated by Cyrenians staff, which showed the rich and varied life of the garden over the past decade.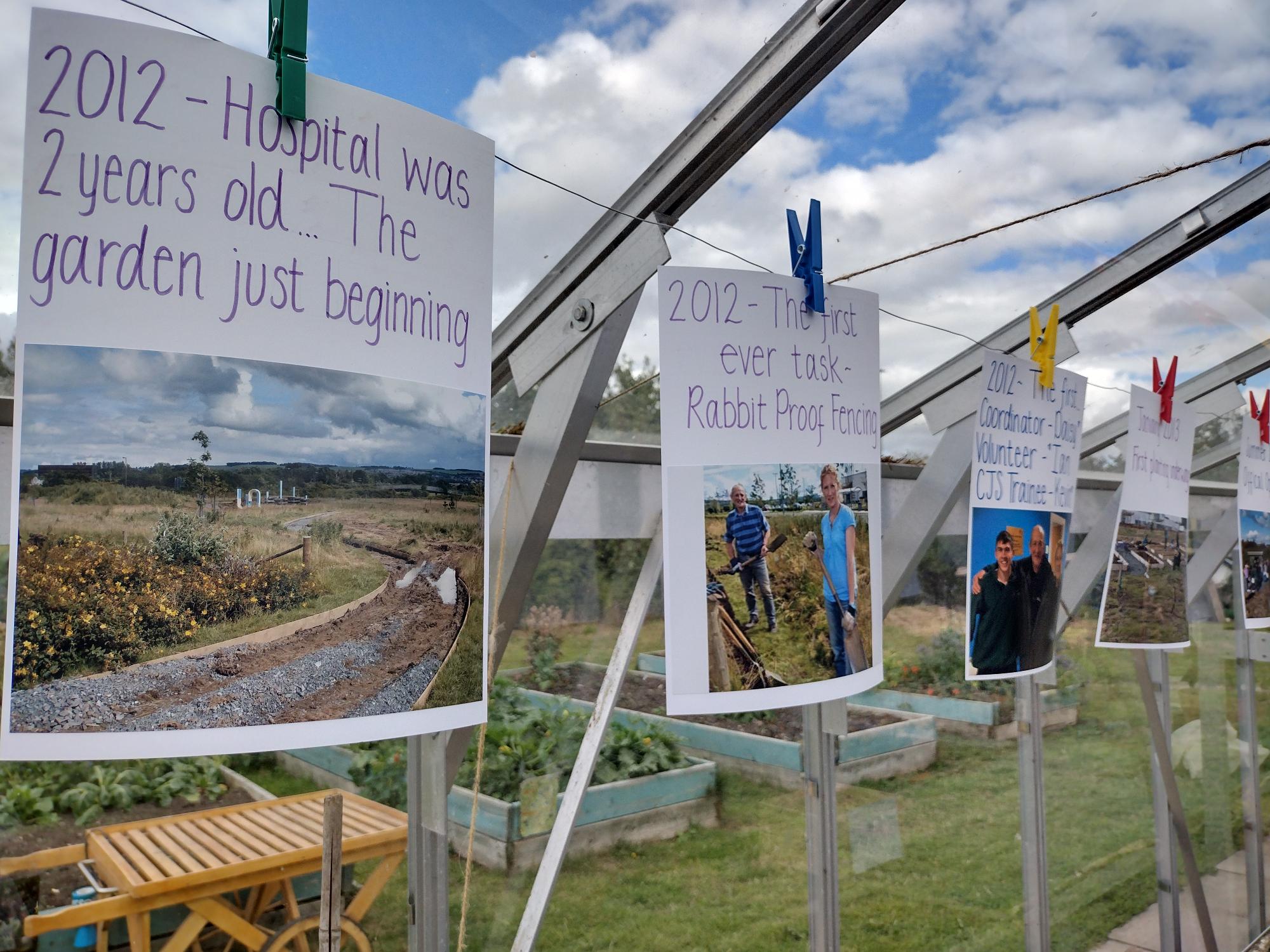 These photos were exhibited at yesterday's event, where past and present volunteers joined Cyrenians and NHS staff to celebrate the role of the community in building this shared green space. Speakers shared stories, poetry and their experiences in the garden over the last decade.
Volunteers and visitors also shared their own experiences of the garden via notes hung on trees and plants, telling readers what the garden has meant to them.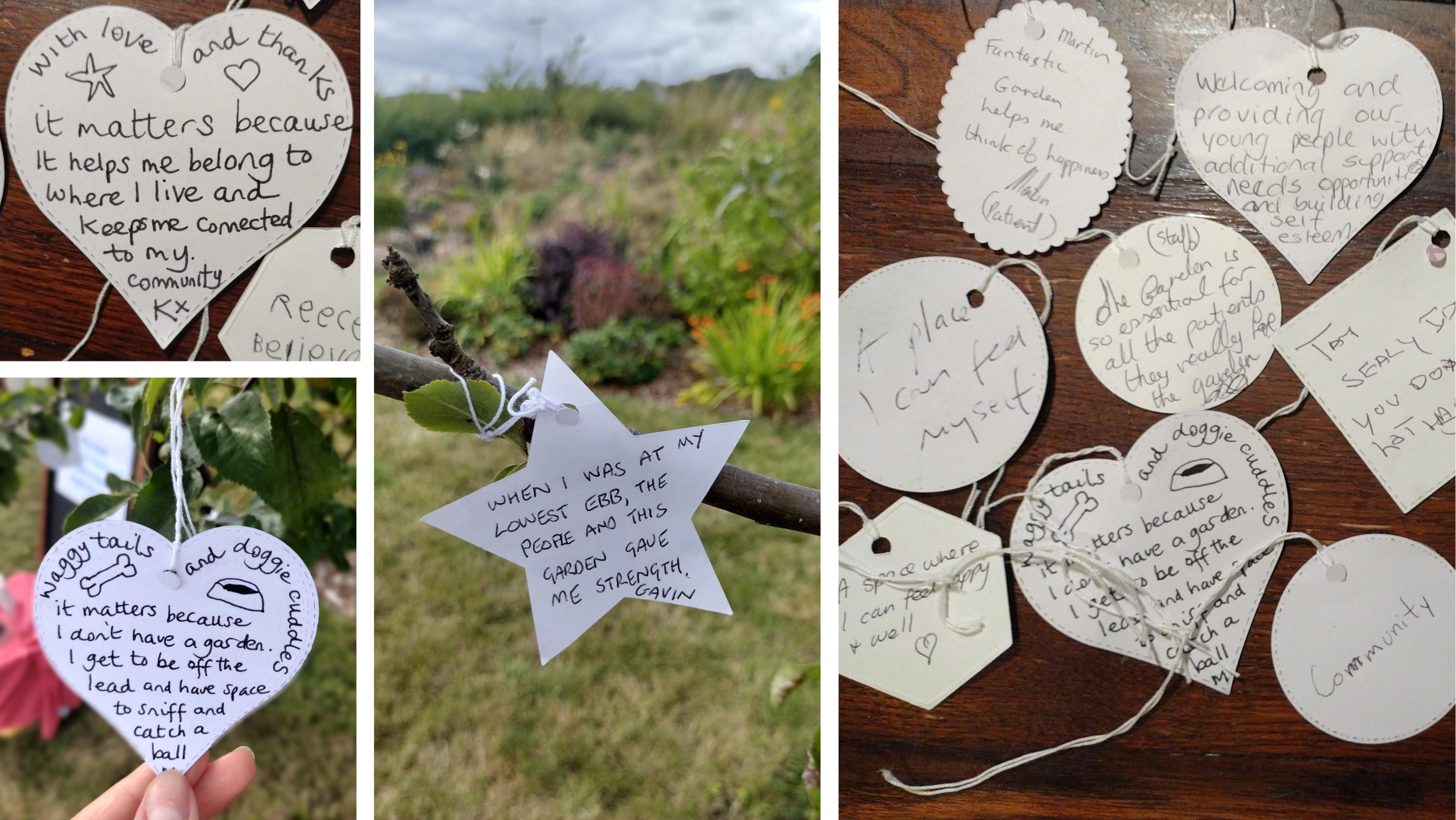 And while the garden has grown and flourished over the last decade – being particularly important as an open green space for patients and staff to use during the recent pandemic – it continues to develop, offering more opportunities, from heritage growing to its community food forest, for people to build up their happiness, health and wellbeing with Cyrenians' support. As one speaker said at yesterday's event,
"This is what this Garden does for people. It grows people, it makes them blossom."
Join our family
Volunteer with us!
We celebrated a decade of volunteers at this event - and you could join our "extended family" of volunteers, from gardening to cooking to chatting to deliveries. Browse our huge range of opportunities below.
Find volunteering opportunities