Growing resilience in the Community Gardens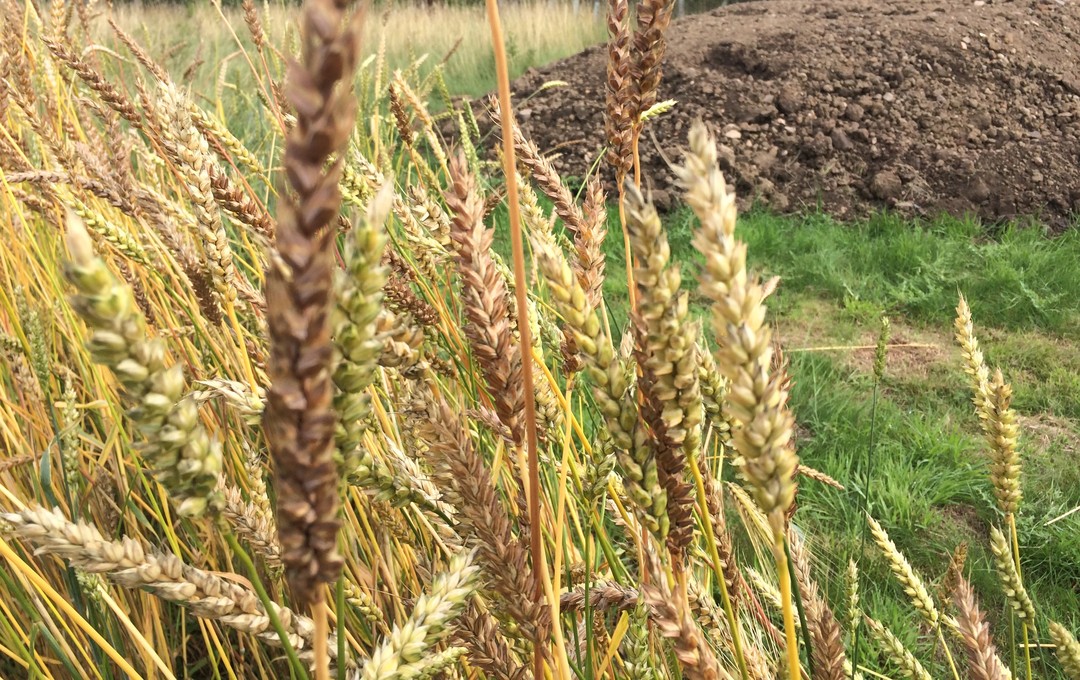 Our Community Hospital Garden projects provide huge therapeutic and community wellbeing benefits - but could they also be a site to relearn sustainable skills? Garden coordinator Michala Bradshaw explores an exciting new crop - and what it can teach us about resilience.
In spring 2018, Scotland the Bread provided 500g of 'Fulltofta' wheat seed and instructions on how to prepare and sow it. We were taking part in their Soil to Slice project, where community growing spaces try growing cereals. Following their clear instruction, we drizzled the seed with vinegar to reduce the risk of fungus, sowed the seed and raked it in. Other than popping a net on it, we left nature to do the rest!
Only a week or so later the first shoots appeared. Long, bright, green and grassy, the wheat was on its way! Over the summer we did very little to nurture it - with too large a bed to water, and limited water on site, we just had to leave it to it.
Luckily the wheat just kept on growing, and seed heads started to form and swell. We were delighted. But on a closer look, the wheat looked different. The wheat was tall for a start - well, some of it, other stems were quite short. In fact, it was all different heights, and on a closer look all of the seed heads varied a lot too. Some had the wee hairs or awns coming off them like the wheat in the farmers fields, but some didn't. And the colours too - as it started to ripen some changed colour quickly to golden, some stayed green and some were more bronze, almost mahogany. And so we started to worry.
Scotland the Bread have been wonderful, filling in the blanks and answering our questions on the unusual wheat that we are growing. It is by no means the same monocrop wheat which is grown in the fields surrounding us and it is very good that it is different. What we have is heritage wheat - very old seeds collected many years ago from crops which were once the norm in the farmers fields.
What's so special about this wheat is its diversity. The reason for the differences in height, colour and texture is down to every seed which is planted having a slightly different genetic make-up to the one next to it. And this diversity gives it strength and resilience. If this crop is hit by a disease then only some of the crop might fail but not all of it. If the crop comes under stress, if it's too cold, wet, dry etc, then some might fail but not all of it.
For the last three years we have been replanting the wheat seeds which we have produced in the garden, carefully selecting the best seed heads from that season's growth - the seed heads which look the most uniform, have the largest number of seeds present per stem and where the seeds have swelled evenly. These seeds are then stored for next year and the remainder is threshed and milled to make our very own flour for cooking in the garden.
For us, seed saving is a new way of growing, but in fact, up until 50 years ago, seed saving was how most crops were grown. Growers would select the best seed for next years planting and eat the rest. Every grower had their very own version of the crops grown locally because they selected the seed themselves and it adapted to the growing conditions of their particular site. These individual varieties were known as 'land races' and every grower had their own.
Inspired by this project, we are starting to learn about saving seeds from other crops too. Over time, we hope, by selecting our own seeds, other crops will adapt to our local conditions, creating our very own 'land races' of wheat and of other crops too.
With climate change being so prevalent, there has never been a more important time to embed these skills into our horticultural tool box. As water and warmth are becoming more and more unpredictable, we hope, by replanting the best seeds from our very own crops, then our crops will develop a strength to thrive in the garden and adapt to our local climate as it changes around us.
The way we've let the wheat adapt to its surroundings is a potent reminder of something we live by at Cyrenians - in sowing and in support, a one-size-fits-all approach might be simpler, but it isn't always better. If instead we choose what works best for individual circumstances, we can help build lasting resilience to weather whatever storms come.