Cyrenians recognised at the Inspiring Volunteer Awards 2021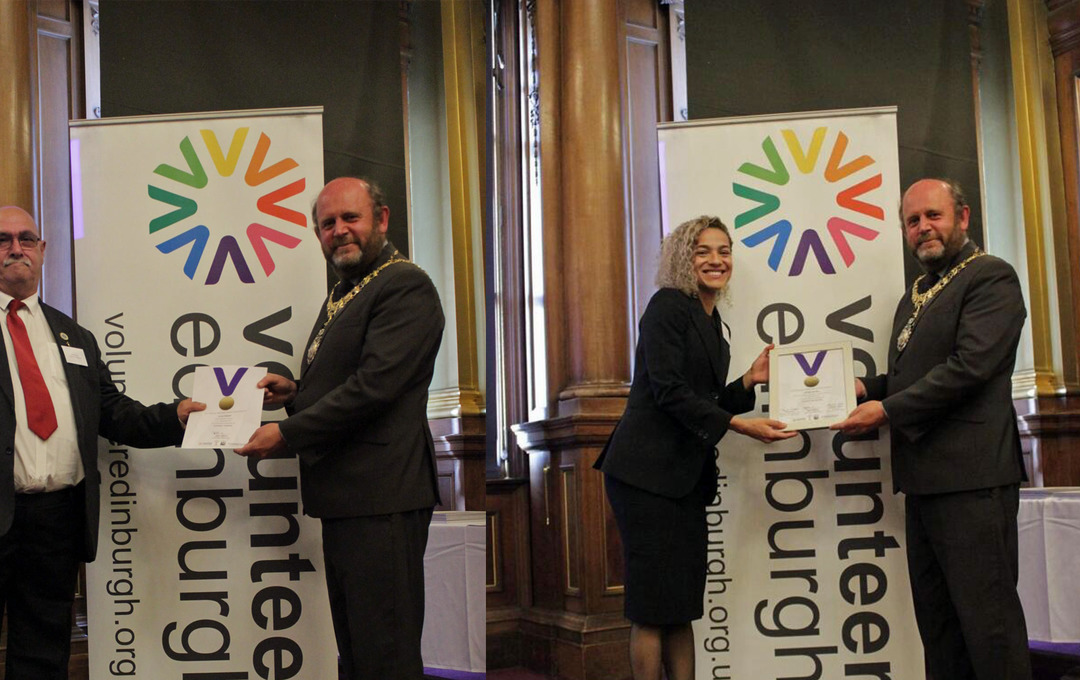 We are happy to share that our volunteers at Cyrenians have been recognised and awarded for their hard work during the pandemic at Volunteer Edinburgh's Inspiring Volunteer Awards.
The Inspiring Volunteer Awards has been a yearly event for the past 15 years, looking to showcase and reflect the exceptional range of organisations and individuals working in the city's vibrant charity and non-profit sectors. The special ceremony took place at the City Chambers on Wednesday 1st September. This year Cyrenians had nominations in the following categories: Individual Awards, Team Awards and Special Recognition Awards.
Jocky Stewart, a volunteer driver and cook at our FareShare Depot was awarded the Individual Award for his outstanding efforts during the last 18 months in the thick of the pandemic. Delivering much needed food to our Community Food Members, coordinating other drivers and cooking hot meals for our volunteer team a few times a week. A long-standing volunteer, Jocky has been the beating heart of the depot. He's always incredibly upbeat, helpful and very welcoming to new volunteers joining our team. He also shows great creativity with his menus and recipes, always being mindful of dietary needs.
"I enjoy meeting lots of folk, and just finding out what I can do and what they need. The past year, we've delivered more food than ever. There's a lot of communities out there that are under a lot of pressure, and we need to do all we can to make it easier for folk. I feel like the work we do has a real impact, and am proud to do it."
Our Communities Residential Volunteers were awarded the Team Award. Covid has been a tough time for us all but for some it has meant little or no access to key support networks and services. Cyrenians community residential volunteers have been key in our residential communities in keeping our residents safe and occupied. Many residents have learning difficulties and mental health conditions and volunteers have given their time selflessly in promoting a stimulating environment in
trying circumstances, often foregoing holidays, family Christmases in the process.
Finally, Priscilla Da Silva received the Special Recognition Award for Arts, Culture and Heritage. Pre-Covid, Priscilla helped make the Syrian supper clubs the success they were by volunteering many hours at them. Over the past year and a half, she has volunteered over 150 hours making meals, packing meals, and, once we moved on from food production, making recipe bags up for the schools we work with. At their busiest, Cyrenians Food Education were making 5500 meals a week. Without food heroes such as Priscilla, none of what we have achieved would have been possible, and we are so pleased that her efforts have been recognised and rewarded.
We are incredibly proud of the work our 1,147 volunteers did this past year. The work we do would not be possible without your help and support. Thank you.
If you are interested in volunteering with our organisation, please look into our Volunteering Opportunities. Our impact report is also available to view, to see the outstanding impact our organisation had this past year.