Virtual Visitor Centres tackle digital access issues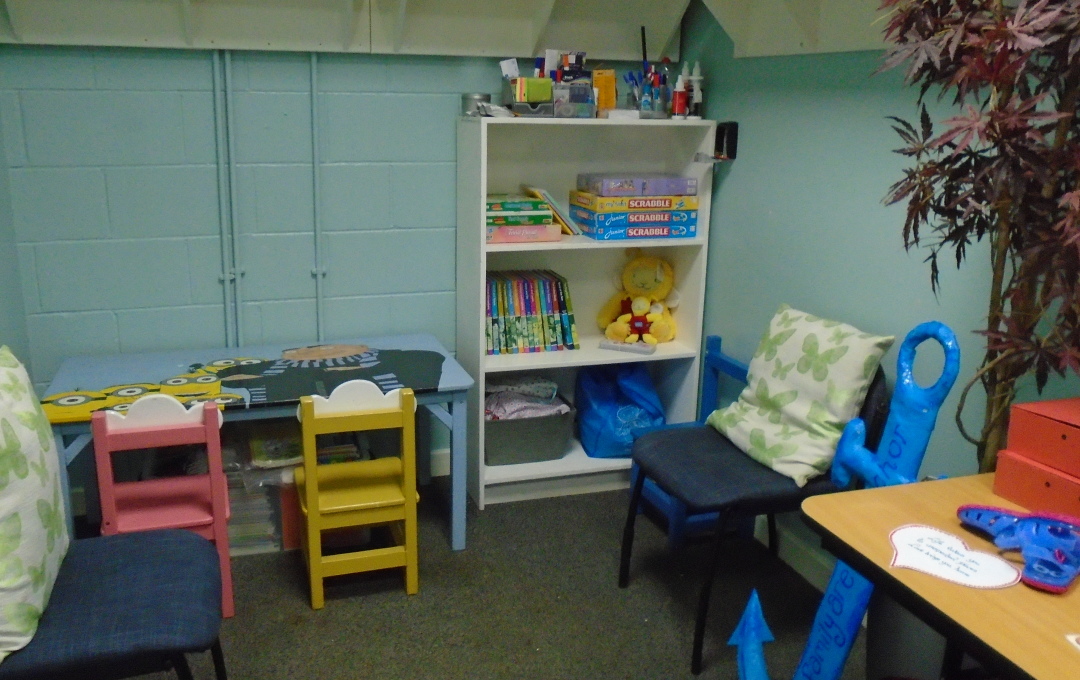 Our visitor centre at HMP Addiewell recently installed a virtual visit suite which will allow families in West Lothian and surrounding areas to have a virtual visit with their loved one in other prisons. We are on hand to support families affected by imprisonment at every stage of their journey, whether they're visiting in person or online.
Covid-19 has had a devastating impact on the families and loved ones of those in prison, especially those with children. For months at a time during the pandemic, people have only been able to speak over the phone for a few minutes. Even when in-person visits have been possible, travel restrictions have taken a toll, since the vast majority of those in prison have family and roots outside the area where they're incarcerated – for example, most of those who come through our visitor centre in Addiewell live in and around Glasgow and Lanarkshire - and even now that moving between regions is allowed, many people still feel unsafe taking public transport long distances.
In July 2020, Scottish prisons introduced "virtual visits," allowing families to speak with their loved ones in prison via video chat. This has made a huge difference for a lot of people around Scotland who haven't been able to keep in regular contact with their loved ones during the pandemic.
For small children in particular, whose lives are already often massively disrupted by their loved one's incarceration, regular face to face contact can be vital for maintaining meaningful relationships with their loved one. Having space to spend face to face time with their parents has a positive effect on children's development and helps break out of a generational cycle of trauma. And on their loved one's part, people in prison who have the chance to keep positive contact with their family during their time in prison are much less likely to reoffend following release than those who lose contact.
Virtual visits have been a gamechanger for many families. But there have also been ongoing barriers for a lot of those who would most benefit from them. The families of people in prison are much more likely to experience poverty and financial turmoil, and that can put the tech and bandwidth to have a decent digital visit out of reach.
There's also the issue of privacy. Visiting a loved one in prison can be an emotional and challenging experience at the best of times, and it's a very vulnerable time for a lot of people. That's one of the most important functions of visitor centres like ours – to give people a safe, supportive space to manage the often overwhelming feelings before and after visits. But during the last year, a lot of people have had to have these very emotional and vulnerable conversations in public spaces or shared houses, without the privacy and safety to prepare or to put themselves back together after a difficult visit.
Virtual visitor centres, like ours at Addiewell, now exist in all prison visitor centres in Scotland. These rooms, which sit in the publicly-accessible part of the prison visitor centre, provide a private space with stable internet and appropriate tech for visitors from the area to call loved ones in any prison in Scotland.
Vice-Chair of the National Prison Visitor Centre Steering Group, Professor Nancy Loucks, said;
"The introduction of virtual visits was hugely welcome, however, it has been recognised that there are barriers to access, and a number of families have still struggled to access prison visits."
"This new service available to families at Visitors' Centres will help to increase access to virtual prison visits....family contact improves outcomes for both those in prison and their families, reinforcing the importance of widening access to virtual prison visits in both the short- and long-term."
The virtual centre also means that people visiting virtually have access to the same direct support as they would if they were visiting in person. In the Visitor Centre, we are able to provide on-the-spot support both emotionally and practically, helping connect people to services they need and giving them support in the moment.
We're really proud to be able to offer supportive, safe spaces, not just to the families of prisoners in Addiewell but now to the families and loved ones of people held in prisons around the country. The virtual visitor centre helps us connect people with their loved ones and with the support they and their families need throughout these difficult times and beyond.
Find your nearest virtual visit suite here.
To contact our team at HMP Addiewell visitor centre by phone on 01506 874500 ext 3914, or via visitorcentre@cyrenians.scot
Support our work
Donate to us
Your donations help us build support for families in crisis, including building our work at Addiewell and beyond.
Support us