Working towards More Homes for Good Health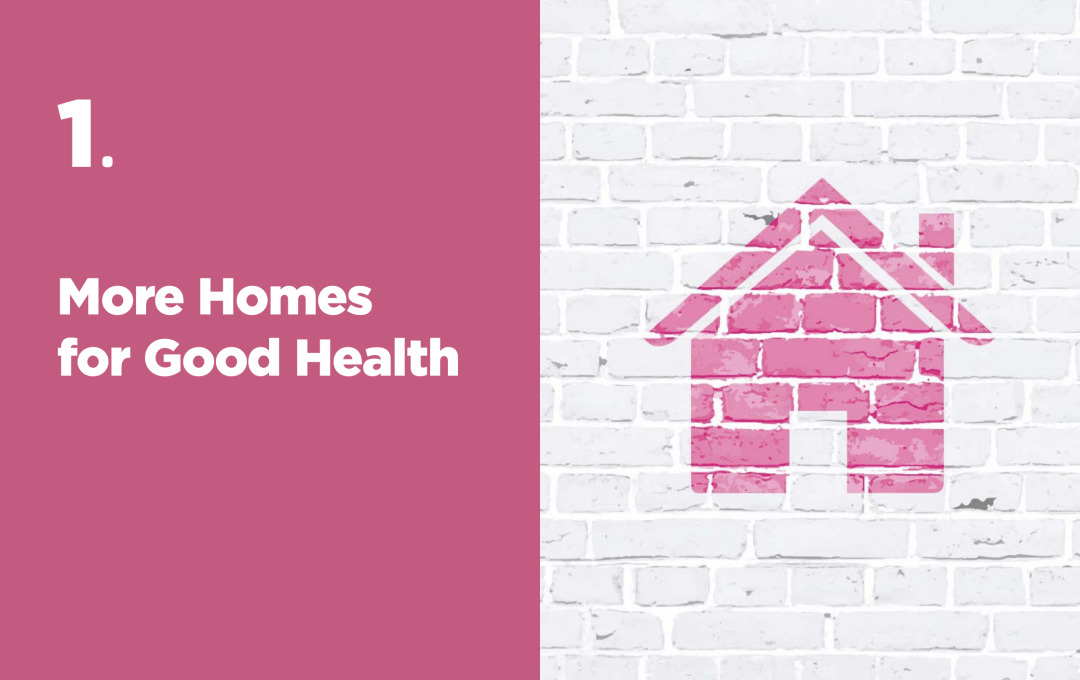 What does "More Homes for Good Health" mean?
As part of our new blog series exploring the ideas and application of Everyone Home's Platform for Change 2022, Cyrenians CEO Ewan Aitken explains the idea behind More Homes for Good Health
During the pandemic, 35 organisations across Scotland formed Everyone Home. At the heart of Everyone Home is the idea that we can do things differently – building on an emergency response that treated homelessness as the public health crisis it is, we want to tackle the scale and impacts of homelessness through our combined knowledge and experience.
In January, Everyone Home published its Platform for Change 2022, laying out three key measures to build towards a future where nobody has to face lasting homelessness – More Homes for Good Health, No Return To Rough Sleeping, and No Evictions Into Homelessness.
This is the first of three blogs exploring these themes and how they inform our work. Today, we're going to discuss how our housing approach promotes More Homes for Good Health – but what does that actually mean?
People need affordable homes that meet their individual needs. We need to invest in the right kinds of homes, set at the heart of communities. For some people, what's needed is communal housing with on-site support, and that should always be an accessible option.
Both locally and nationally, the public sector needs to recognise and prioritise its duty to prevent homelessness through a rights-based system that addresses inequality and makes sure everyone has access to the knowledge and resources to make sure their rights are upheld. Change also means investing and planning around affordable and social housing across Scotland and making sure we're providing consistent, easy to access, lasting support.
When housing is affordable, tenants' rights are protected, and people have access to tailored support that recognises how different risk can look for different people, far fewer are likely to face homelessness. If you do face homelessness, rapid rehousing and ongoing support should be there to help get to a lasting home as soon as possible.
How does our work live out this principle?
Amy Hutton, our Director of Services, describes how these ideas are upheld and developed by our Housing First work and Communities.
At Cyrenians, we recognise that a home can come in many forms. But whatever it looks like, we believe everyone needs a place where they feel safe, welcome, and able to be themselves without fear.
For some, such as those who we have the privilege of supporting through Housing First, this will mean finding a permanent home of their own, often after months, years or decades of moving from unstable situation to unstable situation. Through our partnerships delivering Housing First in both the Scottish Borders and West Lothian, we have had the chance to see first-hand the difference the security of a home brings. Knowing where you are going to be day to day allows people to think and make plans for their future, to put down roots and invest in relationships. We also get to see how a good quality, relationship-based support can be crucial to building up trust, resilience and safety during these transitions.
For others, a home might not be a place of their own. And that should be ok. For many people in vulnerable situations, being asked to live alone and manage without support can feel overwhelming, unsafe or isolating. Our residential communities provide a home for people who recognise that for them, at least at this moment in their lives, the support and community of others is what they need to achieve a sense of safety and wellbeing. That support may come from staff, from housemates, from those that live in shared communities, even via technology. Regardless of whether this is short-term or for an extended period, the sense of home can and should be core to the provision of any accommodation.
For over 50 years, Cyrenians has worked to build relationship-led support that meets people where they are, and that means making room for many different types of homes. What we offer is led by what people need – what will allow them, at the point they're at in their lives, to build the trust, safety and stability that makes a home.
The 2022 Platform for Change calls on all of us to reconsider how we view homelessness, away from the idea that it begins and ends with the loss and gain of a house. Homelessness rarely starts with the loss of a house - losing a house is often just one step in an ongoing struggle with barriers like poverty, relationship breakdown, or a history of trauma or institutional care - and neither is it resolved through a house alone.
For people to have any chance of moving beyond homelessness, especially those who have experienced a plethora of disadvantages and challenges, the transformation of a house to a home might begin within the environment – the items and the decoration which we need to live in physical comfort - but it ultimately means building much more, such as a supportive community and a sense of belonging, chance and opportunity.
Making homes means challenging the ways that people are pushed out or made to feel unworthy or incapable. It means building a life where someone has a community around them, the safety and stability to relax and heal, and knows that they are capable and deserving of a positive future. These are the conditions in which people are able to see their worth, show care for themselves, and have the chance to experience all that is 'good health' - physically, mentally and socially.
Read about our work towards the other themes in the Platform for Change
Find out more
Read the 2022 Platform for Change
Find out more detail on actions for all 3 areas of the Platform for Change, and how we're going to keep tackling homelessness going forward.
Read more