Time to Talk- one conversation at a time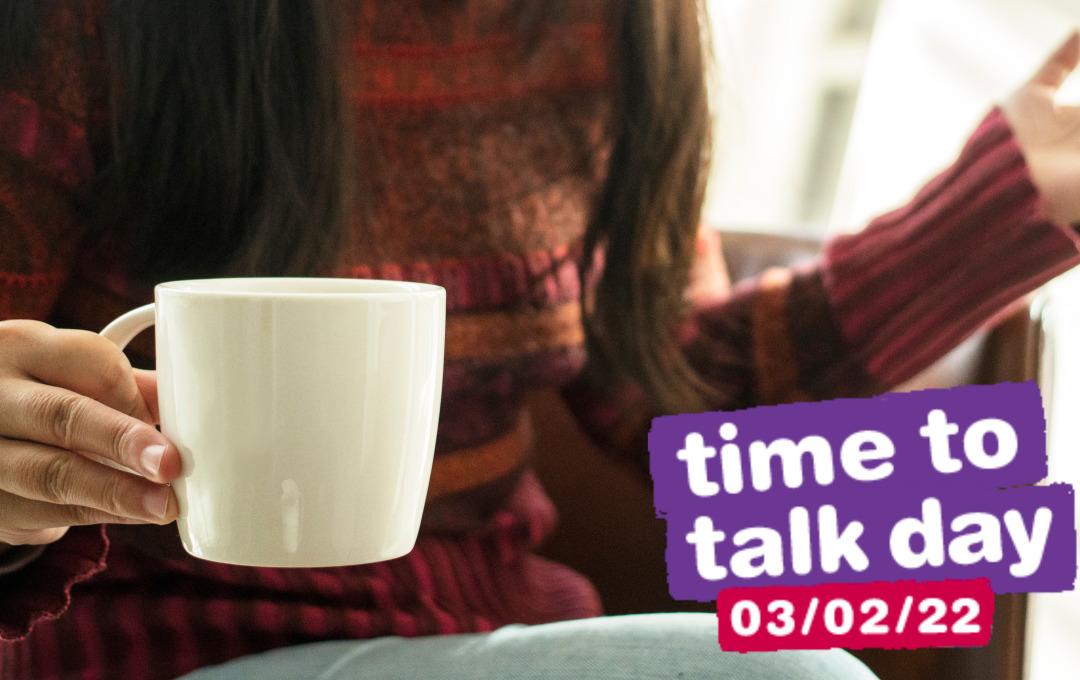 Cyrenians is once again proud to be taking part in 'Time to Talk Day' the nation's biggest mental health conversation, a day when friends, families, communities and workplaces come together to talk, listen and change lives.
Time to Talk Day is run in Scotland by See Me and SAMH (Scottish Association for Mental Health), as well as by Mind and Rethink Mental Illness in England, by Inspire and Change Your Mind in Northern Ireland, and by Time to Change Wales.
At Cyrenians, talking is paramount. It is at the core of all that we do, it is our investment in our community, it is how we start, develop and sustain our work.
Led by our vision of 'creating an inclusive society in which we all have the opportunities to live valued and fulfilled lives,' we know it is our duty to create opportunities to talk, to build trusting relationships where people can be honest about how they are feeling and open about their mental health.
As part of all our services, we ask people how they are feeling and we truly listen to the answers, hear what they are saying, and respond in a holistic way that works alongside them, with them and for them.
It can be extremely difficult to talk honestly about feelings, to discuss mental health; that's why it's important for us to take our time in building relationships, staying consistent in our asks, interest, care and actions.
We create safe spaces through our services, where talking is a huge part of what we do - we share experiences and stories, which helps create comfortable environments where it feels ok to say 'I don't feel ok' and 'I am struggling.' We encourage quiet leadership from all of our team, asking people to be generous with their conversations- talking and listening with no expectation.
As the senior manager for Health and Wellbeing I more than recognise the role our charity plays in supporting mental health for those we work with across Scotland but also the role we all play in our daily lives with our colleagues, our friends, our families and the people we meet randomly. I want to play a part in encouraging everyone to take the time to talk, to look after each other and to share. It is only through a collective effort that we can reduce the stigma around mental health and hopefully move forward to a time where everyone feels ok to express how they are really feeling, knowing that they will be listened to without judgement or shame.
I know from personal experience the importance of having the space to discuss mental health and to know I can be honest talking through struggles and feelings. The simple act of being listened to made me feel supported, less alone, lighter in thoughts and overwhelming emotions.
Rishka Jain described it well when they wrote
'Worries and tensions are like birds, we cannot stop them from flying near us, but we can certainly stop them making a nest in our minds'
Being able to share through the act of conversation makes a huge difference.
We can all make the conscious effort to talk to each other more about mental health, to make it part of everyday conversation, to check in and really listen to what we are hearing. It is amazing that such a small, simple gesture can make a huge impact.
On Time to Talk Day, let's all talk more and continue talking. Let's make a positive change for mental health one conversation at a time.
About us
Read more about our values approach
Our values and relationship-led approach make us who we are. We are constantly evolving and adapting to make sure our work meets people where they are and supports a positive future on their own terms.
Read more