Launching a charity partnership with The Scottish Sun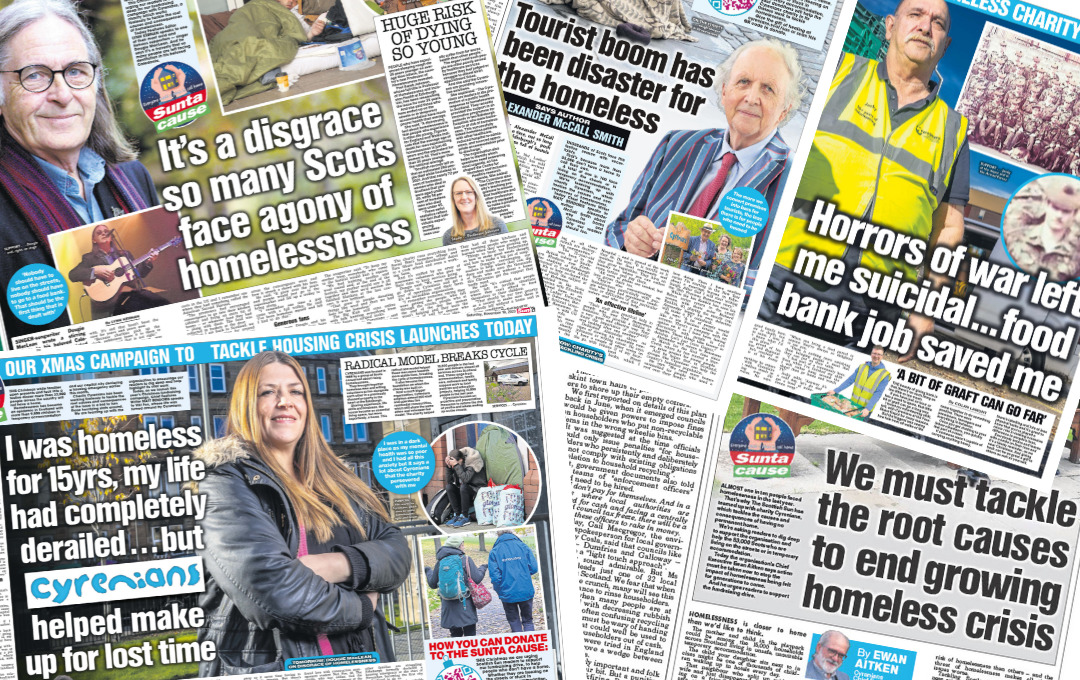 Cyrenians is working with The Scottish Sun as its official charity partner in its Christmas fundraising campaign.
The annual 'Sunta Cause' has previously helped The Trussell Trust and Mary's Meals to raise awareness and much needed funds to support their work.
Cyrenians is delighted to be working with The Scottish Sun this year to share stories from its services and to raise awareness of the impact that the housing crisis is having on people of all ages across Scotland.
The Scottish Sun's 'Sunta Cause' will also promote opportunities to give much needed funds to Cyrenians' Winter Appeal.
Ewan Aitken, CEO of Cyenians says:

"Our sincere thanks to The Scottish Sun, who are helping us reach out to people across the length and breadth of Scotland to share our stories, to raise awareness of the terrible suffering any experience of homelessness can cause but also to carry a message of hope that together we can stop homelessness from happening."
The partnership includes feature editorial in Scotland's best-selling newspaper, giving staff, volunteers and supporters of Cyrenians a high-profile platform to share their stories of lived and learned experience of homelessness.

Voices include Viki Fox, Policy and Participation Manager, talking about her experience of being homeless as a result of domestic abuse; Scottish folk legend Dougie MacLean on why he is proud to give his name in support of Cyrenians and University of Edinburgh academic Professor Sarah Johnsen explaining the public health impact of homelessness.

The editorial also includes longstanding volunteer Jocky Stewart speaking about why he gives his time to help others and Edinburgh author Alexander McCall Smith saying why he thinks Cyrenians makes such a positive difference in the work that it does.
Click here to read Viki's story (published 18 November 2023)
Click here to read why Scottish folk legend Dougie MacLean supports Cyrenians (published 19 November)
Click here to read Jocky's story (published 20 November): "I was left suicidal by horrors of war and food bank job saved me"
Click here to read Alexander McCall Smith's interview about how the changing face of Scotland's capital doesn't help the homeless (published 21 November)
Support our Winter Appeal
Room to Heal
It takes time and trust to help people out of homelessness for good. At Cyrenians, we take that time and build that trust, opening the door to a stable, fulfilling life. A room for the night is just the start.
Donate now