#TeamCyrenians raise £3,000 at Edinburgh Kiltwalk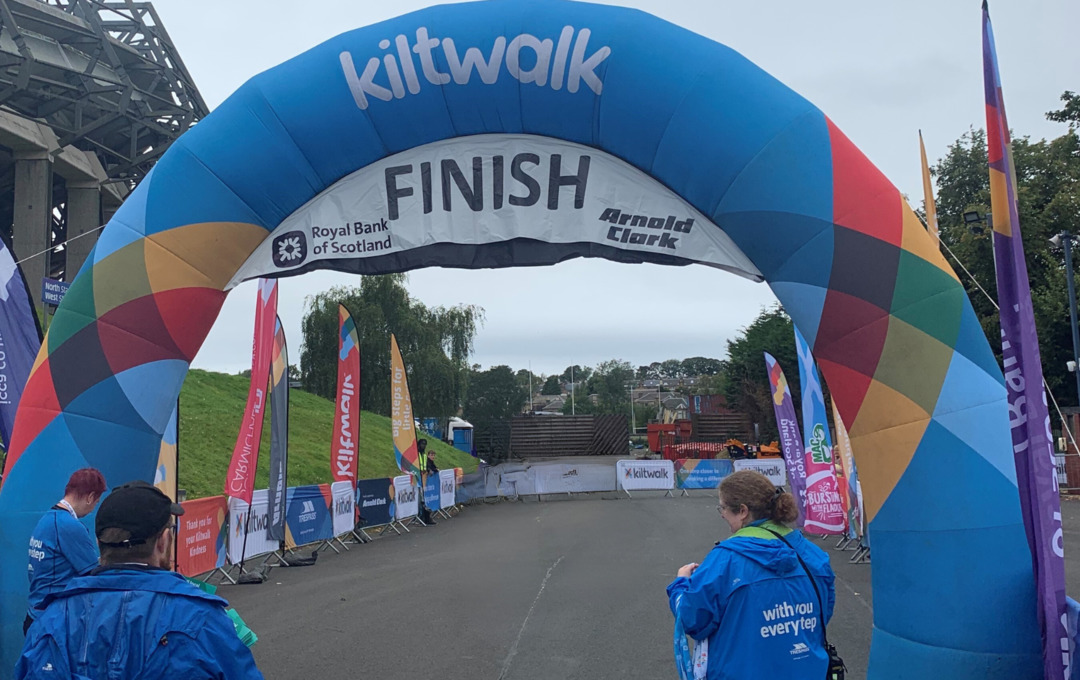 On Sunday 17 September, supporters donned their tartan and took on the Edinburgh Kiltwalk, raising £3,000 to help tackle homelessness!
17 supporters, volunteers and staff – the largest #TeamCyrenians the Kiltwalk's seen yet - braved the autumnal weather as they took on the various Kiltwalk distances, from 5 miles up to an incredible 21 miles. There was a carnival atmosphere at the finish line at Murrayfield Stadium, with over 7,000 Kiltwalkers, and it was great to see so many folk walking for Cyrenians!
Rebecca, who raised over £850 for Cyrenians by taking on this year's event, said;
"Thank you for all the help (and cheering) for the Kiltwalk. We had a great time! I would definitely do it again!"
And Oscar who raised £235 by tackling the Mighty Stride, said,
"I was grateful to participate this year, and I'd recommend others consider doing so in the future. I'd also like to thank Cyrenians for their support from the moment we registered until we crossed the finish line."
Robert Rife and Rae Kenny-Rife, who took on the Wee Wander together for Cyrenians, added,
"We moved to Edinburgh just under two years ago and we're here to partner with community organisations committed to addiction recovery, and how this dovetails with homelessness and mental/emotional wellness. Cyrenians is just such an organisation! Kiltwalk was a perfect opportunity to partner with Cyrenians in their work while doing something that was fun and meaningful, building community spirit along the way. We look forward to the next one!"
Calum Wright, Fundraising Coordinator at Cyrenians, said,
"It's been amazing to see so many people come out and get involved in events like this for Cyrenians – it really shows how committed our community is to making positive change in Scotland."
"With homelessness on the rise across Scotland it's easy to feel helpless, so we're incredibly grateful to our amazing supporters for taking action to support those who are facing an uncertain future. The £3,000 they've raised will go towards Cyrenians' work to address the homelessness crisis at its root, from poverty reduction to conflict resolution to skills support."
There are more exciting opportunities to fundraise for Cyrenians coming up, so keep an eye on our events page or sign up to our newsletter to keep in the loop!