The cost of living crisis is spiralling in to a homelessness crisis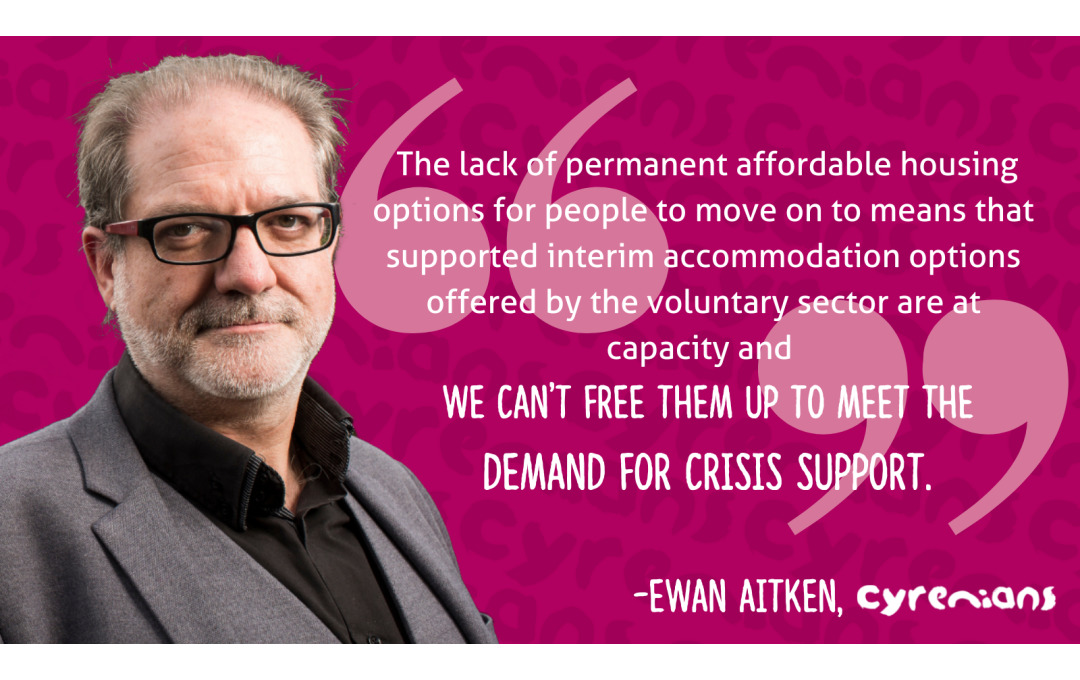 Responding to Scottish Government figures published today which demonstrate that levels of homelessness have reached the highest ever recorded levels in September 2022, Ewan Aitken Chief Executive of Cyrenians, a charity which tackles the causes and consequences of homelessness said:
"Charities have been sounding the alarm since costs began spiralling in early 2022. These appalling figures show that our fears of the cost of living crisis becoming a homelessness crisis are sadly being realised. It is hugely worrying that these figures show the numbers of people without a home climbed to unprecedented levels even before winter set in, and rising energy and housing costs really began to bite for thousands of people. Over the winter we have experienced growing demand for support from people getting in to debt that will threaten their ability to keep a roof over their head.  
"1st April is currently looming like a cliff edge which could put many at risk of homelessness – the eviction ban and rent freeze are due to expire on that date and energy bills will likely go up as the Westminster Government withdraws support from the household energy cap. There must be a plan now to ensure that thousands more don't tip in to crisis when these protections are removed. 
"We desperately need significant investment in social housing provision, affordable housing and homelessness services which provide appropriate and supported accommodation for people in need. This may mean brave decisions on land reform both around tax and ownership.
"Charities like Cyrenians provide short term supported accommodation to people in very vulnerable situations. But the Scottish Government has committed to bringing in legislation to introduce homelessness prevention duties on public bodies later this year. At a time when public sector budgets are stretched to breaking point, this must come with significant investment that really enables early intervention. We can no longer afford to postpone investment in prevention."
Mark Diver, Cyrenians Street Navigator who supports people experiencing street homelessness in Edinburgh, added "People starting new tenancies after a period of homelessness already had a huge mountain to climb before the cost of living crisis. Now they are being asked to achieve the impossible. Basic benefits simply do not cover the increased costs people are faced with and they are being forced to choose between starving or freezing. Budgeting skills that were acquired two years ago are no longer relevant for this 'New Awful'."
Mike Wright, Senior Manager of Cyrenians homelessness services, said: 'I am deeply concerned about the homelessness situation in Edinburgh. The Rapid Re-accommodation Welcoming Centre is busier than ever. In addition, the combination of the cold weather, the rise in the cost of living, uncertainty around accommodation arrangements for many Ukrainians and others who have been provided emergency accommodation and a desperate shortage of suitable accommodation in Edinburgh means that services like Navigator service are needed now more than ever. It is also concerning that many of the people we have supported out of homelessness are struggling with the rising costs of utilities and other household essentials and are turning to us for further help.'