Cyrenians takeover at Edinburgh Community Bookshop
On Halloween night, young people from the Creative Natives project arrived at the Edinburgh Community Bookshop to set up window displays, launching Cyrenians as November's Charity of the Month at the bookshop.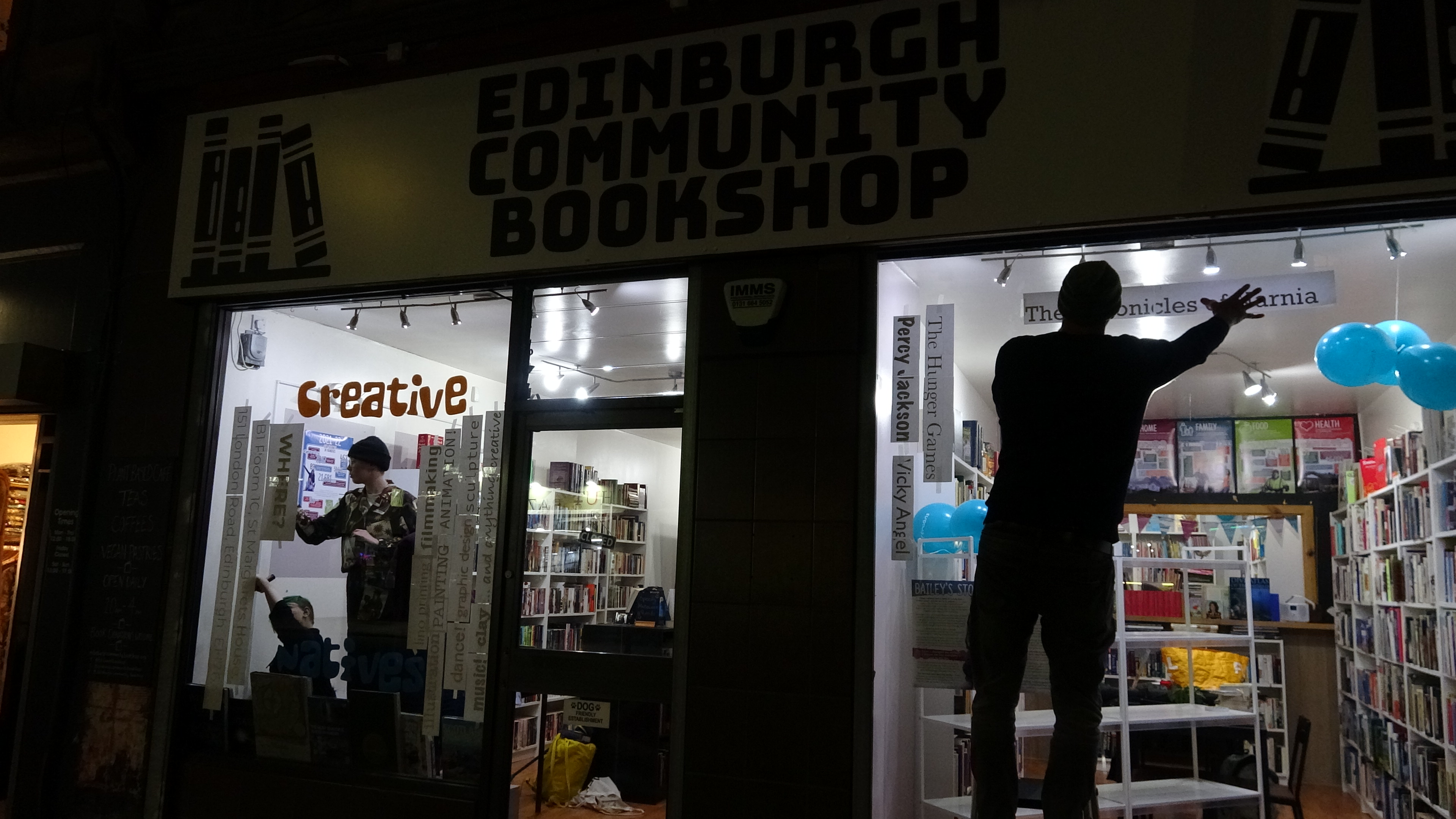 The Edinburgh Community Bookshop, which opened on Great Junction street at the start of October, is Leith's first community-led second-hand bookshop, and was set up to raise funds for local charities and make books affordable for all. The shop was funded by the local Leith community, and is run by volunteers with the mission of helping smaller, locally-focused charities build up resources and awareness. As well as making books and reading space accessible and affordable, the community bookshop boasts a plant-based café, and proceeds from both go to support a different local charity every month.
Cyrenians is the Charity of the Month for November, meaning every book, coffee or sweet treat sold in the shop helps to tackle the causes and consequences of homelessness in the city and surrounding area. Edinburgh Community Bookshop founder, Alasdair Corbett, said,
"Cyrenians was chosen as the charity of the month for November because of the amazing work they do to support and help people deal with the effects of homelessness."
"No one imagines that they'll end up homeless but for whatever reason if they find themselves in that situation then Cyrenians are there to help them get back on their feet.
"There are so many small charities that do such fantastic work in the local community and they could all do with a little extra support, especially as costs increase and purse strings are tightened."
The Charity of the Month also has the opportunity to create displays around the shop and share information and resources through the shop, which is what brought the Creative Natives down from their studio in Meadowbank to get involved.
Creative Natives, run in partnership with BOLD, is one of Cyrenians' many projects working locally to support young people facing multiple disadvantages, and offers space and support to explore different avenues of creativity. Vamping up the shop's displays to showcase Cyrenians' work was a great opportunity for participants to experiment with creative designs.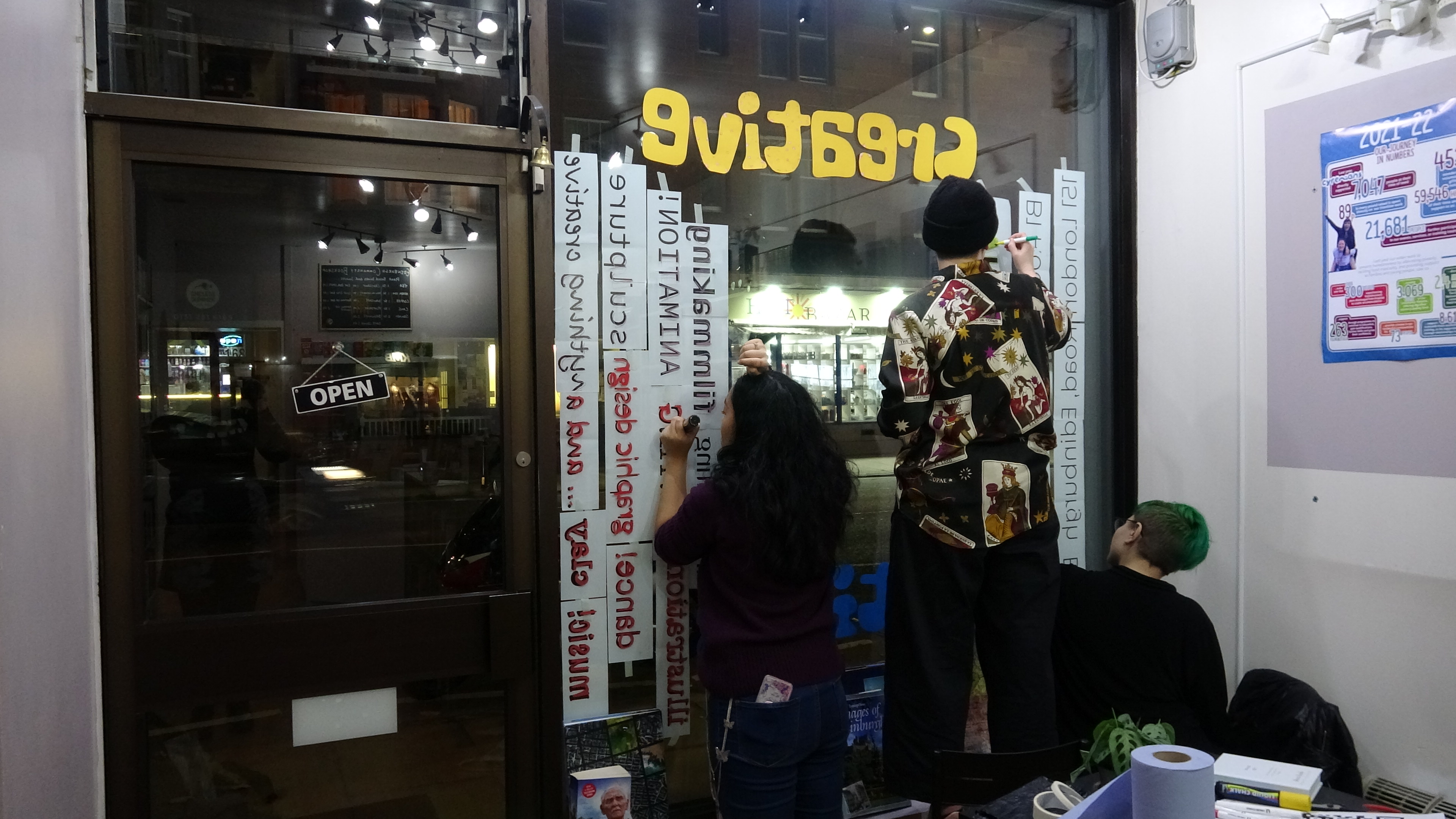 Maili Fraser, a key worker at Creative Natives who helped the young people organise the display, said,
"This was a wonderful opportunity for our young people to use their creative skills in the community, and to showcase their art."
"It was especially great for one of our young people who is attending an interior design course at college to put into practice what they've been learning by creating the design that we all followed. Thank you to the Edinburgh Community Bookshop for having us and our work on display for November!"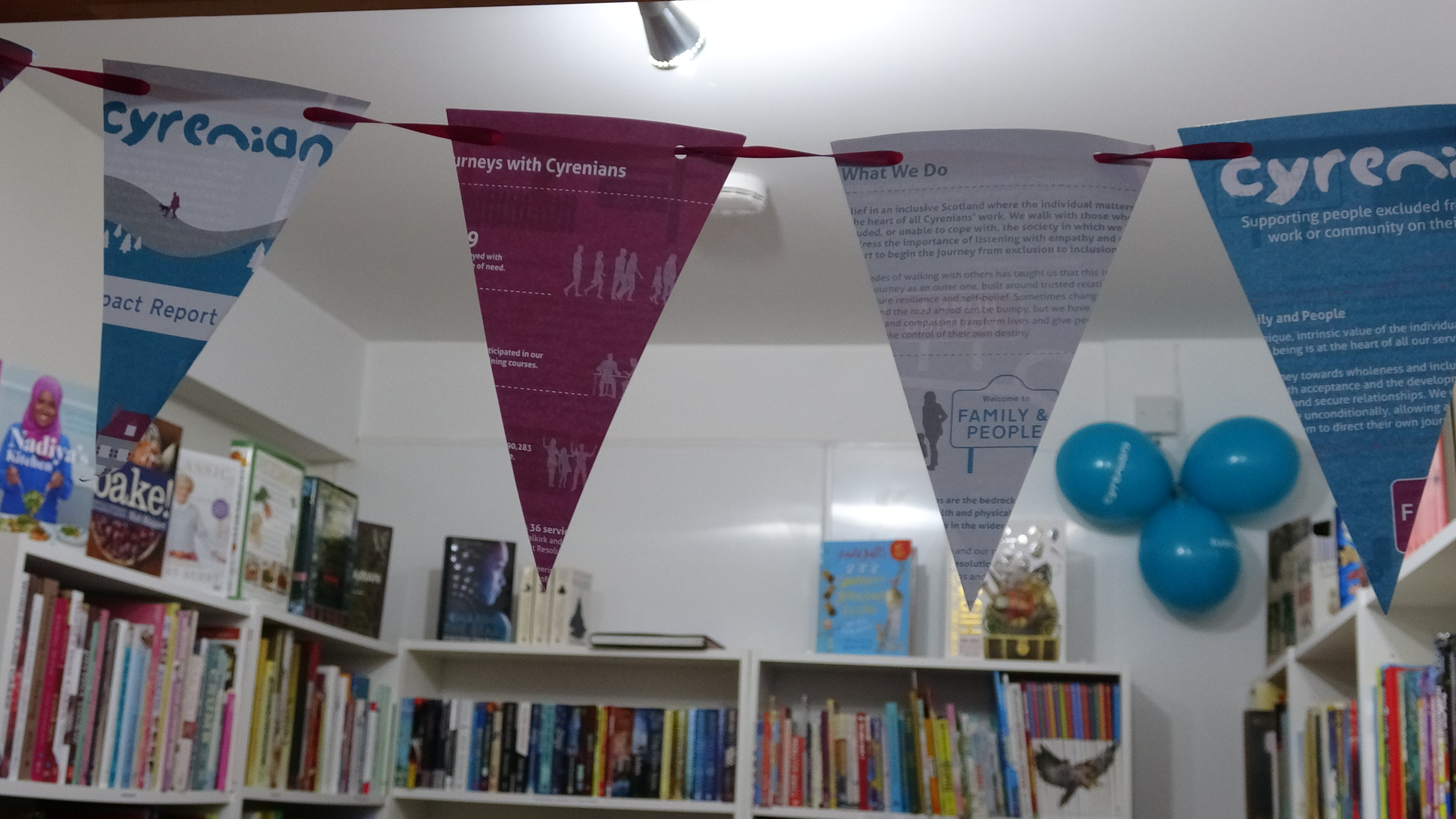 The Edinburgh Community Bookshop will be supporting Cyrenians for the entire month of November, so pop by at 179-181 Great Junction Street, EH6 5LQ, and curl up with a book and a coffee in the knowledge that your purchases go to help people around Edinburgh and SE Scotland reach a more positive future.
Find out more
Edinburgh Community Bookshop
Every purchase at Edinburgh Community Bookshop this month will go to support our work, so pop by and check it out - or read more on their website below.
Find out more