Taylor Wimpey partner with Cyrenians for second year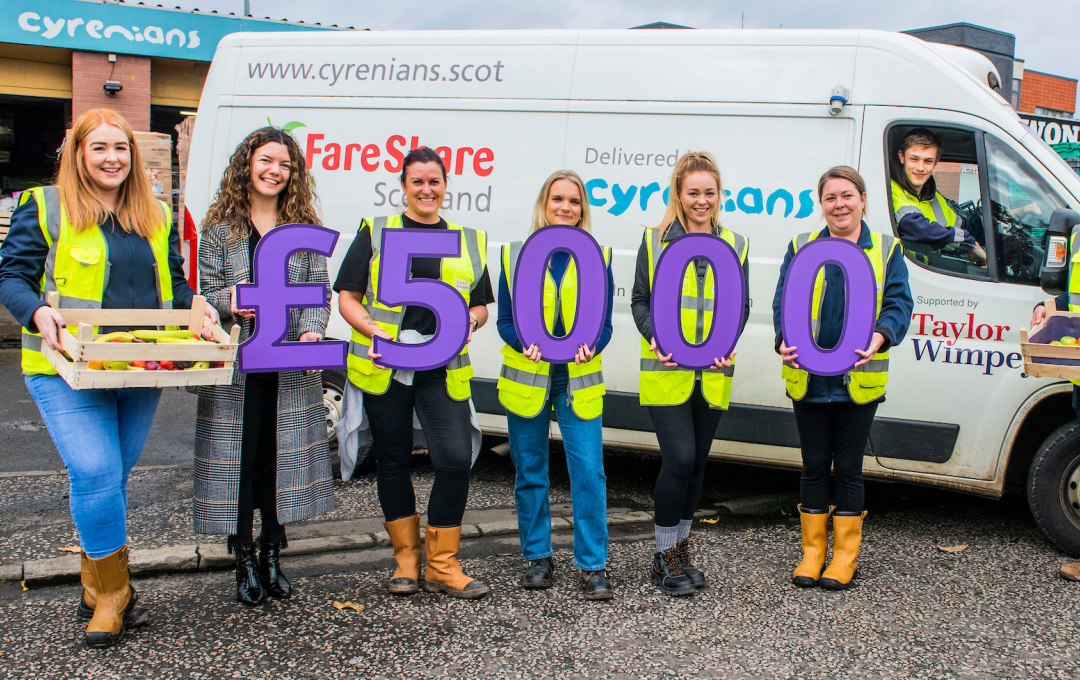 As part of its ongoing commitment to working in partnership with local communities, Taylor Wimpey East Scotland has confirmed a second 12-month programme of support to Cyrenians.
Two Taylor Wimpey branded Cyrenians Fareshare delivery vans will remain a key part of Cyrenians distribution of Fareshare food, and this year's support from Taylor Wimpey's staff will include volunteering at a number of Cyrenians' local projects.
Last year the Cyrenians Fareshare vans delivered the equivalent of 2.4 million meals in the 2021-2022 financial year to charities and community groups across Central and South East Scotland.
Right now, Cyrenians are delivering the equivalent of 50,000 meals a week to 20,000 people in the local community. That equates to 1,000 tonnes of food redistributed, saving 1,600 tonnes of C02 emissions through preventing good food going to waste. Building community through food and tackling food poverty is a large part of Cyrenians' work. With over 50 projects tackling the causes and consequences of homelessness - from outreach and mediation services to residential communities and community gardens – Cyrenians supports people towards more positive and stable futures, preventing homelessness.
Commenting on the support it has received from Taylor Wimpey East Scotland, Sophie Bell, Fundraising Manager for Cyrenians, said:
"Partnerships are at the heart of what we do at Cyrenians, with those we support and those who support our work."
"We are thrilled to have Taylor Wimpey's continued support this year. We look forward to bringing our skills and resources together to meaningfully support people to thrive in our local community."
Gavin Hamilton, Managing Director for Taylor Wimpey East Scotland said:
"We continue to be part of the local communities where we build new homes across the east of Scotland, and we are proud to have this opportunity to continue and strengthen our support of Cyrenians and their distribution of Fareshare food to communities that we know well."
"Being able to support local groups and charities is important to us and our second 12-month association with Cyrenians will include practical support through staff volunteering days at some of their local projects, including the Community Farm at Kirknewton, the Fareshare depot as well as a financial boost to the charity itself."
Taylor Wimpey's support of Cyrenians is one of the many contributions being made across the UK - find out more here.