Hibs team support Cyrenians spring appeal launch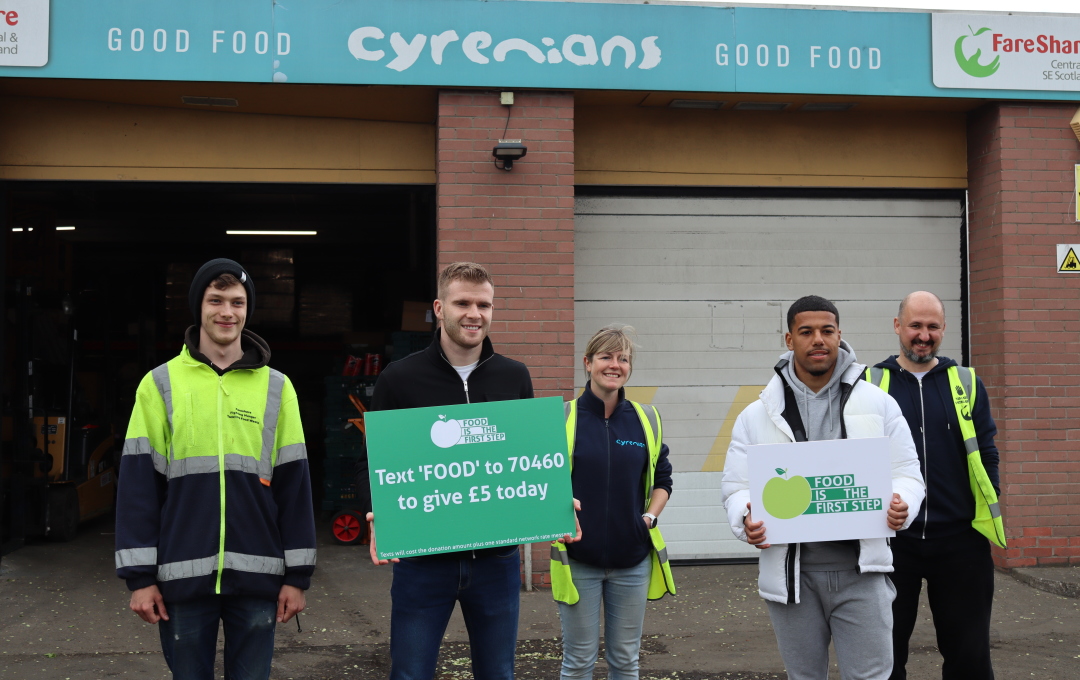 Hibs football club helped launch Cyrenians Food is The First Step appeal with a visit to their FareShare depot from first team players Chris Cadden and Sylvester Jasper.
Scotland international player Chris Cadden and teammate Sylvester Jasper met with staff and volunteers at the Good Food depot in Leith to learn more about the work they do to combat the causes and effects of homelessness and hunger.
Feeding over 20,000 people a week, the depot is one of many food support projects for which Cyrenians are hoping to raise vital funds. The Hibs players' visit to Cyrenians marks the launch of the charity's Food Is The First Step appeal, a vital cornerstone of the fundraising work carried out over the year.
With the rising cost of living adding additional pressure to those who are already struggling, the charity are conscious that demand for their food services will only increase. When people are well fed, they are better able to thrive and money raised through the appeal will help ensure the charity can reach more people in need of their support.
Cyrenians chief executive Ewan Aitken said: "We are hugely grateful to Chris, Sylvester, and the wider Hibs team for the time they are devoting to help with our appeal.
"As the cost of living crisis starts to bite, and more of us are facing impossible decisions, such as choosing between eating, paying rent, or keeping the lights on, our work has never been more vital.
"Our message to people who can afford to donate is that their help is urgently needed to fund our work with people who may not have other means of support."
Reflecting on his visit, Chris Cadden said, "It has been great to come down and launch this brand new appeal with Cyrenians.
"It is really eye-opening when you come down and see how much food is actually here and how hard the staff and volunteers work to make sure that the food is boxed up and sent out to those who need it.
"With the cost of living going up rapidly, these organisations and charities have never been so important than they are now, and it is great to be able to play a small part in the event today."
Food is the first step
No one should have to go hungry
With 1 in 5 adults skipping meals, Food is The First Step towards a fairer Scotland. Together we can make sure no one has to go hungry.
Support the appeal