Cyrenians opens new Borders service for over-60s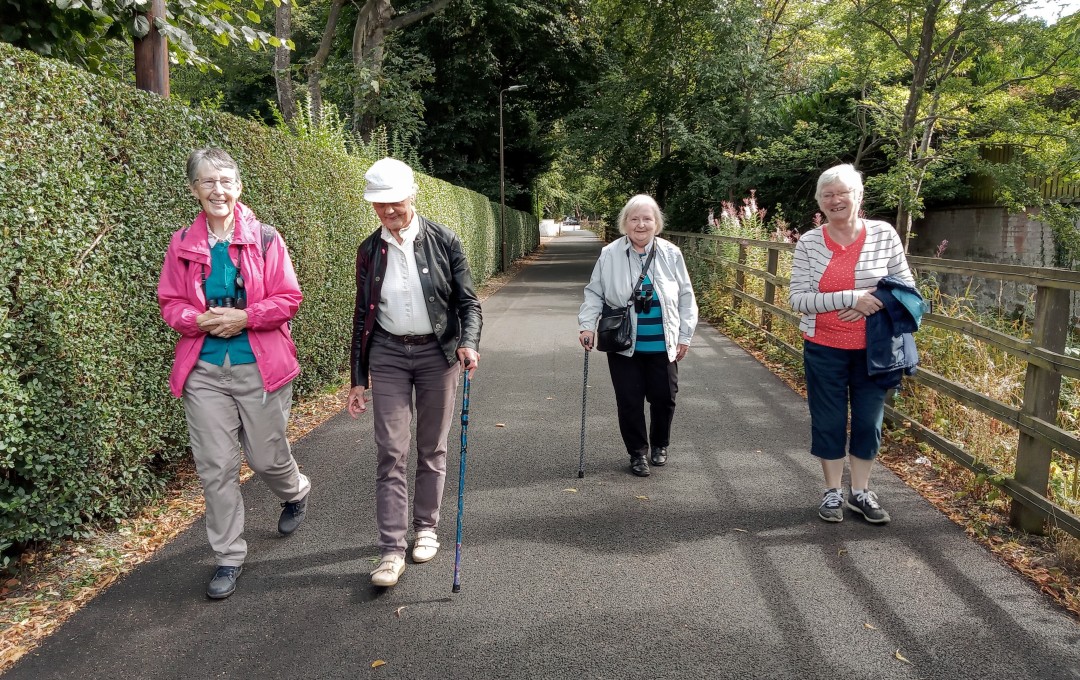 Cyrenians OPAL service is growing - all the way to the Borders! We'll now be able to offer support and community initiatives for over-60s across the Borders, building on our extremely popular work in West Lothian.
Thanks to the Scottish Government's Communities Mental Health and Wellbeing Fund, we have secured funding to develop and deliver an OPAL service in the Borders over the next two years.
Pauline Moffat, Service Manager for OPAL, said;
"We are delighted to have received this funding and look forward to supporting independence and wellbeing among people age 60+ across the Scottish Borders.

For the past nine years, OPAL West Lothian has been providing personalised services including befriending, groups, digital support and driving. Our team of dedicated, trained volunteers work locally to encourage self-sustainable communities."
OPAL (Older People, Active Lives) has been supporting older people to increase their independence and well-being across the West Lothian area since April 2013, offering one-to-one support and social groups to help older people reengage with social activities with encouragement, companionship and assistance. This new funding will allow us to expand support beyond West Lothian and into the Scottish Borders.
In Scotland, and particularly in the Borders, we have an ageing population. With group, activities and social spaces often aimed at able-bodied young people, there can be a lot of barriers to accessing community spaces, particularly for those with health issues, those who can't drive, and (particularly in the last few years) those who aren't digitally confident. Our 60+ projects, OPAL and, in Edinburgh, Golden Years, work to tackle the marginalisation and exclusion that many people may otherwise face as they get older, preventing the isolating situations people are often pushed into as they age.
Social connection and community support is a vital part of health and wellbeing for all of us, and building the strength, resilience and support to get through difficult times and build positive futures. Our older peoples' projects focus on supporting over 60s to live independently and well on their own terms as long as possible, and to be an active part of a supportive community.
OPAL in the Borders is an exciting new partnership between Cyrenians and Eildon Housing Association which builds on our expertise in delivering preventative services for people aged 60+ for almost a decade in West Lothian. We will be offering a range of activity and learning groups in local communities, offering a safe accessible space to build local community, have fun, improve physical health, keep mentally active and learn new things. Community members will decide what they want to see us do in the Borders – our work in West Lothian already includes social and supper clubs, digital skills classes, singing and arts groups, community cooking and more!
The Mental Health and Wellbeing Fund have provided £99,725 to develop this work. The new Scottish Government fund, which is administered across the south of Scotland by Third Sector Dumfries and Galloway, supports adult community-based initiatives to help address the impact of distress and mental ill health caused by social isolation and loneliness.
Rebecca Simpson, Senior Service Manager for Health & Wellbeing at Cyrenians, said,
"We are all looking forward to working with Eildon and developing this new service!"
Our new OPAL service is one of 41 projects funded in the Borders by the Communities Mental Health and Wellbeing Fund – read about some of the other great projects here.
More events
Find out more about our over-60s groups
Through OPAL in West Lothian and now in the Borders, and through Golden Years in Edinburgh, we offer a wide range of social and learning groups. Keep an eye on our Community Events page to see over-60s groups coming up!
Events