Working with Cyrenians to #KeepThePromise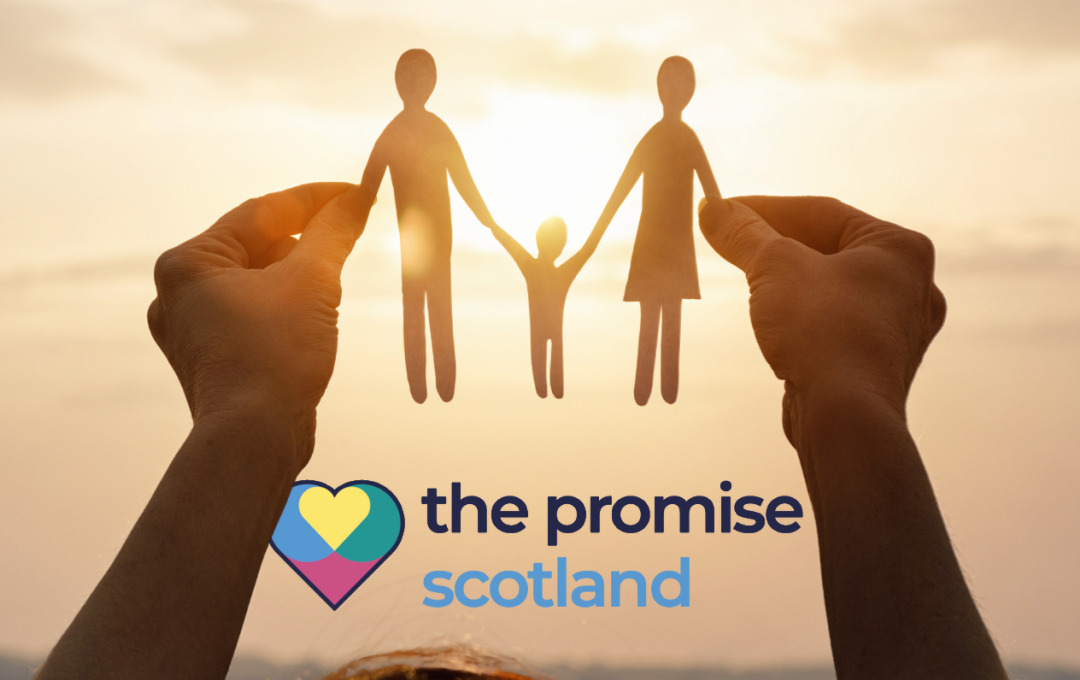 As the Promise, which Nicola Sturgeon calls one of her proudest achievements in office, reaches its third year, Mediation & Support Service Manager Kerry Watson looks back on how her team have worked with care-experienced young people to #KeepThePromise.
I joined Cyrenians nearly six years ago to take the position of Service Manager for their Mediation and Support Services. Before Cyrenians, I had been working in partnership with a range of agencies to develop a programme of support for families affected by imprisonment.
Over nearly 10 years, I had seen many young people come through the care service who ended up in prison. These young people had often no support in the community and had struggled to maintain their relationships with families. On many occasions young people would be released from prison and, desperate to contact their families, come into the visitor centre and ask if they could phone home to let their family know they had been released. Sadly, I would see the same young people on many occasions over the years, who would then become parents themselves and live out the same cycles.
I was determined to play my part in making a difference for care experienced young people and their families. I truly believe support should always be extended to all family members to give individuals and families the best chance of managing independently, without the costly interventions of the state. Through Cyrenians' programme of support, we worked to see families thrive in their parenting skills and their motivation to improve their life chances for themselves and their children.
My time working with families of those in prison inspired me to use my learning to input into systematic change, combining my effort with others to develop meaningful support to help young people and families realise their potential. My work with other partners gained me a Butler Trust Award, Police Partner of the year and a qualification in Disseminating and Developing Good Practice in Correctional Settings.
I joined Cyrenians partly because the work prioritised earlier intervention, enabling us to reach young people before they end up in prison. Since I started here, I've been fortunate to work alongside inspirational colleagues who have passion for driving change and live their values in the belief that everybody deserves the opportunity to lead valued, fulfilling lives.
A few years ago, myself and my colleagues further developed our successful mediation and support work, and came up with the idea of creating a service that would enable us to provide support for families at an earlier stage. We created a service that provides mediation, whole family support, and conflict resolution training for young people in secure care across Scotland.
Keeping Families Together, started in 2020 with Cashback for Communities, was set up as the first service to provide the same level of support for young people and their families across all five of Scotland's secure care centres. The service was launched around the same time that the Promise was launched, and upon reading the Promise, I realised how closely aligned our aspirations were to each other - it must be fate!
Keeping Families Together (KFT) supports children and young people and families at a very traumatic time in their lives. The thought of being separated from your family, taken to a place where you don't know anyone, somewhere that you may not have even visited before - that would stress me as an adult. I can only imagine how destressing this is for a child.
For parents, having your child removed from your care is equally traumatic, not to mention the distress this causes for siblings. With only five centres across the nation young people are often really far from home which can impact on how often they are able to come together as a family. Especially given that the majority of young people are in secure care for their own welfare, we need to be doing more to look at the underlying causes that have resulted in these children being removed from their families and ensure that any support given in secure care follows the young person back to the community.
Our support to families has been particularly helpful when young people are returning home. The transition from secure care, where you have school and activities to fill your days, evening and weekends, to returning home when you don't have the same things to occupy your time or access to funds to continue your hobbies and interests – it can all can cause additional conflict within families at time where it's vital to have strong relationships. Unfortunately, we have seen young people return home without a plan in place with very little to do, which resulted in them becoming distressed, unable to communicate their needs to others and ultimately being returned to secure care.
I am truly inspired hearing the stories of young people and families, with the support of my colleagues, having their say and knowing their rights. It's amazing to see the difference our work is making for families. Our mediation and whole family support services are specifically designed to help people communicate their needs positively to others and resolve conflict in a positive way, which is a great fit for families navigating their way through the care and justice system.
As an organisation we are committed to provide the best services possible and have undertaking training in trauma informed practice, children's rights and working with neurodiverse children ensuring our support is shaped to meet the needs of families and that our staff are supported.
We have had to learn a lot about the system, and have worked with colleagues in Secure Care, Children's Services, CLAN Child Law and the Children and Young People's Centre for Justice to understand what families should expect and what their rights are. As a result of our learning, we have carried out a trauma audit and children's rights and well being impact assessment, which has enabled us to look at the points where rights may be breached and to adapt our practice to ensure we don't cause any further distress to families.
Young people's voices are at the heart of our service. Young people are proactive in guiding their support, often asking Cyrenians workers to accompany them to meetings with other professionals involved in their care. Our way of working is assets based- instead of causing further trauma using lengthy assessments, we ask young people themselves to identify what's good about their family and what they would like to change, which is fantastic.
One young person stated that the reason they like working with us, is because they trust us, when we say we are going to do something it gets done, when,
"many of the people involved in [my] care often make promises they do not keep and are not honest when things are not going well, this sets me up to fail. You are not like that – you're honest with me, which I like."
But the most important thing this young person said they got from our support was a better relationship with their mum.
Parents and carers are getting support with issues affecting them and are often telling us that this is the first time their whole family is receiving support – most other support on offer is nearly always focused on the young person and doesn't extend to the rest of the family. As a result of getting whole-family support, parents say they feel more able to support their children going forward.
It is a true privilege to journey with families as they navigate their way through the care and justice systems, although at times frustrating. However I am confident we can combine our efforts with others to change this system and Keep the Promise we have made for Scotland's children.
Real stories
Gail's story
What does the work we do with care-experienced families look like in practise? Read Gail's story to hear how our Mediation and Support team helped during her child's transition out of secure care.
Read more