Making a myth (and finding the truth)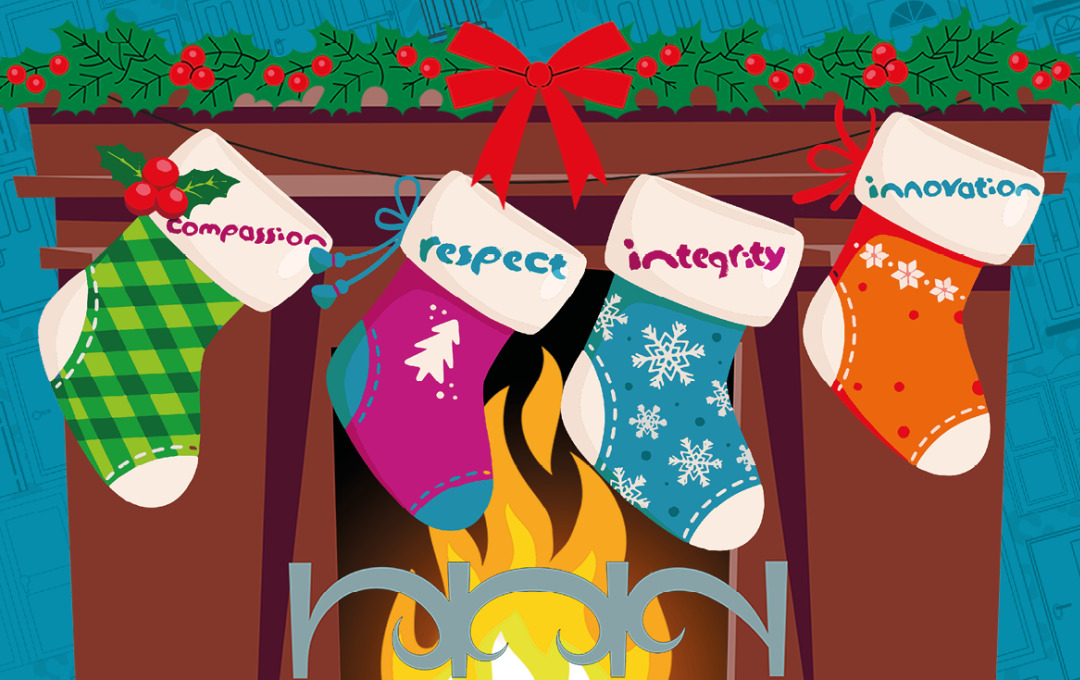 Cyrenians CEO Ewan Aitken muses on the meaning that seasonal myths hold for him, and how they reflect our basic truths.
The festive period is full of myths we create collectively and individually which all help form what the time of year means to us; in that sense, they create our truth.
There are those family stories about Christmas's past everyone believed but are either mis-remembering or have been added to over the years in their retelling. But their truth lies in their shared evolution and how their common ownership expresses the importance of the relationships between those involved.
There are the collective myths, like those about the evolution of the Santa figure and its connection (or otherwise) to the religious story of gifts for a hoped-for saviour in a stable, or the actions of a 4th century bishop from Lycia in what is now Turkey giving to people in poverty, though the roots of that story also appear to go back to Norse legends.
The 19th century poem "'Twas the night before Christmas" introduced us to Santa's reindeer and their names and whilst a well-known drinks company did popularise his present body shape and outfit in their 1930's adverts, his red outfits go back much further – myths about myths about myths!
I could go on; the point is this what we believe to be true about time of year is an extraordinary mixing of truth and myth over centuries.
It is so full of myths which have truths buried deep, I find it a helpful time to think about the role of myth and truth in our lives, not as opposites but the reality of the exploring the human condition. For myths are not untruths, but are often ways of expressing the complexity of being human.
The myth of Santa has evolved through lots of completing drives, from the religious to the commercial, but at its core is the idea that by caring for not just those we love but those we don't know as well, good things can happen even in difficult times.
To be honest, there's not much of it left in many of its manifestations but it's not completely lost. When it comes to action, the idea of asking people to "play Santa" for those in poverty is at one level quite patronising and won't really change the circumstances of those experiencing poverty. But what it does do is keep alive the idea that it is possible to bring hope in challenging times by acting in compassion, not just for our neighbour but the stranger, even if a small gift at Christmas isn't a long-term solution to the problem of poverty.
At this time of year, once all the rituals of gifts, gatherings and eating my own body weight in chocolate are over, I will again reflect on my own sense of what is true for me - what it is to be alive and how I might use my life well. I remind myself that, in all I do, the most important thing is to live the Golden Rule of loving not just my neighbour but also the stranger.
I often fail to live like this. I stumble into dark places and make choices which do not mean I live to its standard. But I have come to accept such things are part of the journey of living one's principles.
It's why working at Cyrenians is such a special and profoundly privileged thing for me, for here, more than anything I have ever done, I have the opportunity to live by this rule despite my human frailty.
We supported over 7000 people last year. I meet very few of them but I know that by supporting as best I can my amazing colleagues, who live by our values and see building trusted relationships as the primary thing they do, I am living the Golden Rule. It is this belief which helps me feel I am flourishing and can find the contentment which is at the heart of the human condition. It is an extraordinary gift which is as life changing for me as the actions of my colleagues is life changing for those they support.
We are all shaped and formed by our stories and the myths which go with them. The task is to find out who we are in amongst them all, not by rejecting but seeking the truths they hold at their heart.
Taking the time to stop, be still, listen and be silent in refection, seeking who we are and what we might become in amongst the stories and myth, relationships and actions which have shaped us is perhaps one of the greatest gifts we can give ourselves.