Cyrenians becomes accredited Disability Confident Employer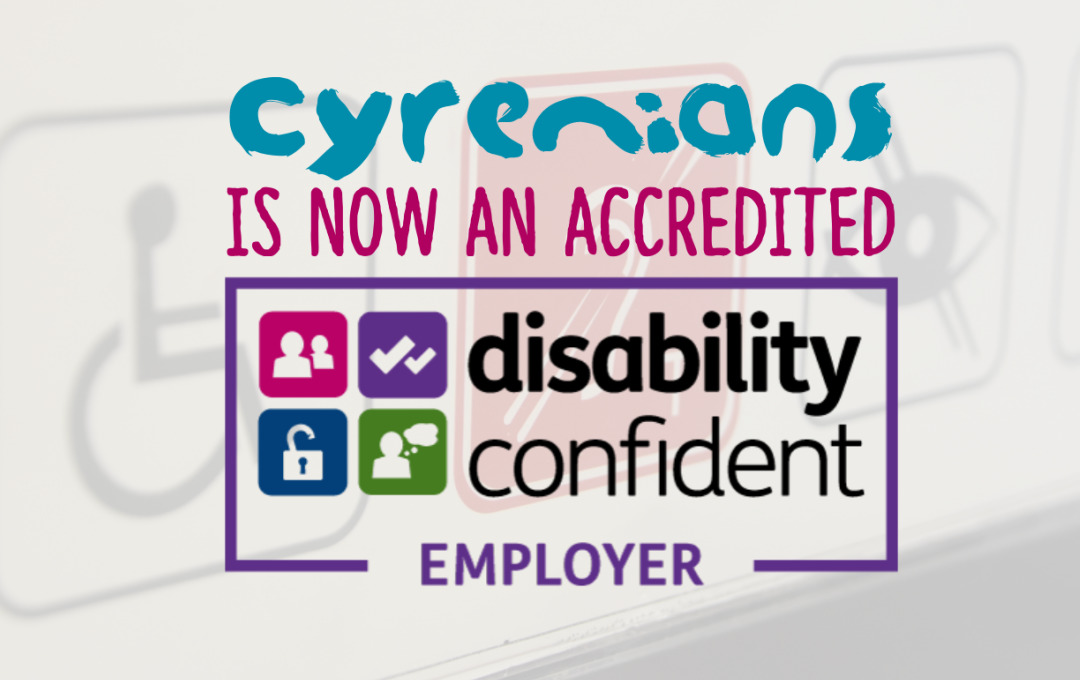 Cyrenians has been recognised by the UK Government as an accredited Disability Confident Employer (level 2), affirming our commitment to inclusion and diversity in our services.
Cyrenians received confirmation of the status of Disability Confident Employer (level 2) on 1 December 2022, two years after registering as Disability Confidence Committed (level 1) in 2020. The organisation has been working consistently to make our services and workplace more accessible and open to all, whether through our recruitment processes, increasing knowledge and understanding of accessibility among staff and volunteers, and adapting our work practices.
Cyrenians undertook a comprehensive self-assessment to evidence and demonstrate a wide range of actions focused on reducing barriers to employment, keeping job requirements flexible and responsive, and making sure that the workplace is responding to the needs of disabled staff, offering reasonable adjustments, and making training on disability-related matters available to all staff.
Being a Disability Confident Employer also means making sure the organisation is inclusive, that staff are well-versed in disability issues, and that we prioritise connecting better with Disabled People's organisations.
Director of Services, Michelle Lloyd, said,
"We're really glad to have put the work in to continue our Disability Confident path, and pleased to have progressed to Level 2 accreditation. The work doesn't stop here – as a learning organisation, we're committed to constantly improving our ways of working and make sure we're building the most accessible, inclusive and supportive organisation we can, for both staff and service users.
"Becoming a Disability Confident Employer has been particularly important for us as an organisation with a commitment to our values of respect, compassion, integrity and innovation. Abiding by those values means putting the work in to make sure people with disabilities have improved access to our services, and aren't facing extra barriers at work.
"We believe in the social model of disability, recognising that people are disabled by the barriers they face rather than the impairments themselves. The people in our organisation have an incredible range of experience and expertise, and it benefits all of us to make sure nobody's having to work through additional barriers in using services, working with us, or feeling safe and confident to express their needs.
"Our Inclusion and Diversity working group have done a power of work to make sure we keep improving our practices, and this accreditation is a recognition of that. We'll continue to work across Cyrenians to keep building on what we've learnt, and to make sure that this is a welcoming, inclusive and open organisation for everyone, regardless of their health or life experience."