Finding joy in volunteering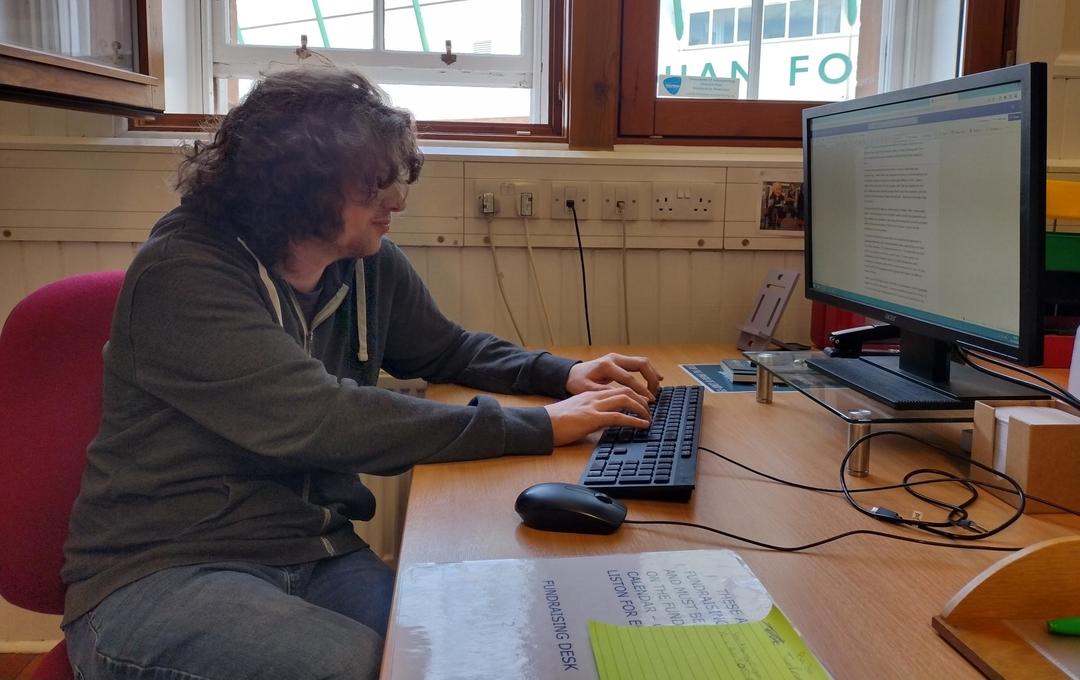 At a Cyrenians youth residential trip in March this year, some of the participants decided they would like to do short, supported volunteering placements in different Cyrenians services, to find out more about different parts of the organisation and develop skills at the same time.
This is part of our wider work embedding youth participation across the organisation and enabling young people to influence what Cyrenians does and how we do it.
Sean, who has been involved with Cyrenians for a number of years, reflects on his time volunteering at the Falkirk Digital Inclusion project, as part of this programme:
I've been volunteering in Falkirk for the past few months, working alongside Peter on the Digital Inclusion project. I've been helping people to improve their computer skills.
At first, I was just in the background watching how Peter helped people do this. But by the end of my volunteering placement, I led some of the sessions when Peter was off. At the beginning of my volunteering there, I would never have thought I'd be able to do that, I just didn't have the confidence.
I started off volunteering one day a week, helping with the 1:1 sessions. But I was getting so much from it, we decided to extend my volunteering placement and also increase to 2 days a week so I could try group work as well. Trying the group work was different because people were on different levels with their computer skills so I liked planning with Peter how to help all of the group members with the things they wanted to learn.
I'd never done anything like this before. I hadn't really done any volunteering. I hadn't done any computer teaching in a formal setting and I found the amount of patience needed quite difficult at first. I wasn't used to the social side of it, the 'people skills' that are needed for this work. When we were teaching people how to use the computers, we had to get to know them and I found that difficult – that was a learning I had to get over.
I've learned a lot through my volunteering in Falkirk. After a few weeks there, I was enjoying it a lot and didn't want to finish the placement and start another one elsewhere. But being there helped me to work out what skills and new experiences I'd like to try in future. It gave me the confidence to try new things.
I'm going to be starting a new short term volunteering placement in Cyrenians Marketing and Communications team, helping them on their Christmas campaign. I'm looking forward to it – it sounds like fun stuff and it'll also put me out of my comfort zone. I'm also going to be volunteering at the Scottish Centre for Conflict Resolution youth conference in Glasgow, which will be a new experience for me. I'm also working with Gail (Cyrenians Youth Engagement Leader) on different youth activities.
I like my volunteering because I feel like I'm giving back. Since Cyrenians helped me out for many years, I can give something back now. If not, I'd be stuck in the house playing games so it's great to be getting out and trying new things.
JOIN OUR FAMILY
Volunteer with us!
You could join our "extended family" of volunteers, from gardening to cooking to chatting to deliveries. Browse our huge range of opportunities below.
Finding volunteering opportunities