Don't let lived experience stay Out Of Sight, Out Of Mind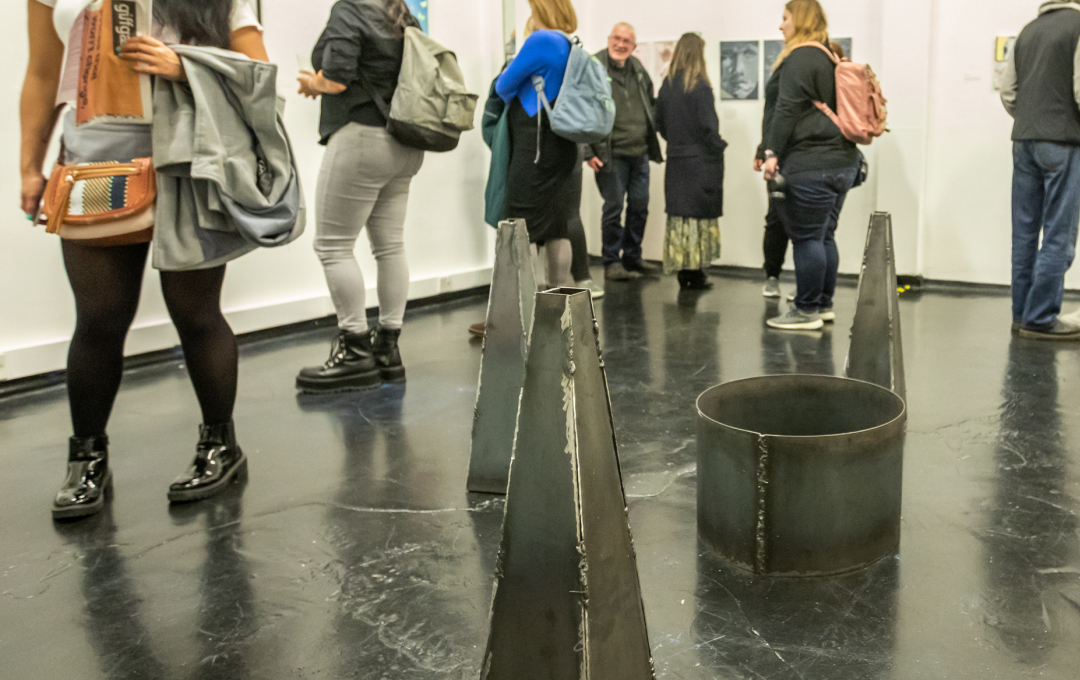 Before working with Cyrenians, Director of Services Michelle Lloyd was a founding member of the planning group for Out of Sight Out of Mind, an exhibition centering the lived experiences of artists living with mental health issues. Now into its tenth year, Michelle looks back on what OOSOOM has to teach us, and how the same principles drive us at Cyrenians.
It's that time of year again. The trees are changing colour, the days are getting shorter, it's getting a wee bit chilly and ... it's time for the annual Out of Sight Out of Mind multi-media art exhibition at Summerhall in Edinburgh.
Out of Sight Out of Mind (OOSOOM) is an exhibition where all artwork is created by people with lived experience of mental health issues, and run by a partnership of individual artists and partner organisations. The title was a direct response to the stigma faced by people with lived experience, too often feeling they are 'out of sight, out of mind'.
I recently attended the launch of this year's OOSOOM. It is always a special time and this year it is even more special, as it's the tenth year the exhibition has run!
In my previous job I was lucky enough to be part of the original planning group, a somewhat motley crew of organisations and individuals. At that time most of us had never worked together in partnership, and none of us had ever put on a large exhibition in a prominent city centre location. Suffice to say there was lots of debate and disagreement, and lots and lots of learning, alongside an openness and willingness to do things differently. Whilst we were novices in some ways, what we shared was a genuine 'can do' attitude, a values-based approach and a passion for the arts, in particular the power of the arts in providing platforms for those whose voices are often ignored or excluded.
The very first OOSOOM exhibition was in the old animal hospital at Summerhall, an unusual space to say the least but also an exceptional space that lent itself to an amazingly diverse mixture of art in all its forms. There was film, painting, sketches, sculpture, poetry, storyboards, woodwork and so much more. Some artists used the unusual spaces to generate site specific installations, for example a cage where the artist re-created their living room and sat for the duration of the exhibition with their medical label around their neck, inviting the audience to initiate a conversation. Another exhibitor made use of specimen drawers, encouraging visitors to be curious and open drawers to discover what lay behind the label or statement
OOSOOM is now the largest exhibition of its kind in Scotland, with over 200 artists exhibiting their work each year. What is also special about OOSOOM is that, 10 years on, it remains a partnership, a collaboration and co-production in the true sense. To mark the tenth anniversary, a specially commissioned film, by film-maker Isa Rao, and 'an exhibition within an exhibition' of archive material shares the story of this unique project and an example of 'lived experience informing decision-making. As contributors reflected on the last ten years, some common themes came up time and time again 'feeling heard', 'friendships', 'a kind of activism', 'a community', 'a found family'. Words that I also hear regularly across Cyrenians.
At that first exhibition a decade ago, one piece that stuck with me was a 'consulting room' completely wallpapered with unsent letters from the Royal Edinburgh Hospital archives, original letters from inpatients. Many of these letters were heart-breaking to read, especially as they often began with desperate pleas for a response or a reply from family, friends or medical staff. We now know over 100 years later that those letters had never even been posted. The common theme which came across in all the letters was 'help me'.
Whilst some might argue much has changed in the last 100 years, or that the stigma towards those who experience mental illness has decreased, or in a world of constant social media everyone now has a voice. But we also know from Cyrenians' own work that there are still far too many people who feel abandoned, ignored, and struggling to be heard with decisions being made for them.
Across our own organisation we know how important it is to listen to those who use our services, to be open to change, and ensure that those same voices are at the heart of our decision-making. Just one of the reasons we're committed to #KeepingThePromise and centering the voices and opinions of those using our services.
For example, we're working closely with young people to look at how we make our systems work for them. How can they be improved? What needs to change so we can confidently say we are upholding the rights of the child? More broadly, how can we best learn from people with lived experience, and make sure their views are not just heard but also put into action? In an organisation as diverse as Cyrenians, we know there is no one size fits all and we are working hard, in many different ways, to ensure people who use our services have a voice and do not remain "out of sight, out of mind".
At last Tuesday's launch it was great to reconnect with colleagues and friends from years gone by but also a pleasure to see newer Cyrenians' colleagues and young people from our Creative Natives project. The young people at Creative Natives were gathering ideas for their own exhibition, which will be held at St Margaret's House Gallery in Edinburgh in January - and we're hopeful that some of these young artists will also submit work for next year's OOSOOM! Watch this space for more information about their upcoming exhibition!
Explore our Creative Natives project
Gving space for young people to express their creativity
Our Creative Natives project is a space for young people experiencing social isolation and other disadvantages to explore their creativity and learn new skills in a supportive, community-led environment.
Find out more