How the Kiltwalk transformed our Community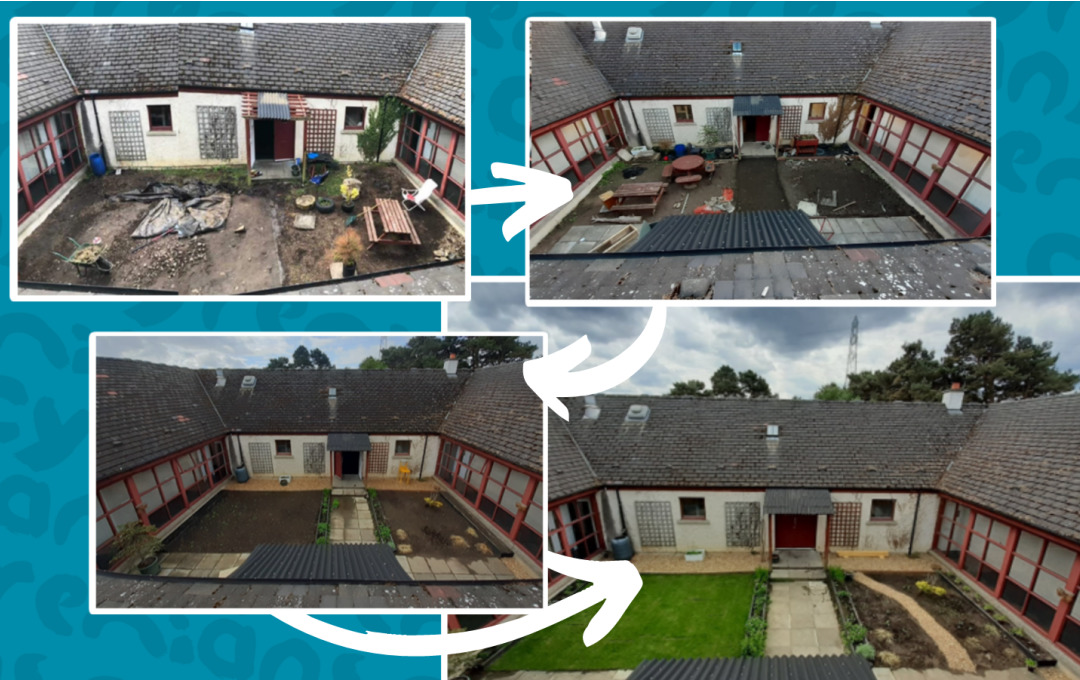 As we approach the 2022 Edinburgh Kiltwalk, which is back in person for the first time since the pandemic began, Lois Keay, key worker at the Farm Community, looks back on how last year's Virtual Kiltwalk helped transform the Community's space.
The pandemic has been a difficult time in the residential communities. Our residents and volunteers have done incredibly well throughout, finding activities to do and supporting each other through lockdown after lockdown, but needless to say it has been a frustrating and upsetting time for all.
The 2021 Kiltwalk came at a great time for the communities as it gave everyone the opportunity to get up and moving and raise funds for something that would really benefit the whole community.
Before the Kiltwalk we had a chat at our community meeting about how to navigate a virtual walk and what we could do with any funds we managed to raise. Our community house surrounds an outdoor courtyard, which has always been used and has seating in it, but was definitely in need of a revamp! Everyone agreed that developing this space would be a great use of the funds, especially after the past two years; during this time, we realised just how important a nice outdoor space is for the community. Meetings of all kinds had to take place outdoors, and the courtyard is such a social place where people will sit on a nice day to have lunch or a cuppa or sit and chat with one another. We also had many a dance party and barbeque day throughout the pandemic in this space. We were all excited to upgrade our courtyard to enjoy being outdoors even more and a big project like this would give everyone something to work towards and achieve together.
So, driven onwards by the motivation of getting a beautiful new garden, 8 residents and 6 volunteers from the Farm Community, accompanied by staff and volunteers (and dogs!) from the surrounding Cyrenians Farm, took on the Kiltwalk!
Walking the walk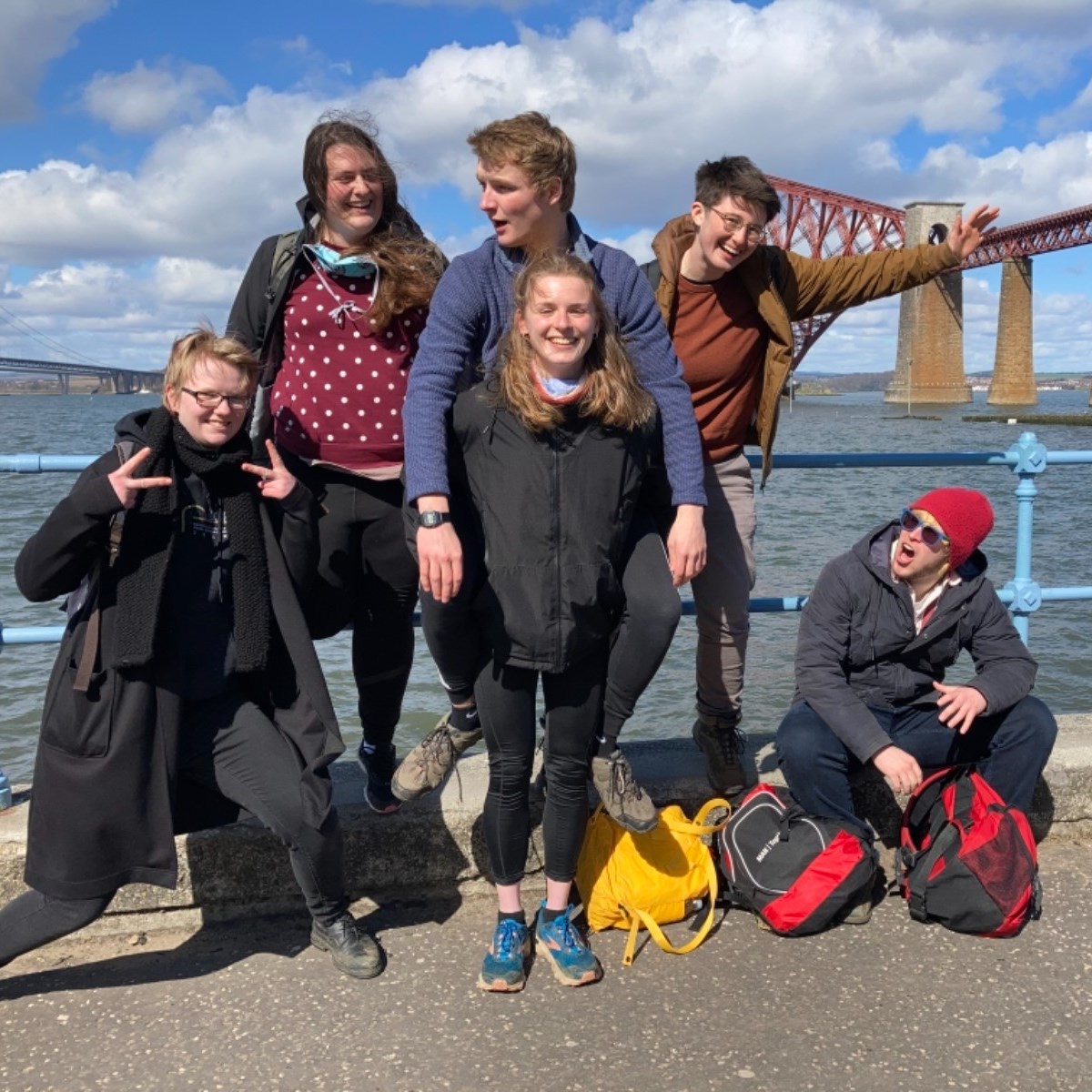 For the Virtual Kiltwalk itself, we teamed up with our colleagues at the City Community, and both residents and volunteers organised walks and runs, both in groups and separately, in our own time. The City Community did their walk up Arthur's Seat, and the Farm Community decided to set a goal of 150km over the weekend between the different group/individual walks and runs - we ended up doing 186km!
Our then-volunteer Grace, who you can see in the photo below with her fellow walkers, said,
"I took part in the Kilt Walk in 2021 alongside other volunteers and residents from the Cyrenians Farm Community. I helped to organise a series of walks over a period of three days. The aim of this was to offer a sense of flexibility to residents and to take the pressure off them to participate in what they might consider a big one off event. We were able to raise a considerable sum of money!
"I really enjoyed organising and taking part in this event. It brought the residents, volunteers, staff and farm workers together. There was a real sense of community and this continued beyond the walk as we all helped to transform the courtyard afterwards."
"I still look back very fondly on this day. We were all dressed in multi-colour tie-dye t-shirts, doing silly dances to Taylor Swift classics as we climbed the highest hills in Kirknewton. To anyone else we must have looked wild, but for us, this was firmly our community."
Everyone enjoyed doing the Kiltwalk, the motivation for getting our garden done really pushed us to fundraise as hard as we could, and the weather was great for the actual walks which helped! Thanks to everyone's hard work, and the Kiltwalk adding 50% to everything we raised, we ended up raising over £1,500 to split between the Farm and City communities.
Making the transformation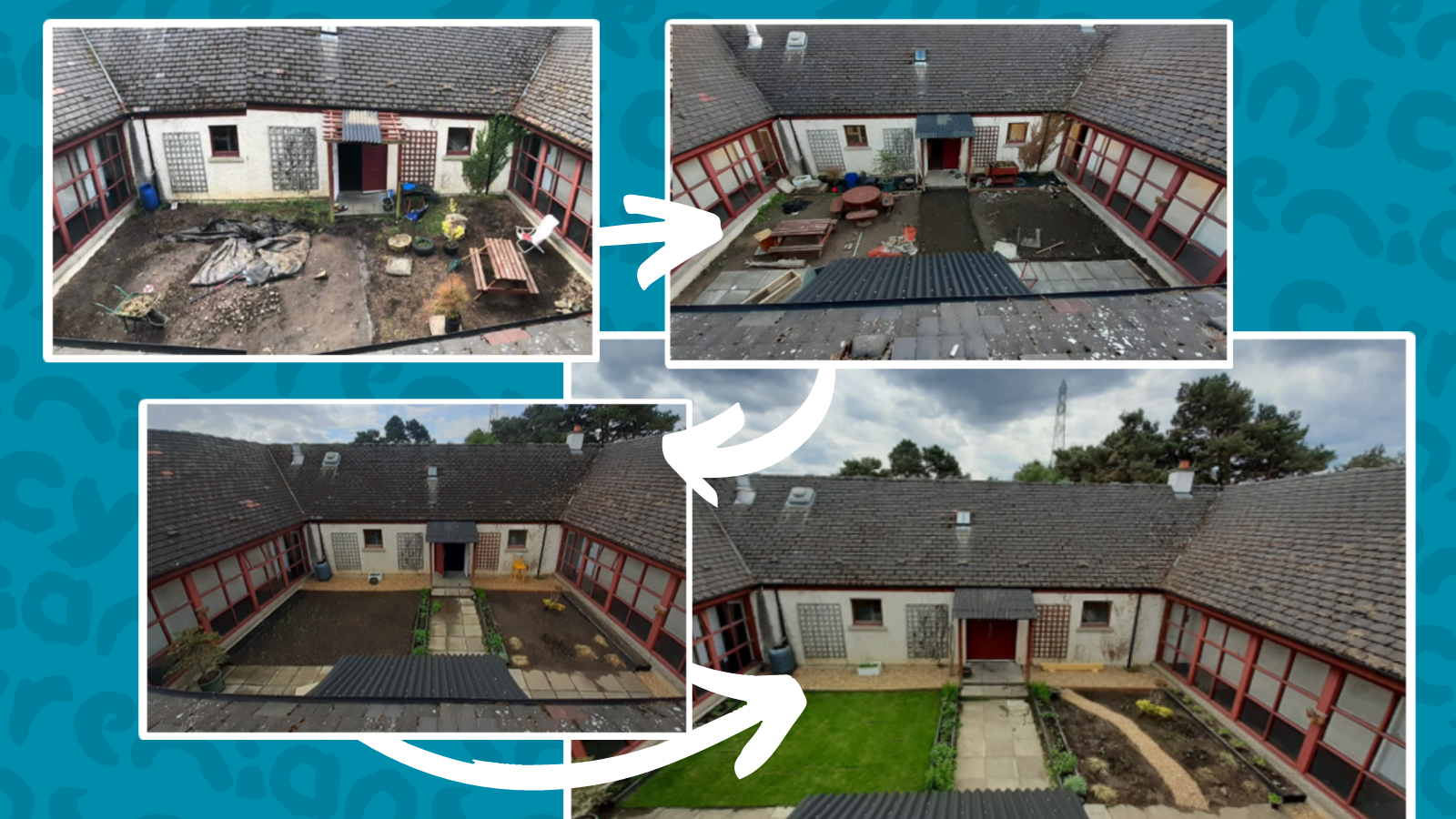 Armed with our Kiltwalk money, we got ready to fix up the garden! Originally, the plan was to hire in contractors, but once we realised the increased costs of both materials and trades during covid, we took it upon ourselves to transform the courtyard on our own, with help from some of the staff and volunteers on the Farm.
This took lots of teamwork, real challenging physical work and lots of planning and problem solving, but we learnt quickly and we've developed so many new skills! A lot of our residents were eager to get involved, and I've been really blown away by how committed everyone has been to the project. After so long with the disruption of lockdown, working on the courtyard offered a fantastic opportunity to get stuck into something together; it was safe even through Covid, since we were working outside, and the young people in the Community really embraced the challenge.
You can see from the pictures above how dramatic the transformation has been over the last year – we planted, paved and cultivated something really wonderful here.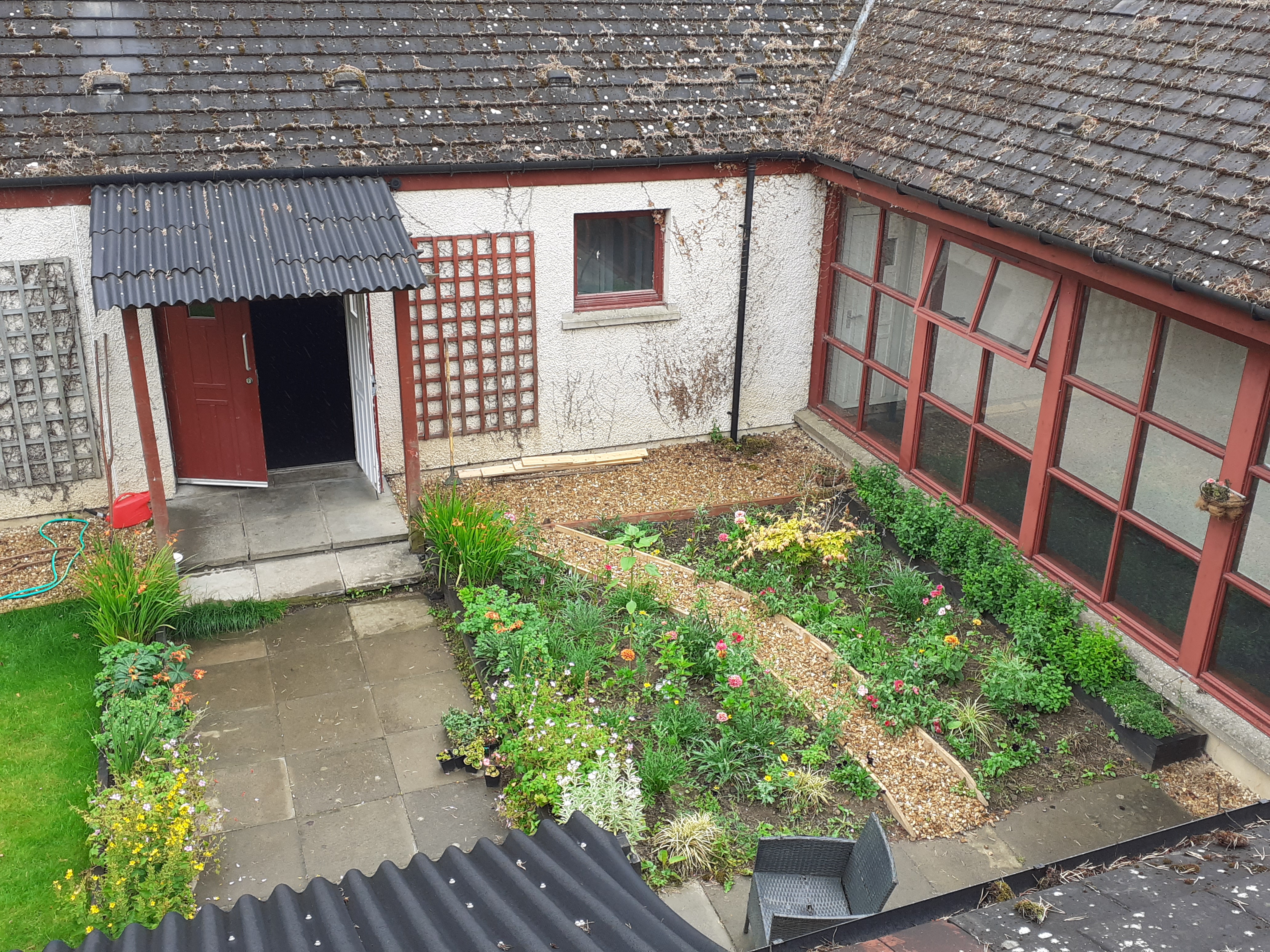 Having a lovely, bright and welcoming space has made an incredible impact to the farm community. There are always people sitting outside socialising, enjoying a cuppa or playing guitar. Since we planted flowers from seeds it's been a total joy watching them all growing and seeing the flowerbeds get brighter every day!
The Kiltwalk is back in person this year, and I'd definitely recommend it to anyone interested! We had a blast last year, and I just have to look out of the window at the garden we've created together to see how much of a difference the funds raised can make!
Get involved
Kiltwalk with us!
We're offering free Kiltwalk places to anyone walking on behalf of Cyrenians! Every penny you raise helps tackle the causes and consequences of homelessness – and the Kiltwalk will give an extra 50p for every £1 raised!
Get involved