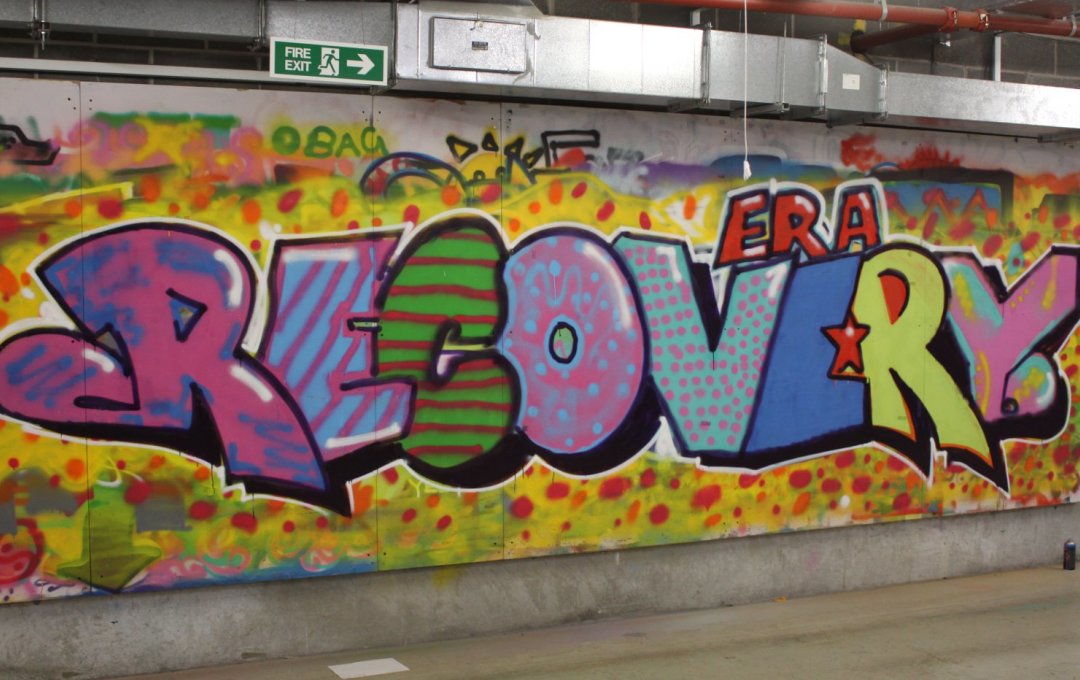 Edinburgh Recovery Activities leads, Mick McCarron and Jemma Eveleigh, explore what the recovery community has to offer.
When ERA (Edinburgh Recovery Activities) began, the community agreed that we would build a space specifically for recovery from alcohol and illicit substances. But we often say "everyone is recovering from something." Perhaps you've never experienced a dependence on alcohol or drugs, but you've struggled with self-destructive behaviours of another kind, or had to carve a path to recovering from trauma, mental health struggles, physical injury or illness. The beauty of recovery is the same whatever your story – it's about regaining health, stability and joy.
But Cyrenians' recovery services – ERA, LEAP, and others – do focus on recovery from alcohol and illicit substances for a very real reason. It's no secret that Scotland has its issues with drugs and alcohol. When you bring up addiction and recovery, people often talk about family members, friends, or co-workers who have struggled. Almost all of our lives have been touched, directly or indirectly, by drugs and alcohol in one way or another.
We know about the harm that can come with addiction. What is less known is the amount of people in recovery intent on changing, supporting, and shaping a positive future.
Stigma is still strikingly evident on a national and international scale, with many of Scotland's population either unaware or wrongly informed about recovery. In a previous project, we had to move into a new neighbourhood. We were largely met with open arms, but some of our new neighbours feared what the project might bring to their doorstep.
But we saw this as an opportunity to open our doors. We set about speaking to our neighbours in person, inviting them in to see the work we were doing, allowing open and honest conversations to happen. And whilst you can't win everyone over, the simple act of changing one person's mind in a positive manner can have lasting effects. After a while, some older residents would join us once a week, bringing banana loafs and scones– man, they were good – and after that, it felt like a different conversation.
What they realised, and what many others realise every day, is that the recovery community is intent on making lives better; their own lives, their families' lives, their communities' lives and, ultimately, all of our lives. It's unlikely you'll meet a more determined community of people -unafraid, radical, ambitious, but also welcoming, loving, supportive and without judgement.
What is Recovery Capital, and why is it important?
ERA was set up to fill the gulf left by the closure of a major Edinburgh recovery space. We wanted to build a space that was safe and open to provide meaningful and engaging, and socially stimulating experiences. Essentially, we wanted to help people build up "Recovery Capital."
Recovery Capital describes the total resources you have available to you to help change your life for the better. That could mean direct support - activism and advocacy, mutual aid and access to various means of addiction treatment, visible and diverse recovery role models, or other resources to sustain recovery. It can also include personal capital – the ability to negotiate difficult situations, to develop resilience, and all your skills, knowledge and problem solving.
But it can also mean just having the resources to meet your basic needs while you're in recovery. Often, what pushes us into crisis or challenges our recovery is just the stress and exhaustion of barely scraping through. When it's a constant struggle to meet your basic needs – to eat, to sleep, to have shelter and human contact and warmth – how do you find enough energy to do the constant hard work of recovery? When you're alone, depressed, struggling with trauma or stress or exhaustion, and you feel like nobody sees you, it makes it that much harder to keep pushing on. We're constantly impressed by the strength and resilience of those in our community, but the fact is it's much easier to rebuild your health and wellbeing if you're standing on stable ground to begin with.
Community projects like ERA help people develop networks to build up their recovery capital. We are focal, present and approachable. We make a point of being available, be that via Zoom, in person for a coffee or during one of our groups. What this all adds up to is a warm, welcoming, inclusive experience. Through reaching out and building relationships with others in recovery and their families, people are able to connect with practical support, but they also have space to lighten the load, find joy, and recharge.
Because we're run by and for the community, ERA is able to work out what's chipping away at our members and think about how to fill these gaps. Generally, if you find one person speaks about a struggle they've had, it will come out that others have had the same experiences. For example, one person early on brought up how challenging it could be to juggle being both a parent and a person in recovery. And so one of our first groups was the Mums group, which has gone from strength to strength, encouraging other mums to come together to share experiences and learning, addressing challenges head on, and creating a fantastic network of support. Nearly all our groups operate this way - peers supporting peers.
Nobody understands recovery the way that people who've experienced it do. We want to not only hear the voice of the community, but raise it up, make it louder and show the immense strength and drive within.
Find out more
Explore what ERA has to offer via their Facebook page
Organised by and for those recovering from dependencies on alcohol or illicit substances, ERA runs mutual aid groups, social events and activities throughout the year. Check them out to find out what's coming up!
Go to Facebook