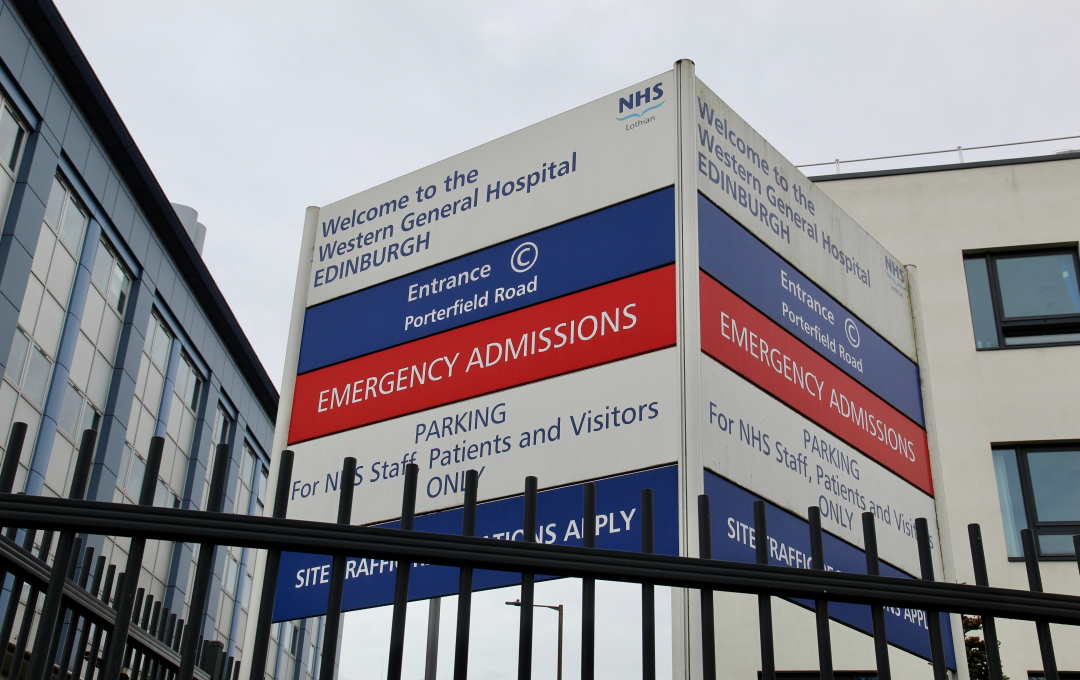 Gavin has been involved with our Hospital InReach service since the end of last year, and has found the constant, trustworthy support of his Cyrenians keyworker invaluable both in and out of our Milestone House residential facility. Read on for his story.
I met Chris from the Cyrenians Hospital InReach service when he came to see me at the Western General Hospital, where I was admitted eight months ago because I was very unwell and had a really bad breakout of my psoriasis. I didn't have any clothes with me and he got me new ones from Primark. He made sure I had everything else I needed whilst I was in the ward.
I had no one else who could do this for me, I was totally on my own in hospital.
Chris spoke to me and found out more about me, so he could try to get me into Milestone when I was discharged. He spoke to my housing officer and the Milestone team, and got me a place there to recover. I had been living in a shared room in a Bed & Breakfast, so it had been really difficult to manage my psoriasis properly because I was too embarrassed. There were drug dealers coming in and out at all times of day, and I had no privacy or dignity.
I did really well at Milestone, and Chris helped me get a private sector leased flat when I was ready to leave. He helped me move in and made sure I had everything I needed - he got me bedding, food parcels, and electricity credit when I moved in. He also supported me to get to appointments - I had missed loads in the past, but didn't miss a single one when he was supporting me. He continued to check in while we waited for my new support to start.
It took a while for my new support to start, but whenever I called Chris, he always made the time to speak with me. He even came out to help when I locked myself out!
After some time, I got unwell again and went into the Royal Edinburgh for 10 days. When I got out, Chris picked me up and took me home. But the flat wasn't really working out for me because I was isolated and fearful of the neighbours. There was a problem with one neighbour and the police were involved. I had to leave to save the situation getting worse. Chris worked with my housing officer to find me somewhere else which was better for me. He also sorted out all my social work reports for court and kept in touch with my lawyer, which took a lot of pressure off me.
In July my physical health deteriorated, and I had to go back to the Western for a short while. Chris visited, brought me food, and applied for a clothing grant for me. He negotiated with the hospital to keep me in a bit longer until a bed was available at Milestone.
Since coming back to Milestone again, my skin has improved hugely and I have not had any substances for five weeks.
I'm hoping to be referred to the Social Bite Village when I leave Milestone, as I think the community and the activities will be really good for me. I've also enjoyed going to the Cyrenians Community gardens at the Royal Edinburgh while at Milestone, and I want to continue going every week after I leave. It's been relaxing and taken my mind away from everything, and it feels good to be doing something that helps other people.
Chris has been great, and nothing is too much trouble for him. He is laid back and easy to get on with, he is sound. Out of all the support workers I've ever had, he's the only one I've been able to talk to and tell things that I wouldn't tell anyone else.
The Hospital Inreach Team do an amazing job, and they are so needed. The attention and practical support I got was way more than I expected, or have had from other support workers.