Homeless Navigator project wins at ECC awards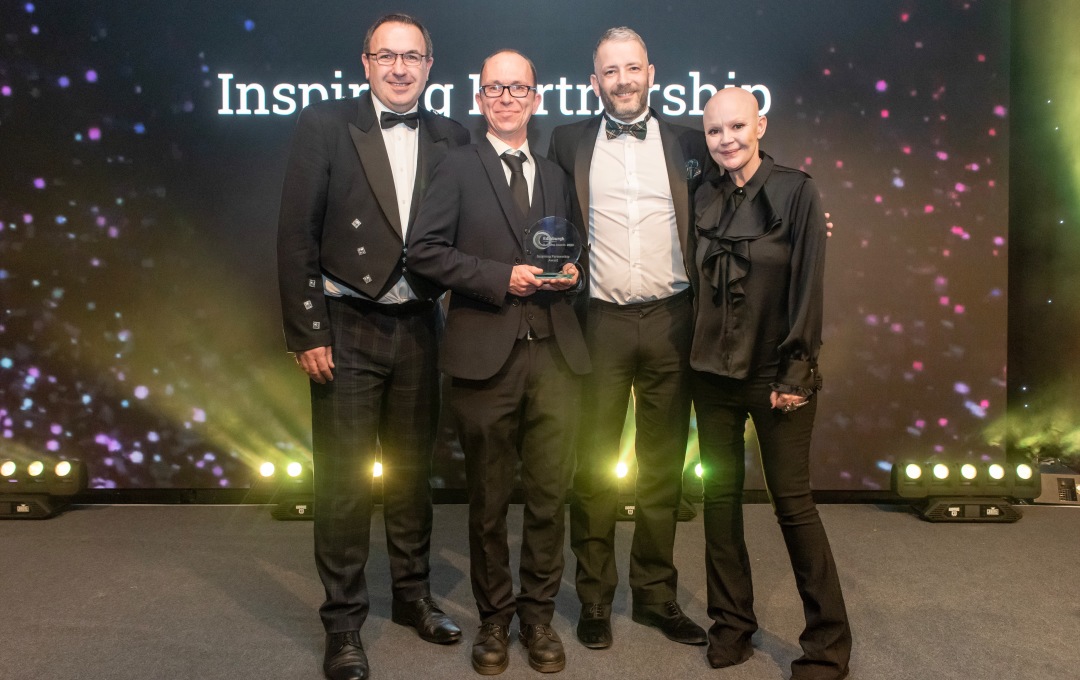 At the 2023 Edinburgh Chamber of Commerce Awards, the Homeless Navigator project, run by homelessness charity Cyrenians and Essential Edinburgh, was awarded the Inspiring Partnership award in recognition of their work tackling street homelessness in the city centre.
A groundbreaking project which provides health, wellbeing and housing support to people experiencing homelessness in Edinburgh City Centre has been recognised at the 2023 Edinburgh Chamber of Commerce Awards. The "Homeless Navigator" project is a partnership between homelessness charity Cyrenians and Essential Edinburgh, which runs the city centre Business Improvement District.
The project, which began in 2018, and supported 44 people into lasting accommodation last year alone, was shortlisted for the 'inspiring partnership' category/won the award for Inspiring Partnership. As the cost of living crisis and an acute shortage of affordable housing place unprecedented pressures on Edinburgh's homelessness services, the award shines a light on how business and charities are working together to offer solutions.
The partnership with Essential Edinburgh enables Cyrenians to provide two dedicated Homelessness Case Workers to engage with people in the city centre who are homeless and in need of health, wellbeing and housing support.
Since its inception the project has provided personalised one-on-one support to hundreds of individuals experiencing homelessness, supporting them towards stable housing and helping offer sustainable solutions to tackle repeat or long-term homelessness.
Nominated alongside other projects including Capital City Partnership & British Land, Changeworks & Scottish Federation of Housing Associations, Edinburgh College & Cadpeople, RHASS & Royal Bank of Scotland and Edinburgh Napier University & Newborns Vietnam, the charity were delighted to take home the award on the night.
Nick Harrold, Cyrenians Homeless Navigator, said, "Working with businesses in Edinburgh to support those in our community currently experiencing street homelessness has been so beneficial. By working together we're able to spread awareness about the complexities of homelessness, ensuring that those who need us most are met with compassion first and foremost.
"With Essential Edinburgh backing us, we've been able to keep supporting people through some really difficult times, from the Covid-19 lockdowns to the current cost of living crisis. Homelessness in Edinburgh is an ongoing crisis. Homelessness services were already stretched too thin, and with the cost of living shooting up, they're coming under even more pressure – that means people often aren't getting the long-term, personalised support they need to tackle the underlying issues keeping them homeless. This partnership helps us address that, and over the last 5 years it's proved its value again and again.
"Thanks to the support of Essential Edinburgh and its members, we've been able to offer long-term, flexible support to hundreds of people that is shaped by the individual we're working with. It's given us the stability and flexibility to offer real 'stickability' - the people we work with know we can support them at their own pace and on their own terms, even when things go wrong - and it's truly improved the way in which we're able to meet people where they are, and support them towards more stable futures."
Roddy Smith, CEO of Essential Edinburgh said, "Our goal is to ensure that we have a thriving city centre, where people and businesses want to spend time. Working with Cyrenians on the Navigator project, we can ensure that some of our most vulnerable residents are receiving immediate and compassionate support, making sure the city centre is a safe and welcoming environment for residents and visitors alike.
"We all benefit, as businesses and as a community, when the most vulnerable in our community are being supported, and the Navigator project has demonstrated again and again that personalised, relationship-centred support for people experiencing homelessness offers a sustainable solution. We're proud to receive this award alongside our friends at Cyrenians, and to offer an example of how partnerships between business and the third sector make a lasting difference in Edinburgh."