Living through Covid: A city turned upside down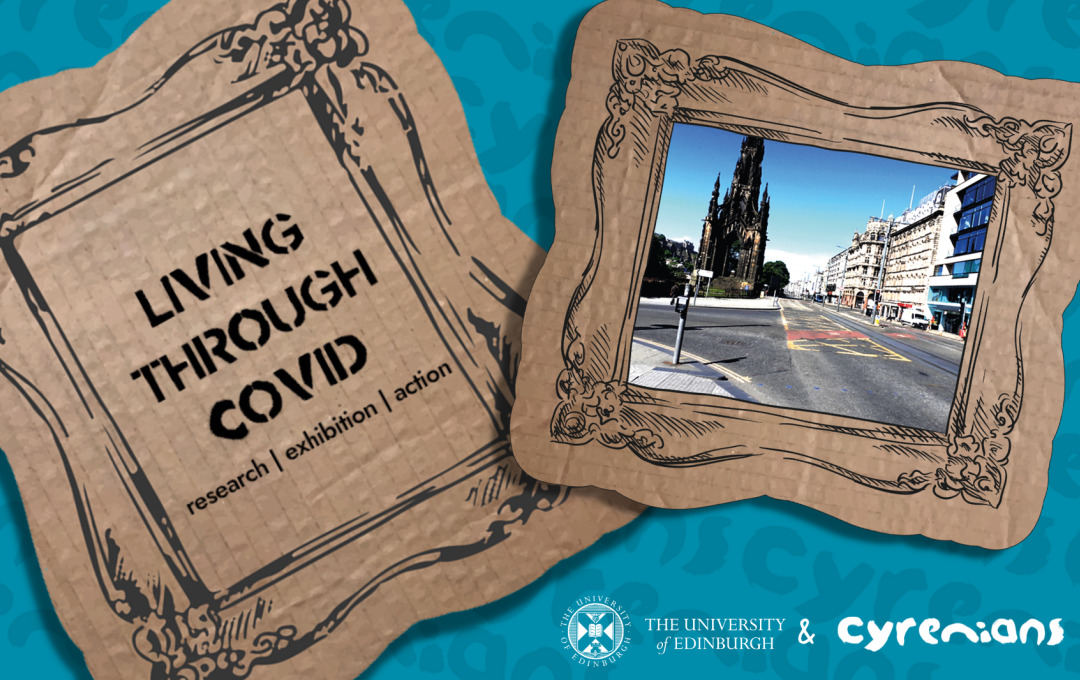 A report and associated exhibition exploring the impacts of the Covid-19 pandemic on homelessness in Edinburgh has launched, developed in collaboration between the University of Edinburgh School of Health in Social Care and Cyrenians' Outreach specialists.
Living Through Covid: A City Turned Upside Down describes frontline work in Edinburgh during the first year of the pandemic, where many of the norms and expectations of homelessness were overturned, often in unexpectedly beneficial ways – shelter made rapidly available, barriers to political access broken down, red tape falling away and access to support growing.
The urgency of the pandemic meant getting rough sleepers into accommodation became an urgent priority, with rapid, radical action taken to meet housing and health support needs, which the report argues is partially responsible for the strikingly low rate of Covid-19 cases among those experiencing homelessness
Cyrenians captured this unique point in time with frontline staff, managers and people experiencing homelessness documenting their experiences through poems, songs, video interviews, reflective journals, tweets and photographs. Researchers at the University of Edinburgh School of Health in Social Science have worked with Cyrenians to develop this into a report and digital exhibition, which launched on Monday 14 February.
Speakers at the launch included Fiona Cuthill, Senior Lecturer and Academic Director for the Centre for Homelessness and Inclusion Health; Rosie Stenhouse, Senior Lecturer and Associate Director for the Centre for Creative-Relational Inquiry; Ewan Aitken, Chief Executive of Cyrenians; Mike Wright, Senior Service Manager at Cyrenians; and some of the frontline workers who conducted street outreach during 2020.
With the recently released homelessness statistics for 2021 showing that much about homelessness in Scotland is returning to a pre-pandemic "normal", it's important to take time to explore the ways that emergency responses to the Covid-19 pandemic affected the experience of homelessness. Early responses to the pandemic reduced homelessness on a statistical level, but the stories and art showed in Living Through Covid demonstrate often unexpected changes in people's experiences, both positive and negative.
To meet people's needs during homelessness, we need to understand not just the material impacts of different policy approaches but also how it affects how people feel about themselves and their experiences. This unique report and digital exhibition are an exciting way to bring direct experience into the conversation about maintaining positive change as we come out of the immediate crisis of the pandemic.
Living through Covid
Explore the exhibition and report
Explore the report and exhibition, with a curated selection of creative work by people at the frontlines of homelessness.
Visit the site