Perthshire Big Knit raises over £4,000 for Cyrenians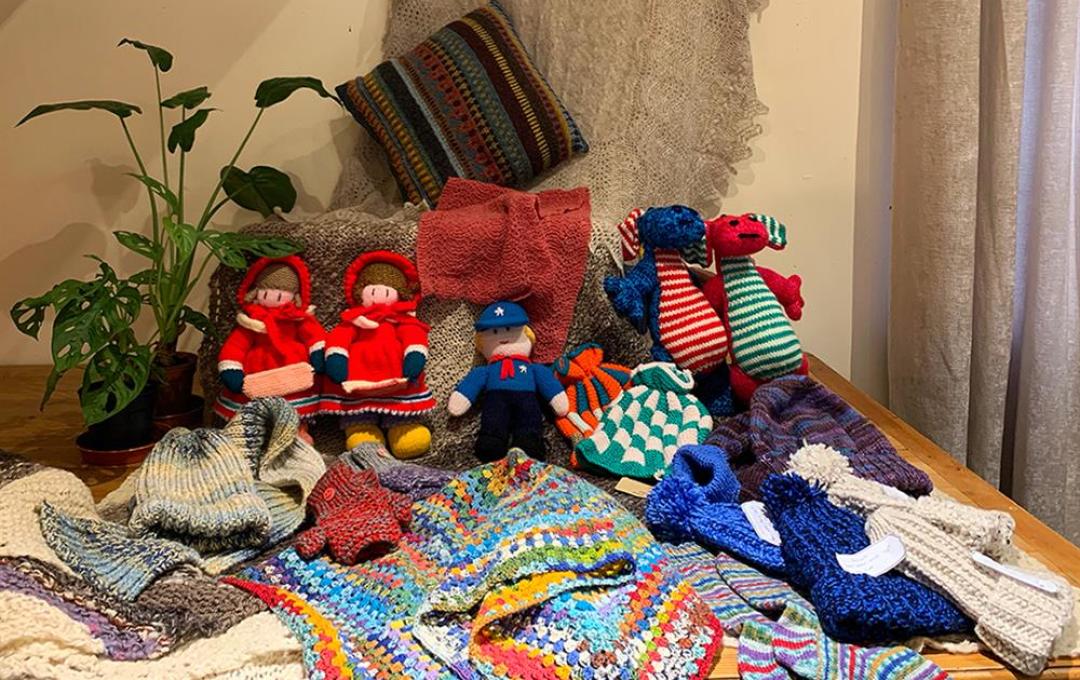 The Perthshire Big Knit, part of the Perthshire Amber festival, has been raising money for Cyrenians annually since 2016, and this year's event has raised more than ever before, with £4,348 going to tackle the causes and consequences of homelessness.
The Big Knit calls on festival-goers and supporters from far and wide to knit items to be auctioned, raffled and sold. One participant called it, "An absolutely fantastic way of bringing people together to raise some cash for a great cause."
All sorts of gorgeous knitted artworks, clothing and items were produced, ranging from Dolly MacLean's beautifully fine Shetland shawl and two wonderful hand spun throws from Carol Buskirk in the USA to special knitted toys, rugs, socks and kiddies' cardigans, hats, scarves, rugs, teapot cosies and cushion covers!
"Shopping is always fun, but even more so when you now the money is going to such a good cause," - Big Knit participant
The Perthshire Amber music festival began in 2005 and fast established itself as one of Scotland's leading musical and cultural events. Singer-songwriter Dougie MacLean and his team have developed a unique festival which shares with visitors from Scotland and abroad his native and beautiful scenery, as well as his music and musical friends.
In 2007, Dougie MacLean's mother Dolly MacLean coordinated the first Big Knit, which has since become a vital part of the annual festivities. With Dolly is still knitting away for the fundraiser, the Big Knit is now coordinated by Jenny MacLean, whose phenomenal efforts have seen fundraising go from strength to strength.
Since adopting Cyrenians as their charity of choice five years ago, the Big Knit have raised over £10,000 to tackle the causes and consequences of homelessness. Although the music festival has been suspended over the pandemic, the organisers have reached out to the community to keep the Big Knit going, and last year raised over £2,200.
This year, the community have been more generous than ever before. They smashed their £2,500 target, making over £3,000 in donations. Money and knits came in from all over the UK, and as far afield as Australia and the USA – congratulations to everyone involved in this huge achievement! The event included a virtual concert stream, the proceeds from which also went to support Cyrenians. Between donations, sales, and £1,000 raised from the virtual concert, the Big Knit raised a record-breaking £4,348 to support Cyrenian's work!
Sophie Bell, Fundraising Coordinator for Cyrenians, said,
"The Big Knit has a special spot in our fundraising calendar each year and I am so delighted that 2021 was the biggest yet. The virtual element has brought together supporters from all across the globe, even when we can't be together as normal during the festival.

Congratulations to Jenny, Dolly, and every knitter and supporter that contributed, for making this year's Big Knit another huge success. We are so grateful for your continued support and look forward to next year!"
The £4,348 raised by the Big Knit will go towards tackling the causes and consequences of homelessness through Cyrenians projects, including family mediation, patient support, food provision, and direct outreach.
Get involved
Fundraise for us!
Your donations help us offer tailored, lasting support to those experiencing or at risk of homelessness - if you'd like to organise your own fundraiser, get in touch!
Find out more