100 welcomed to OPAL Tea In The Park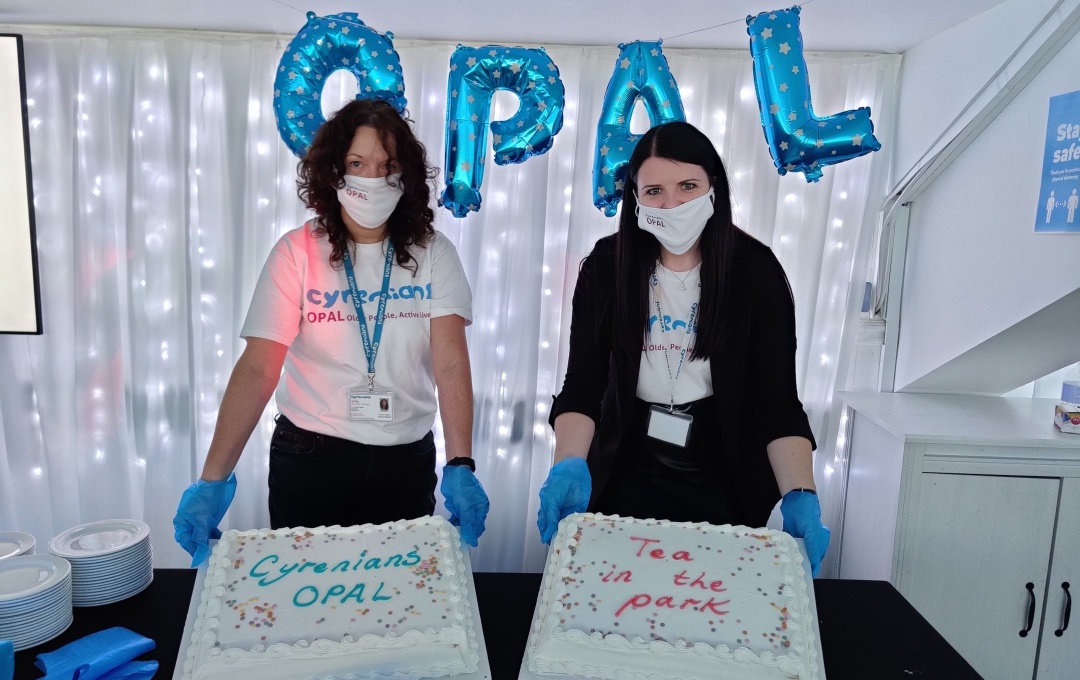 OPAL's Tea in the Park event was held on Wenesday 3 November, and the team are still smiling from ear to ear about it!
After so much time apart from our clients and volunteers over these past two years, OPAL (Older People, Active Lives), which supports over-60s in West Lothian, were delighted to create magical memories with around 100 attendees on Wednesday afternoon at Almondvale Suite, Livingston Stadium.
Attendees raved about the entertainment - with dance-floor filling sing-a-long tunes and plenty of laughs from the popular Gary Copland, followed by a delightful brass medley from Kinneil band. Participants also enjoyed an OPAL-themed bingo, a raffle which everyone had a ticket for, and of course a good blether! All of this was accompanied by tea, coffee, slices of cake and bottomless biscuits. The two-hour event flew – time really does fly when you're having fun!
We are so full of gratitude to everyone who helped make the day extra special - Gary Copland, Kinneil Brass Band, Morrison's Livingston Community Champion, Ladywell Neighbourhood Network, Tetley, Tunnocks and of course – our lovely clients and volunteers who attended. We were also joined by some of the residents from Woodlands Nursing Home, and thank them for coming along.
And finally, Tea in the Park was made possible by OPAL's event organiser extraordinaire, Billie! The OPAL team are very proud of what a success it was due to Billie's hard work planning a safe, fun-filled event and her dedication to making people happy. As one attendee said;
"So much thought went into it, from hand sanitiser to bingo!"
Pauline Moffat, OPAL's Service Manager, reflected on the event;
"My own personal experience of the afternoon stretches beyond the joyful faces, the singing, dancing, laughter and to the intimate conversations & small but mighty observations made throughout our time together.
At the beginning of the event, a volunteer who recently referred for befriending support as a client, approached me to say that they wouldn't be staying for long. On the way to the stadium, they had received a call that their partner who was receiving palliative care was extremely poorly and it wouldn't be long now.
I was empathetic but also incredibly grateful that we had built such a trusted relationship with this man and he was comfortable enough to ask for the help he needs to deal with this devasting loss. I have no doubt that at some point he will return to volunteering but for now we can provide companionship and support to help him navigate his way through the difficult days ahead.
Towards the end of the event, I noticed that he was still around and when I approached he remarked;
"You don't realise just how connected you are to all of these people until you are back together...It was great to see everyone and to be surrounded by that caring atmosphere again"
His partner died the following day. This week he will have his first meeting with his matched volunteer.
Another moment that has stayed with me was when another volunteer approached me on behalf of the lady sat next to him. She was asking if Pat was at the event as she had been receiving befriending calls her for the last year but never met in person. I promptly motioned to Pat at a table nearby and the introductions were made. The two hugged as if long lost friends and the lady could not contain her delight at finally meeting her!
Lastly, the image of David twisting on the dancefloor in his wheelchair, will stay with me forever as a reminder of what you can achieve with tea, music, friends and encouragement!"
To close on a quote that sums up the event, coming after a difficult couple of years;
"It was so nice to be around such caring people. Just what I needed."