My first time attending a Cyrenians Cook School event
Earlier this month, Cyrenians partnered with Slow Food Edinburgh for an event to celebrate the cuisines and cultural identities of three chefs from Iran, Peru and Syria. An attendee shares their experience of the event.
I've never been to an event related to the Cyrenians Cook School before, but have read and heard many good things, particularly about their sell-out Syrian Supper Clubs. When this event popped up, I couldn't pass on the opportunity to attend. Not only had I finally found the time to try Syrian cuisine, but I would also be able to try Iranian and Peruvian too!
The event was held at social enterprise café, Coffee Saints, which I had walked past multiple times when out and about in Edinburgh, but never had the chance to visit until now. The venue provided a nice and cozy atmosphere (and shelter from the rain!) with warm lights and a room filled with quiet chatter.
On arrival, I was able to have conversation with another attendee about the cuisines and which we were looking forward to the most, which then led us to talk about Slow Food Edinburgh. We both didn't know much about the organisation, other than what was mentioned in the event listing, but by the end of the night we were both a bit more informed about their work.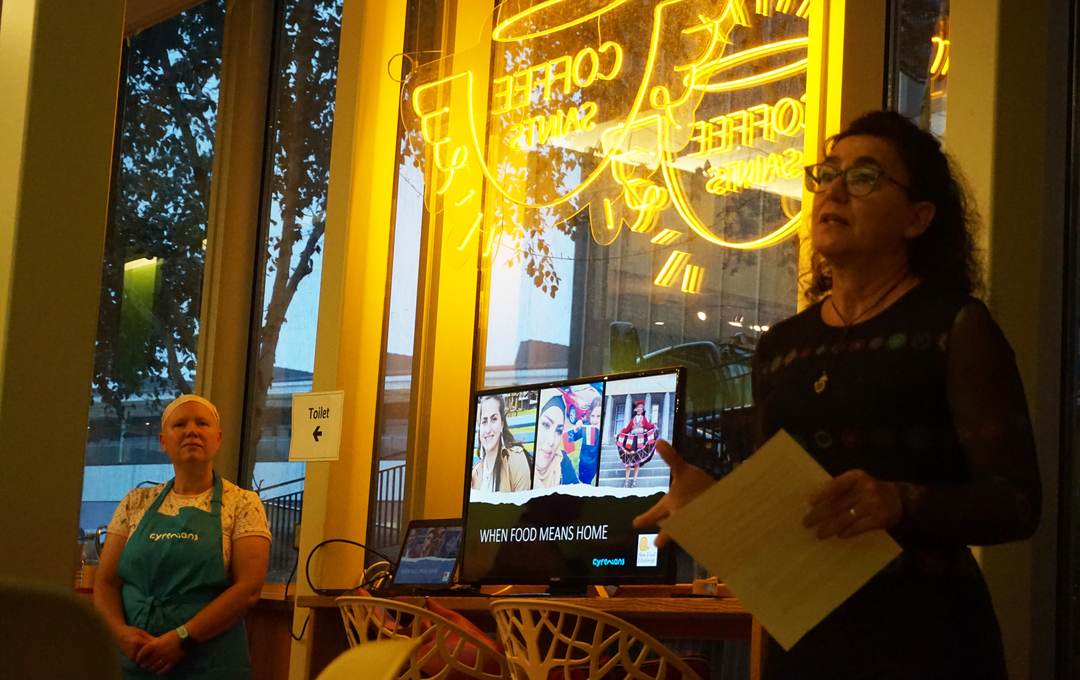 Slow Food started the evening with a short presentation whilst the food was in the final stages of preparation, welcoming everyone to the event and speaking briefly about why the event was special. It centered around the idea that food can provide comfort, joy and summon precious memories for people who have left home to live in another country, whether it's for work or due to circumstances that are uncontrollable. It was an event for the chefs to celebrate the cuisines of their respective homelands and share the joy that their food brings them to others.
Each chef presented several dishes from their respective homelands. Noura, a Syrian refugee who has in the past hosted the Cyrenians Syrian Supper Clubs, presented dishes such as Ouzi, a flaky fragile pastry filled with vegetables, nuts, meat and rice, which was probably my favourite of the evening.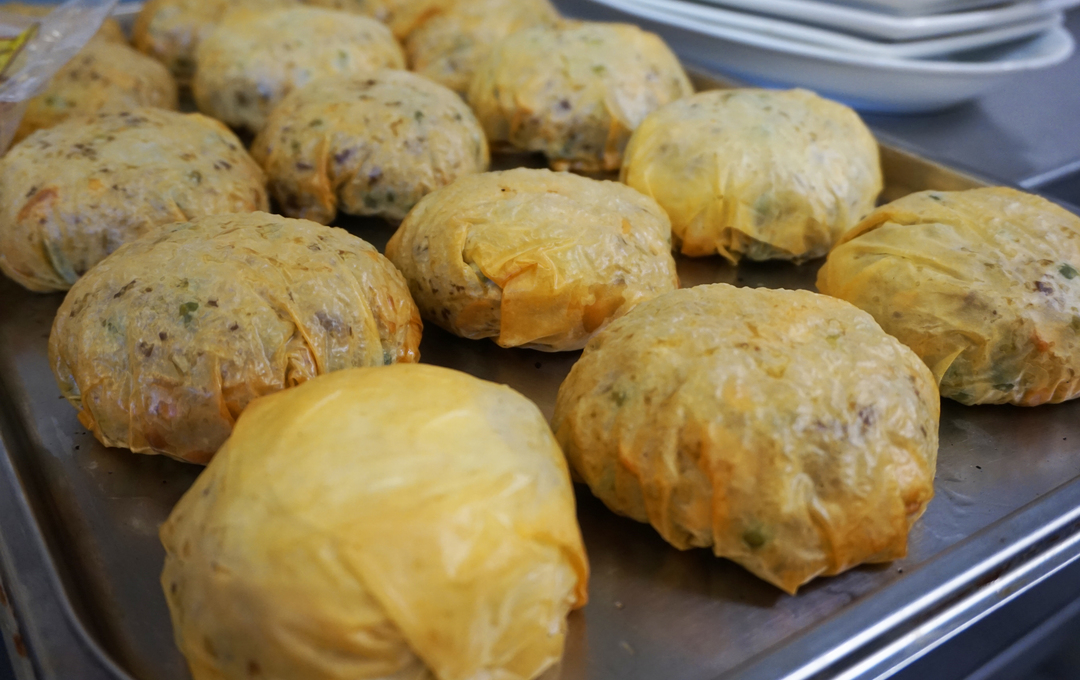 Mercedes shared the food of Peru, and had prepared dishes such as Ají de gallina, a dish similar to a chicken stew, with a creamy sauce served alongside rice, peppers and more. Solmaz put a Scottish twist on the popular Iranian dish Kuku, by adding haggis to the traditional recipe. Both chefs, Mercedes and Solmaz had also previously hosted masterclasses with Cyrenians linked to their home country cuisines.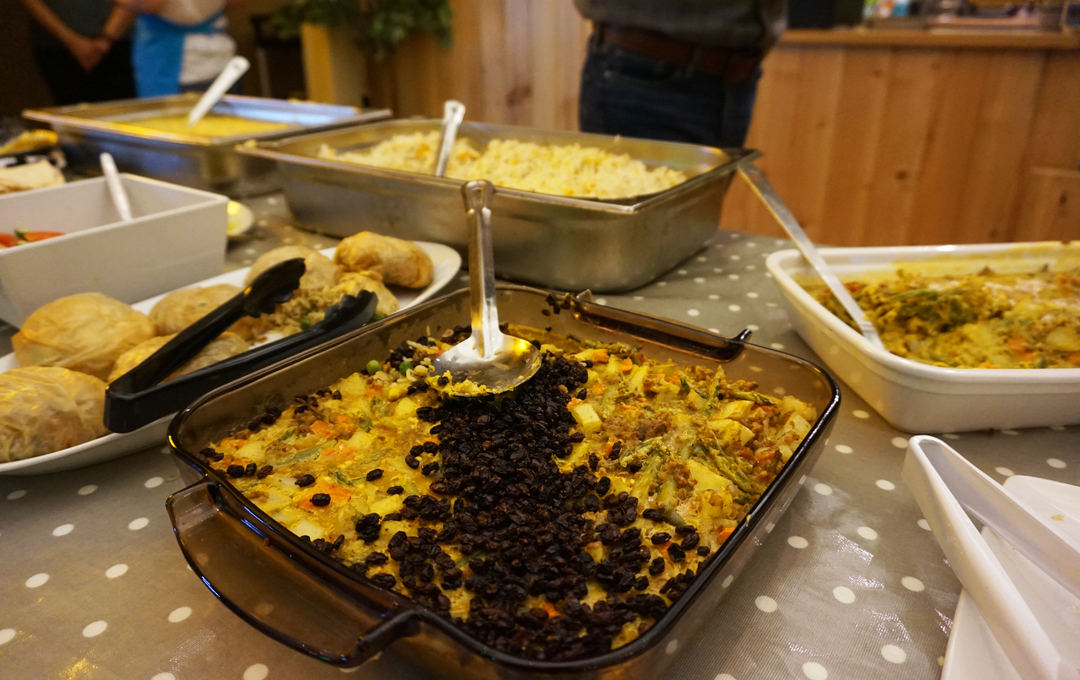 We had a short break after our main course, giving us a chance to meet the chefs and learn more about their passion for food, and how they got involved with Cyrenians and Slow Food. Seeing the impact sharing their food had on how connected they feel to their new home in Edinburgh was heart-warming and made the event feel really special.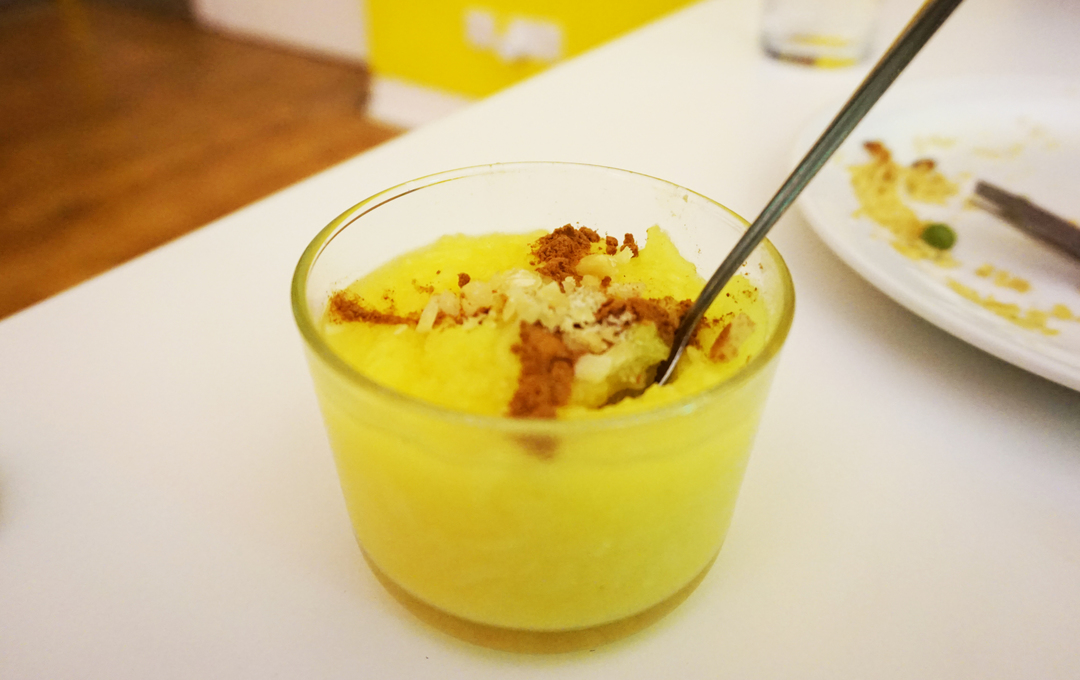 Following this, dessert was served, which consisted of Baklava and Sholeh Zard, a saffron rice pudding popular in Iranian cuisine and served at special ceremonies and dinner parties, a fitting way to end a special event.
Our Flavour and Haver Cook School supports people taking the first steps on their own food journeys, whether this is learning the basics of food hygiene and cooking, or receiving support via our flatpack meals services and community pantries. You can support our work by attending one of their upcoming events or donating here. You can also keep up to date with our work by subscribing to our newsletter.