Cyrenians FareShare chat with Empty Kitchens, Full Hearts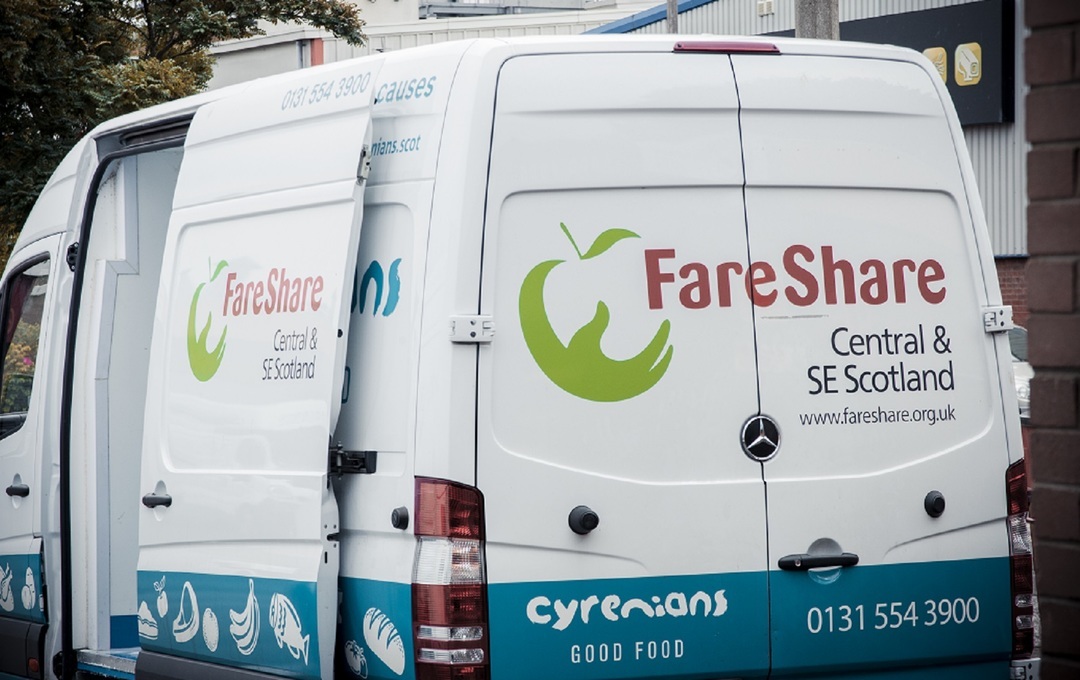 Our FareShare depot in Leith redistributes surplus food to charities and organisations (Community Food Members) across central and south east Scotland. We receive donations from suppliers across the UK such as Tesco, Co-op and many more. During the pandemic, the demand for our FareShare service tripled, our team of staff and volunteers redistributed over 4.2 million meals.
This #ChallengePovertyWeek we spoke with Empty Kitchens, Full Hearts (EKFH), one of our Community Food Members to learn more about the impact of poverty in the communities they serve.
EKFH was set-up as an immediate response to the pandemic. Lewis McLachlan, the founder of EKFH, had worked in restaurant and hotel kitchens for many years, and was passionate about tackling food poverty and improving food sustainability. When the pandemic hit, he founded the organisation in response to the need to provide wellbeing and mental health support to hospitality workers who were so greatly impacted by the multiple lockdowns.
"For a lot of those people, their whole family and community was that kitchen. People who had gone from having this incredibly full on, involving role, to having nothing to do." – Dylan Childs, Operations Manager at EKFH
Furthermore, job security was also a concern for the people within the industry, with Dylan stating some chefs were dismissed rather than put on furlough. In a lightbulb moment, they noticed that kitchens were empty, resulting in a lot of unnecessary food waste and because of lockdown there would be people unable to get access to food safely.
"It was a case of, hang on a second, we can use all of those things, which I guess are ultimately negative things in themselves. We can use those resources to feed people who were in need." – Dylan
The organisation initially started out with five or six people making soup on Bridgend Farm producing 30 meals a day, and then through word of mouth the numbers started to increase. To facilitate this increase, they moved into Dr. Bells Family Centre on Great Junction Street and are now based in Leith Theatre. At their peak around March 2021, they were making meal packs (breakfast, lunch, and dinner) for 1,500 people every day.
The demographic of the people receiving meals and meal packs from the organisation is a broad spectrum. They're delivering to people in homeless shelters, people with disabilities and young families who simply don't have enough money to make ends meet. Dylan also states that in some cases, people who are volunteering for the organisation are also service users themselves.
As a result of the pandemic, many people who were just making it by are now below the 'breadline'. Empty Kitchens, which has a firm no judgement policy and do not means-test their service users – many of their service users are in work, but struggling to make ends meet.
"If they've gone through the trouble of coming to us to get food delivered to them, they need help." - Dylan Childs
Initially, EKFH were receiving food donations from restaurants and catering companies. However, as the hospitality sector is now back up and running, donations have died down, but the demand hasn't changed. Dylan says that the organisation would not be able to help as many people as they can without the donations from FareShare and the meals produced would otherwise not be as healthy. Furthermore, the variety of food they receive challenges the chefs and Dylan to experiment and make different meals, an attribute that he points out as one of the best things for him and the team.
With the universal credit cut now taking effect, EKFH and foodbanks across the UK are preparing themselves for the potential increased demand they may face. However, relationships like the one between our FareShare depot and EKFH can help challenge the causes and consequences of homelessness.
Support our work
Food is the First Step
Every week, the Depot distributes food for over 20,000 people. Together, we can make sure no one has to go hungry.
Donate now