After a successful launch of the Fazenda x Cyrenians cocktail menu in March 2022, this spring Edinburgh's home to the authentic gaúcho experience are working collectively with us and Lind and Lime on a bespoke menu to raise funds for Cyrenians wraparound support services.
As of 1st of May, guests visiting Fazenda will have the opportunity to enjoy two bespoke cocktails – 'Turn the Sage' and 'Plan Bee' - for a limited time only. £7.50 of each cocktail will be donated towards Cyrenians' work tackling homelessness in South East Scotland.
Teresa Au, Senior Relationships & Events Manager at Fazenda, said, "We've been working with Cyrenians for several years now. It's awe-inspiring to see the magnitude of work that they do to help those in need get back on their feet. Cyrenians run a multitude of projects simultaneously, from the street crew within the city centre, to teaching and cultivating harvesting skills in their West Lothian farm to their outreach work with our local hospitals and even skills sharing in their cook school down in Leith. Now with the costof-living crisis Cyrenians are working harder than ever to support those in need and it only makes sense for us to step in and assist with the cause where possible too. The support of Cyrenians warmth, compassion, and unconditional support is invaluable."
Both bespoke cocktails feature ingredients harvested from Cyrenians' farm in West Lothian. The farm offers community support and skills training as well as growing delicious organic produce. To bring added partnership and collaboration between local businesses this year Fazenda have further teamed up with Lind and Lime Distillery, who have kindly donated 6 bottles of gin to reduce cost price allowing for a larger donation to be raised to Cyrenians.
To further hone into the Cyrenians values of community, Fazenda hosted a cocktail competition to bring a competitive flair and element of teamwork and fun in shortlisting the winner for this year's bespoke menu.
Turn the Sage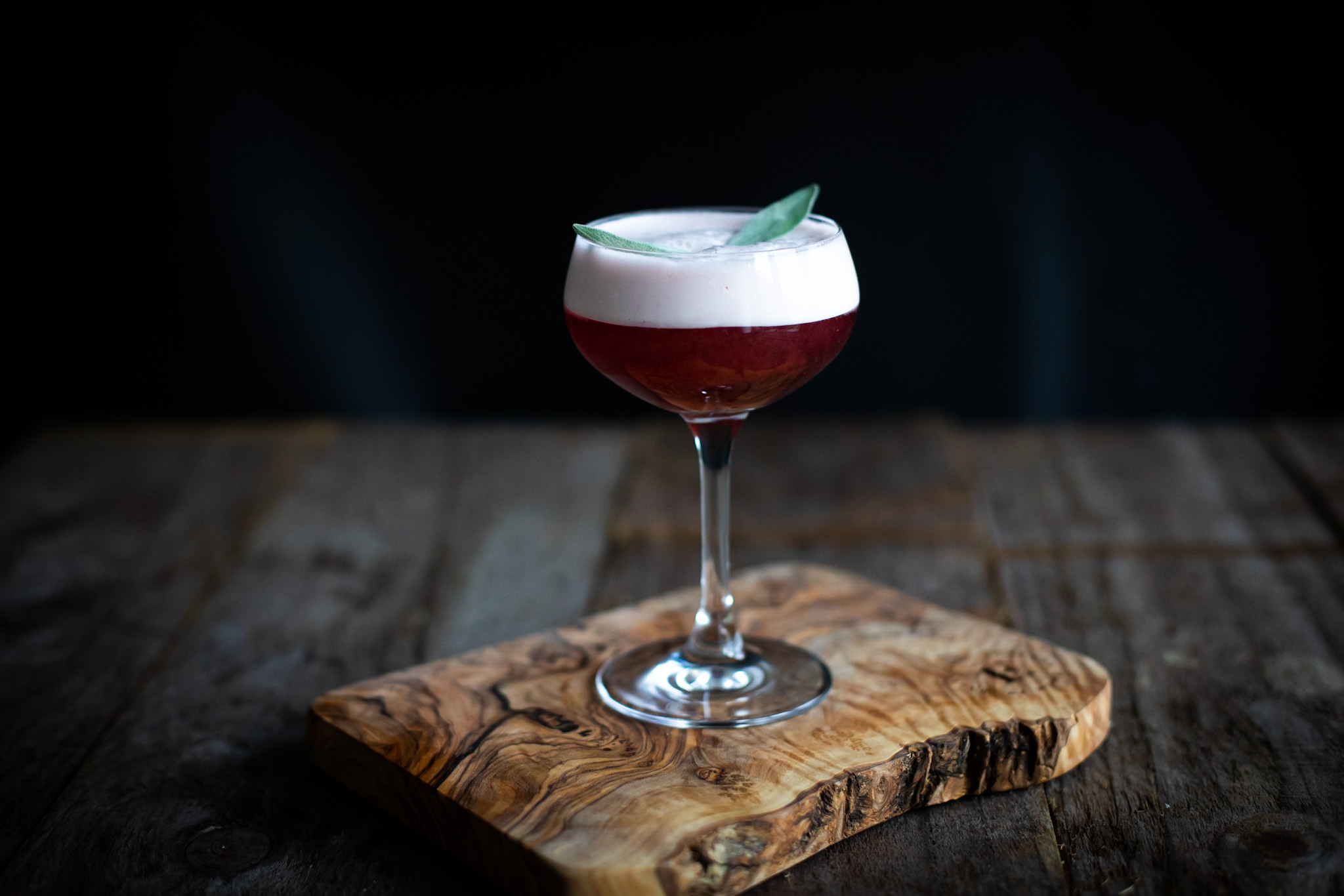 Calvin Victor, Fazenda's bar supervisor, says:
"Using fresh sage leaves and blackcurrant from Cyrenians' organic farm, I was able to create a homemade cordial that is both tart and herbaceous, complementing The Lind & Lime gin from the Port of Leith Distillery which added a sharp citrusy element to the cocktail. Served straight up with egg white for a rich and light foam.
"Spirituality and holistic approaches to life are a personal value that I hold close to heart and I wanted to bring this into the core of my cocktail concept. The burning of the sage is a practice that has been in use for thousands of years, used for purifying, cleansing, healing and uplifting of the mind and body.
"The colour of the sage represents new beginnings and growth. It also signifies renewal and abundance, also goals and milestones that those in support of Cyrenians hope to achieve."
Plan Bee
Jenni Bangs, Fazenda's bartender, says:
"As a bartender, any opportunity to showcase our creativity and skill to provoke positive change in the world is a privilege, particularly for such a worthy cause and especially to the benefit of those in need in our local area.
"Paying homage to the Cyrenians' core value of innovation, I wanted to unite the efforts of like-minded organisations in the Lothians and highlight producers who are paving the way forward to a better world. By combining ingredients with a complex palette, like the honey produced by the Cyrenians Farm, I hope that my innovative creation will further inspire people towards the earth's natural balance and vulnerable members of our community who require care and nourishment alike."
Working in partnership
Sophie Bell, Fundraising Manager at Cyrenians, said,
"We're really excited about this project! This is the second year that the Fazenda team have developed Cyrenians cocktails to fundraise for us, and it was a huge success last year – they raised over £1,900, which helped us continue to build up support to make sure people can get a stable foundation and tackle the challenges around homelessness.
"The current economic crisis has pushed thousands in Edinburgh to breaking point. More and more people are finding that their incomes no longer cover even the bare necessities – rent, food, and bills – and two years in, the cost of living crisis is becoming a homelessness crisis, as financial pressures, family conflict and stress build up.
"That's why Cyrenians' relationship-led, long-term support is more important than ever – our amazing frontline staff are able to do so much to help people get the stability, safety and support to move beyond crisis. "Organisations like Fazenda do so much to help, making sure we have the resources and support to grow our services to meet this urgent need."
This limited-edition cocktail menu can be enjoyed whilst dining at Fazenda or by simply enjoying a drink at the bar at your own leisure. Available from 1st May 2023 at Fazenda, 102 George Street, Edinburgh for 1 month.
Once again, we are excited to be working in partnership with Fazenda to tackle the causes and consequences of homelessness in the city and beyond. We encourage you to pop into Fazenda for a drink and support us in raising funds to support those who need it most.