Veg Bag Subscription
Veg & Fruit Bags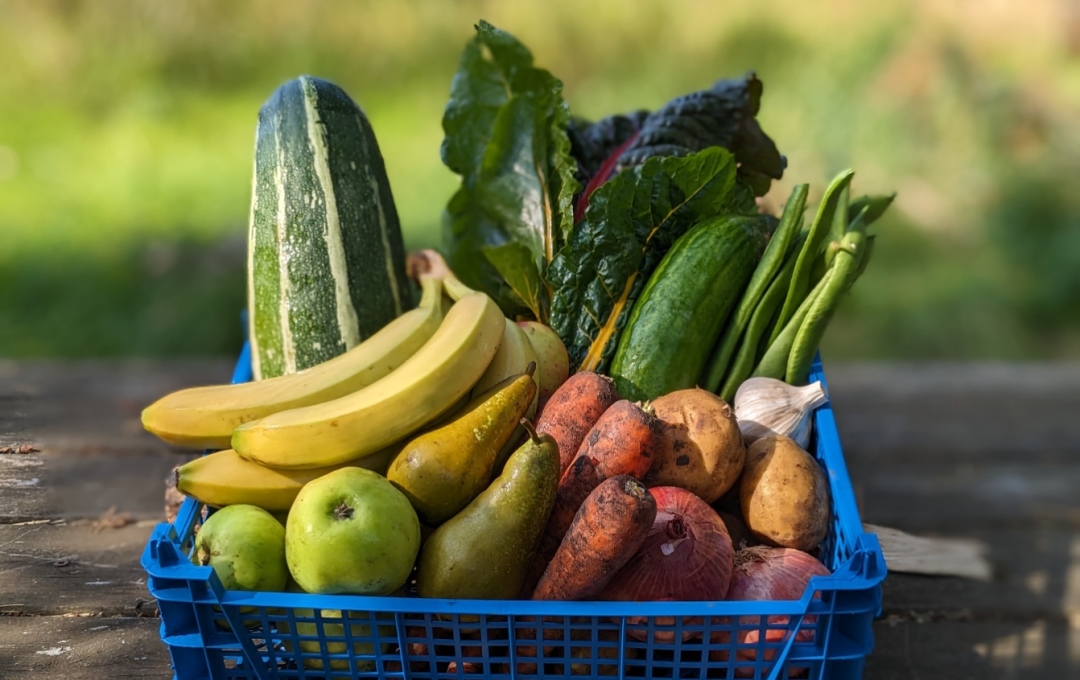 Veg Bag Subscription
Veg & Fruit Bags
Your delivery arrives in a 100% recyclable hessian bag which is collected and replaced when your next delivery arrives. There is a one-off charge of £3 which is added to your first order to cover the cost of the bag.
What's in our bags?
Our regular sized veg bags contain the staples of potatoes (1kg), onions (500g) and carrots (700g), an additional 4 – 5 portions of seasonal vegetables, plus a flavour pack of herbs, garlic or ginger. The regular fruit & veg bag contains the same, plus an additional 3 – 4 portions of fruit.
Our small bags are ¾ the size of our regular bags. They contain the same staples of potatoes, onions and carrots, a flavour pack, plus 2 – 3 portions of seasonal vegetables. The smaller fruit & veg bag contains the same, plus 2 – 3 portions of fruit.
Here's an example of our Regular Fruit & Veg Bag (£22) in Autumn:
Maris Piper Potatoes (1kg), Red Onions (500g), Rainbow Carrots (700g), Butternut Squash (750g) Salad Mix (150g), Rainbow Chard (220g), Yellow Courgettes (400g), Italian Gold Beans (300g), plus Herbs (30g), Garlic (bulb), Apples (600g), Bananas (700g), Pears (500g), Lemons (200g).
An example of our Small Veg Bag (£10) in Autumn:
Marfona Potatoes (750g), White Onions (300g), Purple Carrots (500g), Butternut Squash (750g), Rainbow Chard (220g), Runner Beans (300g), plus Herbs (30g) and Garlic (bulb).
What is so good about them?
We believe in the power of food to change people's lives for the better. By choosing a Veg Bag from Cyrenians Farm you are supporting our work distributing surplus food, delivering community pantries and cook clubs and offering free access to farming and rural skills employability training for young people on our community farm.
Everything found in the bags is grown to Organic Standards, by us at Cyrenians Farm, or specially selected by us from other Organic Farms in the UK where possible or further afield, depending on seasonal availability. They are a set of standards in farming which are better for the planet, better for nature and wildlife, and better for people.
A study from the New Economics Foundation and Soil Association found that for every £1 spent by customers on Organic veg schemes like ours, a further £3.70 is generated in social, economic & environmental value, which we think is better for everyone.
Which option should I go for and how do I make changes?
For single-person households, we recommend our smaller sized bags.
For 2-person households, we recommend choosing a fortnightly subscription to our regular-sized Fruit & Veg or Veg Only Bags.
For households of 3 or more, we recommend a weekly subscription.
Entirely flexible, you can pause, change or stop your subscription at any time to make it work for you by contacting us, just try to give us at least 7 working days' notice of any changes.
By trusting us to grow and curate the contents of each bag across the seasons, we can build stronger relationships between farmers and consumers, which means better value for everyone.
If there's anything you really don't like or can't eat, we'll do our best to swap that item for something else, just let us know.
Our Collection Locations
Kirknewton Festival Stores - Kirknewton
Weigh To Go, Leith Walk - Leith
Arnotdale House and Café - Dollar Park, Falkirk
Cyrenians OPAL - George Street, Bathgate
Ratho Primary School - Ratho
Margiotta Food & Wine - Ashley Terrace
Margiotta Food & Wine - Comiston Road
Margiotta Food & Wine - Dundas Street
Margiotta Food & Wine - Forrest Road
Margiotta Food & Wine - Lasswade Road
Margiotta Food & Wine - Mayfield Road
Margiotta Food & Wine - Polwarth Gardens
Margiotta Food & Wine - Warrender Park
Click here to see the collection points as pins on Google Maps.
Pay It Forward
If you're planning on heading away, you can choose to pay your veg bag forward and support someone experiencing poverty or food inequality, if you decide you don't want to pause your Veg Bag subscription. We're all about sustainability, so none of your fruit or veg will go to waste. We'll transfer your veg bag to our cook school to be made into delicious healthy meals to distribute to the community, provide it to one of the people we support, to someone interested in our veg bags who does not have the funds to subscribe, or back into the farm to support the growth of our organic veg.
If you would like to Pay It Forward, please get in touch.
One-off Sample Veg Bags
Looking to try out our veg bags before committing to a subscription? You can order a one off sample bag here.