Scotland braces for more homelessness as cost-of-living rise hits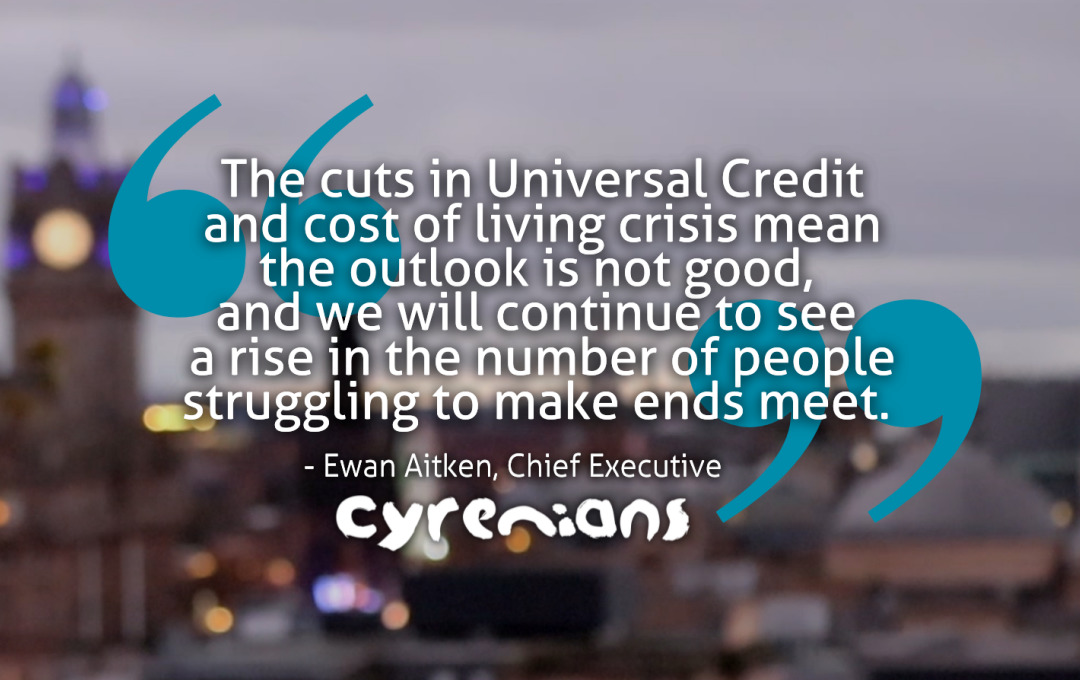 In response to the recent release of homelessness statistics from April-September 2021, the National spoke to Cyrenians Chief Executive Ewan Aitken. This article first appeared in the National on 6 February 2022.
"The outlook is not good," says the head of Cyrenians about the cost-of-living crisis and homelessness. "It will only get worse."
Ewan Aitken has been working on housing, exclusion, poverty and homelessness for more than 30 years and is likely the only charity boss who has been both the leader of City of Edinburgh Council and a Church of Scotland minister.
He's been leading the capital-based charity for around eight years, trying to strengthen communities, support families, distribute food and ultimately prevent people from falling into homelessness while working to house folk who already have.
This week official figures revealed that homelessness is again on the rise, with increases in the number sleeping rough and in temporary accommodation. More than 14,160 households were assessed as being homeless over the six months from April to September last year, up 3% from the same period in 2020.
This year, 13,190 households were in temporary accommodation, which can include hostels and B&Bs, as well as council and housing association properties. That's more than last year too, with the number of children in such housing also up at 7510. This is "too high", Housing Secretary Shona Robison stated, saying that her government and partners are "working tirelessly" to solve the problem.
But the situation is complex and rates vary across the country. In Edinburgh, the picture is a shade brighter than in other places. There's been a "notable decline" in people applying to be classed as homeless there, though 810 people remained in that category. Regardless, the city now accounts for just 6% of all households assessed as homeless, compared with 9% the year before, something that may, the Scottish Government's report stated, be "due to Edinburgh's large private rented sector coupled with still lower than pre-pandemic eviction rates, despite eviction bans being lifted".
Those figures emerged at the start of the week. By the end, a 54% uplift in the energy price cap had been confirmed, putting around £700 onto the annual bills of the average UK household.
This huge jump in heating and lighting costs comes as the overall consumer price index inflation reaches a 30-year high, something that's been related to goods shortages linked to the pandemic.
Meanwhile, the Bank of England is lifting interest rates from 0.25% to 0.5% and a rise in National Insurance costs is on the horizon for workers.
There's been much debate about the matter in the media and on social networks, with consumer charities sending out advice to the public about what they can do to try to manage.
Aitken says the simple fact is not everyone will manage. He says we "already have the evidence" that more people will experience pressure on their finances, something that could ultimately increase homelessness.
"The charity partners we support through our Fareshare programme with surplus supermarket food tell us there is a 30% increase in demand for emergency food," he says.
"Our community pantries are struggling to cope with the demand. The cuts in Universal Credit were the start of it and cost of living crisis means the outlook is not good, and we will continue to see a rise in the number of people struggling to make ends meet."
When lockdown hit, authorities across Scotland acted swiftly to take those rough sleeping off of pavements and park benches and give them safe, sanitary rooms in local hotels. That action was roundly praised but charities say the same urgency is now needed on the provision of permanent accommodation.
"There is no doubt that response saved lives, both from Covid and the cold," says Matt Downie of Crisis, which supports new Scottish Government proposals to get help to struggling households earlier. "But while there was a decrease in the number of people in the homelessness system overall, the number is still far too high. It's clear we need to do more to prevent homelessness in the first place."
"Increasing the supply of social housing will tackle the root causes of homelessness, ensure nobody is trapped in temporary accommodation and is vital in alleviating poverty," Alison Watson of Shelter Scotland said. "The Scottish Government's investment plans for social housing are positive, but we must go further."
Temporary accommodation, Robison agrees, "should be a short-term measure, particularly for families with children". Funding of £53.5 million has been earmarked for the provision of settled accommodation for all via councils.
The Dundee City East MSP says:
"The best way to reduce the number of households in temporary accommodation is to prevent homelessness from happening in the first place, and we are consulting on plans to introduce a legal duty on public bodies to act before someone loses their home."
Aitken is positive about what can be achieved, if the will is there. "By forgetting the barriers of bureaucracy and instead asking what can we do together for those facing the tough reality of homelessness, lives can and have been changed," he says of the actions of 2020. "Being able to see the person not the problem they are struggling with is fundamental to affecting positive change. Supporting people with no recourse to public funds, treating people with dignity whatever their legal status, and having the time to find long term solutions is a crucial part of tackling homelessness beyond the pandemic.
"It's important to remember that rough sleeping is a small proportion of homelessness. There are around 25 known people sleeping rough in Edinburgh but 4700 people in temporary accommodation – some of whom were there before the pandemic.
"Numbers across Scotland and in Edinburgh are lower than they were in 2019 but significantly higher than in spring/summer 2020 when measures like the eviction ban were in place. Ironically, the kind of collaborative work between public and third sectors over the pandemic meant more people felt able to access support, so the story underneath the numbers is very different. For example, moving from night shelter emergency accommodation in a hall to a 24-hour welcome hub with private rooms has increased significantly the numbers asking for help and our ability across the sector to provide that help in a joined up, sustainable way."
While those approaches are new and the impact of the cost of living crisis just emerging, many of the factors underlying homelessness and insecure housing are long-standing, such as the shortage of social housing.
"This is the result of a whole series of often ideologically-driven policy mistakes over decades," he says, "including the sale of council housing which turned housing into assets, not homes".
Barring councils from using the money from sales to build new houses made for "too great a dependence on private sector developments", he continues, lamenting the "huge sums of public money" which went to private landlords to rent out ex-council homes and the "barriers at local government level to get agreement to target funding where the need is". That's a matter close to home for Aitken.
"Edinburgh has 60% of the demand for social housing in Scotland but only gets 9% of the available support because of difficulties in getting an agreement to change the distribution formula."