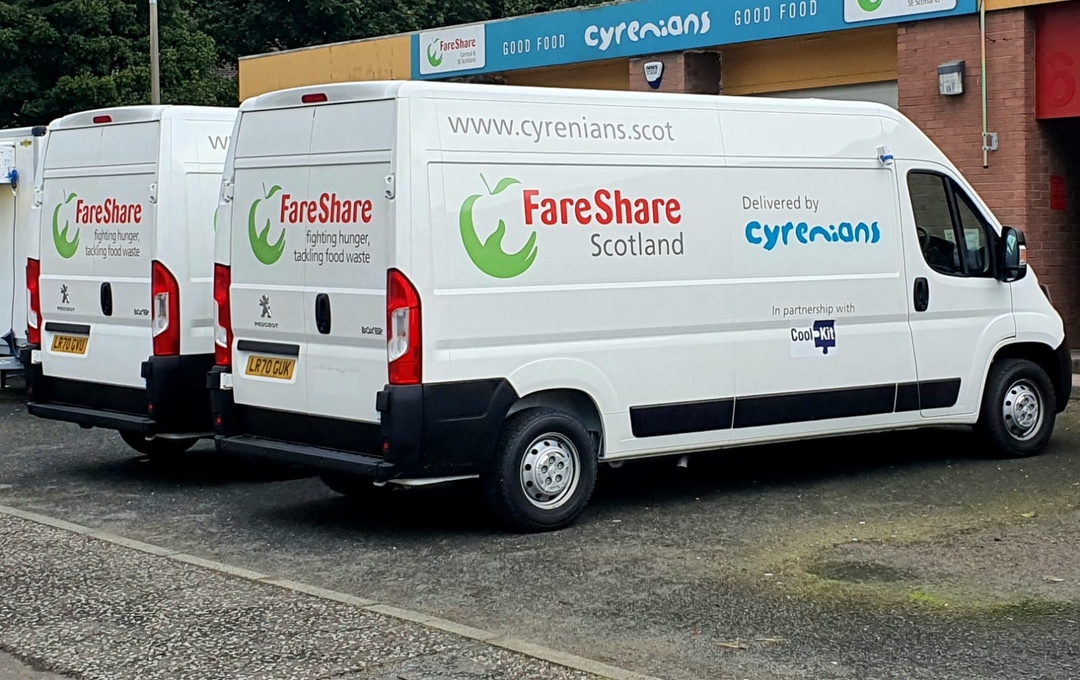 Ewan Aitken CEO writes on how we're getting food to where it's needed during COVID19
In a crisis the need for food takes on a whole new meaning. Or at least, not just the need for food, but our capacity to access the food we need. The apparent madness of panic buying showed how quickly we move to make sure we have what we need, although there is some evidence the level of panic was fed by the difficulties supermarkets had refilling the shelves quickly enough from when everyone was buying a wee bit more, rather than lots of folk emptying the shelves. In other words, though there was some selfishness, most of the collective sense of panic came from the fear of not getting what we needed rather than a desire to hoard or ignore the needs of others.
For Cyrenians, food has always been much more than simply access to nutrition. Our maxim "something to eat, someone to eat with" was borne from listening to those who experience food insecurity on a daily basis. It was those who had least that reminded us of the social power of food as a catalyst for building community and creating relationships. Although we are proud of the fact that in the last 12 months through our FareShare operation we have provided food for 1.4 million meals, we are just as proud of the relationships those meals have nurtured, the community feeling they have fed and the acts of love between neighbour and stranger they have enabled.
Right now, of course, eating together is not nearly so possible. But providing food for those in need can still happen, can still be how we show love to others. In a week we completely shifted our food distribution operation and re-provisioned our cooking capacity and are currently redistributing 5 tonnes of food a day in the form of food to community groups, food parcels and oven ready meals prepared in our kitchens.
These are going to our community food partners right across the South East of Scotland and to many who were not in our network before now. It's going to feed people who are in homeless accommodation including the hotels which have been taken over for those who were rough sleeping. It's going to many other people who are vulnerable using our now growing network of community groups as the final deliverer of the food. And it's going to feed key workers, especially those in the NHS – who are the "army" in the front line, fighting this war for us. I am not a big fan of military metaphors, but they seem apt just now!
In truth we didn't set out thinking NHS folk would be people we'd be feeding but it's become clear they need our support too. In many ways, they too are vulnerable, not in the same way as those we support usually, but still vulnerable.
The shift patterns and the quality of work and the way it comes to them means food is often the last thing on their minds – or the food they can access quickly is not healthy. You can't say to a very ill person who needs immediate care, would you mind waiting until I have had my dinner before you take your seizure. Yet without nutritious meals they won't function as well as they might. Given the option I would want a well fed medic, full of nutrients and revitalised over a tired and hungry one. The pressure of work means many are sleeping at the hospital. Many others are having to limit time at home because folk there have underlying conditions. The old military adage "an army marches on its stomach" was never more true in this case.
NHS staff working in these conditions are one of many examples of how this crisis has made us look again about what we really mean by vulnerability and our need to acknowledge we all have vulnerabilities and need help. And in helping others so our needs are met too. That is the power of sharing food; it builds community and saves lives; it feeds our very souls. It's sharing what will get us through this and back to times when we can gather round tables again and break bread together.