How card games and escape rooms helped Danny rebuild
A Galashiels business offered a fantastic birthday to a young man dealing with homelessness, thanks to support from the new Housing First Borders service. This was covered in the Southern Reporter, and here, Danny and his supporters in Housing First Borders explore the path that brought him here.
Danny, a client of the recently-launched Housing First Borders support service, celebrated his 29th birthday with a trip to Geek Retreat's new murder mystery escape room. The birthday adventure was a gift from the Galashiels cafe to a loyal customer – and a great way to celebrate the impact Geek Retreat has had for him over the past few months.
"Danny's been at the heart of the Geek Retreat community for a while now," said Charlie Dawson, manager of the Galashiels café and events space. "He and [his Housing First Borders support worker] Max come in all the time, and Max gave us a call and said his birthday was coming up and he'd come on amazingly thanks to having Geek Retreat in his life.
"The team wanted to do something nice for his birthday, and we opened a brand new escape room last month, so we offered him a free escape room experience to celebrate!"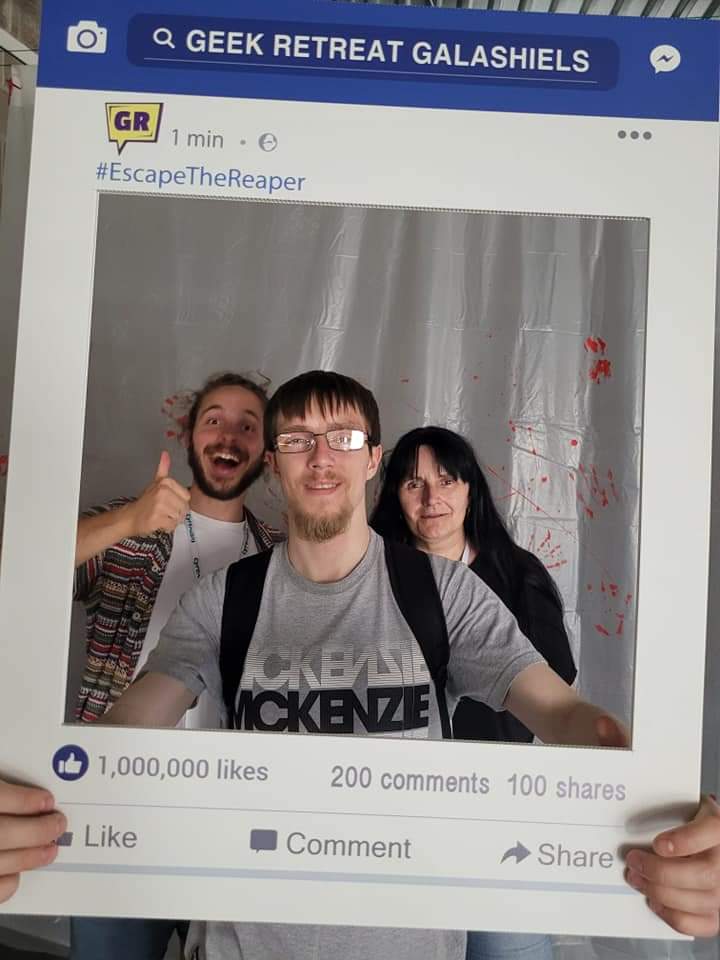 "It was a really exciting surprise," said Danny as he tucked into cake at the café with his Housing First team. "The escape room was great – they really know what they're doing!"
For Danny, who has been dealing with homelessness for some time and has experienced a lot of disruption and isolation throughout his life, the welcoming community space at Geek Retreat has given him space to find structure and joy.
"It's hard to put your life back together [after so much disruption]"
Danny says. "At school you can make friends easily, but that ended and I went down this path and when I came back and I wanted to put my life back together, everyone was gone."
Danny says his life has been marked by disruption – as a teenager he was regularly kicked out of school, moved through foster care, and struggled with unsupported ADHD and dyslexia. And after moving out at 18 and becoming homeless a few years later, "things slipped from there", he says – one thing led to another, and he ended up serving time in prison.
"When you've been to prison," Danny says, "people think you're a failure. But it's a wakeup call, it tells you that you need to change. And I wanted to change, but I didn't know where to go or who to speak to or what."
Danny reached out to help for local services, and last October he was put in touch with Housing First Borders. Housing First Borders, which is run by homelessness charity Cyrenians in partnership with the council, is a different approach to support, one which prioritises unconditional, relationship-led support. Max Allen, who works with Danny, says;
"It's about offering something stable that lets us really get to know people and what they need. As Housing First workers, we take on relatively small numbers of clients and that lets us be really flexible and present – if I'm talking to Danny I'm really listening, I'm not going to say 'oh it's nearly 5, I need to run off'."
"Our support isn't conditional – we don't dump clients if things go wrong – and unlike a lot of support services it's not limited time. We're with Daniel until he doesn't want us any more. And that kind of consistency and stability for people who've often been shunted around the system their whole lives means we have time to really build up a relationship."
Daniel said,
"I think if more people knew about Housing First, they'd want to back it."
"I've been getting support my whole life but people drop in and out. It often feels like they don't really care – they make people feel [awful] and then drop them for lashing out. With the Housing First approach, you get to actually know people – they hang about. They actually want to help – the support's really good and they've helped me do loads, really make progress."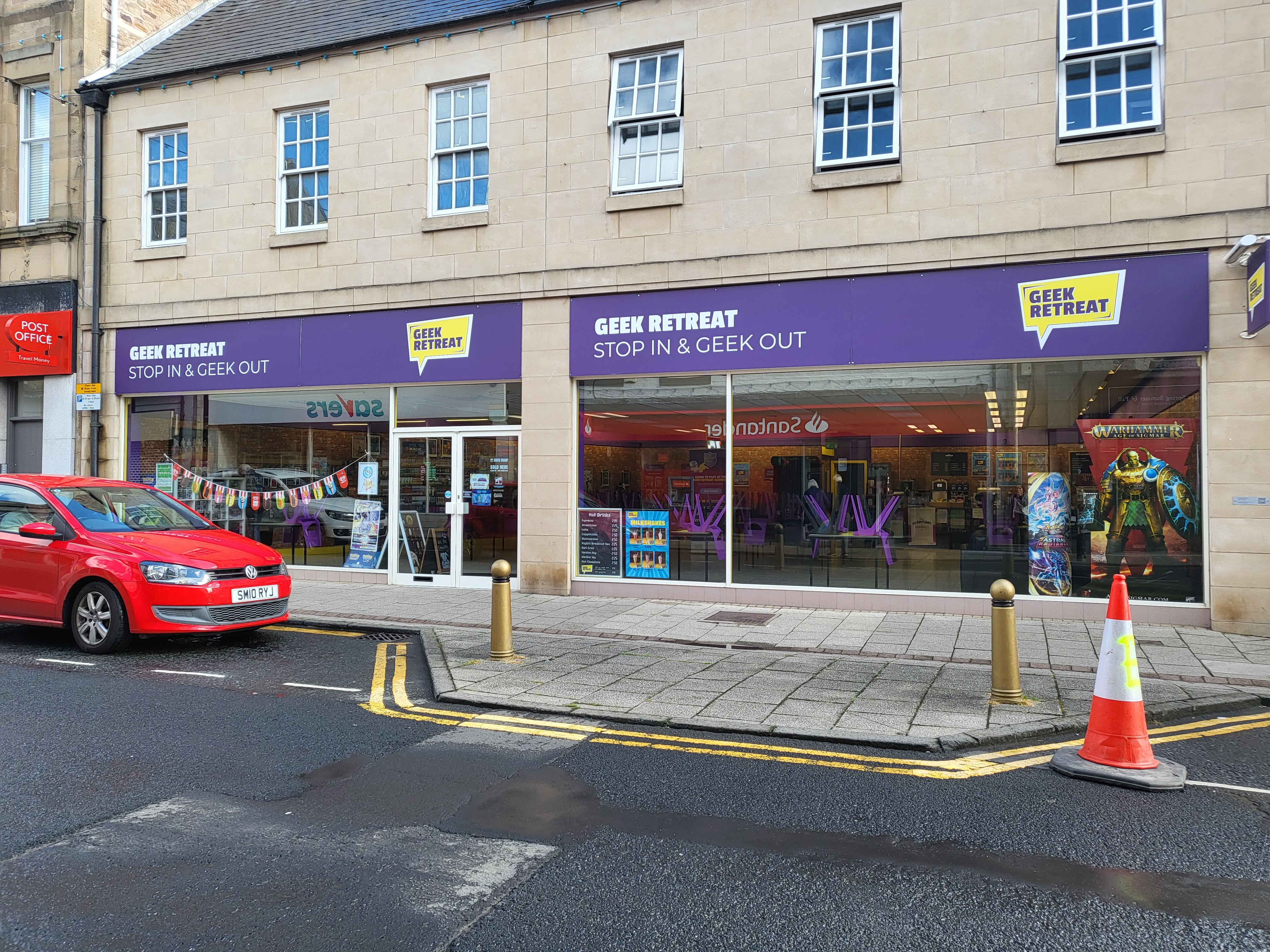 It was this relationship-led approach that led Daniel to Geek Retreat, Galashiels' own community board game café and gaming space. Daniel had chatted to Max about his desire to get back into playing the card game Yu-Gi-Oh!, which he'd enjoyed as a child, and the two found Geek Retreat a welcoming space to find fellow players.
"People say 'oh, I'd never have thought someone like you would be into those games,'" says Daniel, "and I think often people won't get into it because they're scared of being laughed at. But it's not just for a certain kind of person – it's really fun, and if more people were coming in we could teach them how to play and what to do."
For Daniel, playing at Geek Retreat has helped him develop more than just gaming skills. After years of disrupted education and late-diagnosed dyslexia, he's struggled with reading his whole life, but through his passion for the card game, his reading has come on in leaps and bounds. He's also been getting more confident talking to people, and he's become a fixture of the local Yu-Gi-Oh! community.
"It's something in his life he's really passionate about," says Max, "and because he's finally taking this time for himself he's able to put so much more back into the community."
"If you love something, you'll put the work in to learn what you need," says Daniel. "I come here every week, and I'm welcome any time – the Geek Retreat staff are really kind and welcoming, and they're actually trying to do something with this place, make a difference in the community."
"We do what we can make Geek Retreat a space for the community," agrees Charlie. "There's this misconception because of the name that this is just a place for self-identified geeks, but from my own experience in youth work I know that what we all need, whatever our age or personality or life experience, is somewhere to share our interests and our lives.
"Geek Retreat is a lot of things – it's a café, it's a gaming space, we've got the escape rooms upstairs and a community space that local community groups can use – but most of all it's a safe, non-judgemental place to find support and community."
"For a lot of our customers, this was the first place they came back to when they felt safe to leave the house after Covid, because it's the place they feel safe and accepted. It shouldn't be like that – people should feel safe anywhere – but at least we can provide a safe base."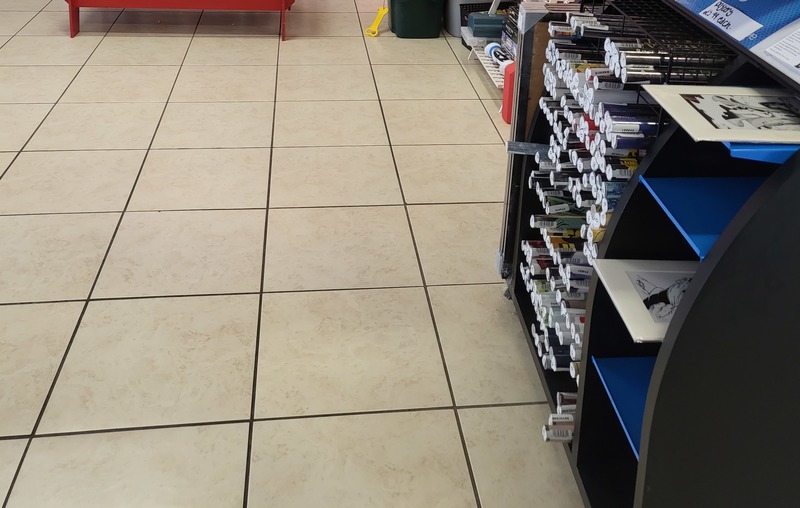 Go to Geek Retreat's Facebook
But despite its loyal community, Geek Retreat, like many local businesses, is struggling in the wake of the pandemic.
"I really wish more people knew about Geek Retreat," says Daniel. "The place is great but we could do with more people coming in to play and join in."
With games from Warhammer to Pokemon and its new escape room, which Daniel and his support workers enjoyed this week, Geek Retreat has a constantly growing range of activities and offerings – if you'd like to join the community, drop by any time on Channel Street, Galashiels, just around the corner from the station. "We're one of the only geeky community spaces in the area", says Charlie. "We're covering really everywhere from Carlisle to Edinburgh, and whether it's your first time coming to a place like this or geeky things are your life, we'd love to see you pop by!"
Support our work
Help us offer relationship-led support across South-East Scotland
Danny's experience is a great example of how relationship-led and open-ended support can help make lasting change - and that approach is at the heart of all Cyrenians' work. Help us support even more people by donating.
Donate now