Let's see where this one takes me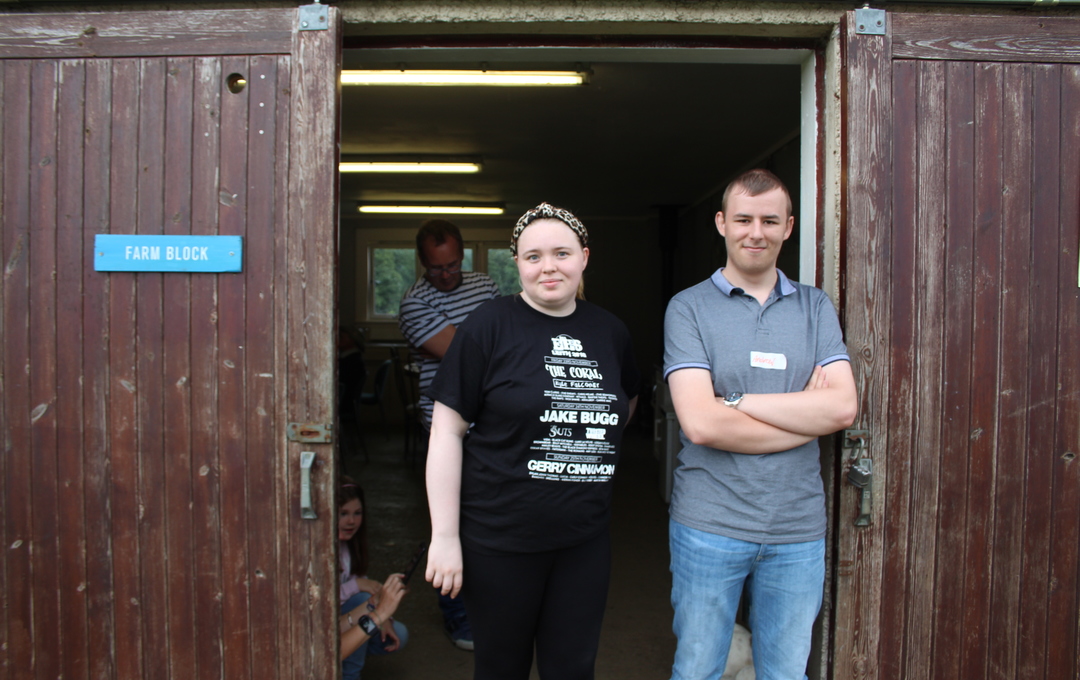 It's the time of year to reflect on the one past as we look to what the future may bring. Chloe Williams, a young volunteer, shares her story of panic, passion and success when asked to plan a family event at Cyrenians farm this year…
When I was first asked by Cyrenians 'Hey, do you want to help plan an event for families?' I thought to myself 'AHHH! I can't do that, I wouldn't even know where to start – I don't have the confidence for this!' After a little bit of a panic I figured it would be great to gain routine, improve my confidence and my CV. Maybe I could learn new skills that could help me in the future. 'Planning an event can't be that hard, people do it all the time, and it'll probably be easy' I thought. It wasn't easy. I was wrong.
Step one – write down ideas for the day. First idea – chicken racing! The team didn't like that one – something about 'animal cruelty' - so that was quickly scrapped. Actually, coming up with the ideas was the easiest part of the event planning - I enjoyed thinking of activities and events that the kids would enjoy, trying to think how they would react by thinking about how I would react if I was coming along to the event. I was fortunate to have help from some other volunteers and of course Cyrenians' staff and we spent a lot of time thinking about what kind of activities would be appropriate for the day.
In these early stages Cyrenians reminded me to keep the goal in mind - the farm day was for families that may not be good together, to help them get away from the noise of the city, build positive relationships and even help to make their home life easier – something that I can relate to on a personal level.
Growing up was hard for me. My mum was on benefits trying to feed three kids, which became five. My home was often violent and I was forced to grow up much earlier than I should have. I would wish that my family could go away for a day, do something together, I knew it would help, but it didn't happen often enough. This event could give that opportunity to other families in similar situations. It meant everything to me to get it right.
Easier said than done! If the ideas and the flow of creativity was the easy part, the hard part was getting people signed up for the event and reacting to all the things that could go 'wrong' at a moment's notice! We spent so long making posters, Facebook posts, emails. We even created an online site for ticket reservations! I checked every chance I got but people weren't signing up…'Did I do something wrong – is that why people aren't signing up?' It was really difficult waiting for responses to come through – that was the most challenging part – was all this work for nothing?
Of course people did sign up – 15 in-fact. Cyrenians told me that's over a 600% increase from last year's event when I wasn't involved… but that wasn't the end of the challenges. The rubber ducks I ordered to replace the chicken race weren't the right size, we forgot to get phone numbers for the participants to confirm attendance and about 1000 other things went wrong at the last minute! The biggest concern though was a mix up in communications though between us and the venue. I had agreed with them that they would supply lunch for everyone but with a week to go we were told that we had to supply the food – I thought 'It's all over, I've messed up!'. After a bit of a panic (Yes, another one!) I realised I'd have to ask Cyrenians for help on that one – they helped me get it resolved. Panic over. Seeing how this got resolved through keeping calm helped on the day of the event when some elderly residents of a nearby care-home came to the event unannounced. We hadn't planned for this and I thought of turning away, but chose to work with the situation, made them feel comfortable, so they could enjoy the day, and thankfully they did. I could feel my confidence growing.
In-fact my increase in confidence was really dramatic. I even got up in front of everyone and told a personal story about how everyone needs support, and if everyone comes together it can get you really far. And actually that was really clear on the day: the kids running about, enjoying being out of the city; the elderly people smiling and interacting with the kids as they played, feeling younger themselves; families helping out in the kitchen over lunch. The feedback was great from the families – they really enjoyed it and I do think we went some way to improving their relationships in small way. Everything came together to make the day a success.
So what would I do differently? I took the responsibility of leading on this event really seriously and I gave it my all, but that meant at times I wanted to do everything myself, biting off more than I could chew. I forgot that I had help from others and others had things to add to the event. I know now I can rely on others and the end result can go even further when you do. That's a really important lesson to learn I think.
Ok, so I've gained confidence, I've gained experience, I stuck to a route, improved my CV and I've learned to accept help from others. Well what use is that? I'm sure there are countless ways this will affect me as I move forward but right now I am determined to continue to help others and I'm prepared to work hard to do so.
So I'm off to college to take the first steps to becoming a youth worker, to learn more about working in communities and pass on the support and learning I have taken from others. I've been knocked back from many of my dreams in the past but I'm learning to always keep doors open and take any opportunities that arise.
Let's see where this one takes me.