We need to talk about love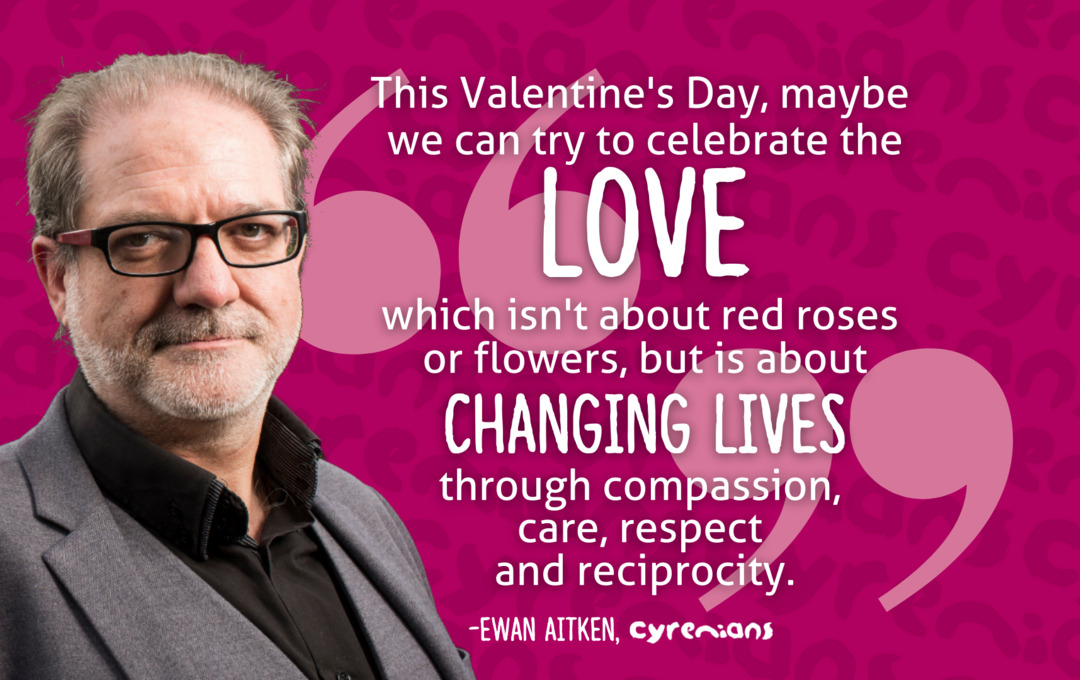 This Valentines Day, our CEO Ewan Aitken reflects on the love at the heart of Cyrenians work. This article first appeared in the January edition of Third Force News.
We need to talk more about love. February always brings the business (I use the word business deliberately) of Valentine's Day version of love, and especially the red heart associated with it, to the fore. I despise the commercialisation of love but take delight in knowing the origins of the actual, rather than the commercial version of Valentine's Day Heart are genuinely Cyrenian!
The what we now perceived to be heart-shaped silphium fruit, part of the Fennel family, was grown in abundance around the city of Cyrene around 500 BC. It was greatly valued medicinally and used in cooking but was also a herbal birth control method, which is why the shape of its fruit is connected to passionate love and relationships. Writing of the time also connect silphium to sexuality and love.
Love of course, is a multi-faceted word. It is how we describe not just intimate relationship but actions which are part of all relationships, not just between lovers or families but between friends, neighbours, colleagues, between people we meet briefly and never again, between strangers and between people we know all our lives. It's even possible to act in love for people we will never meet – by the choices we make which impact others.
We act in love when we act with compassion, when we give with no expectation of receiving, when we go the extra mile, when we receive in gratitude the unexpected, the tender and the caring, the thoughtful and the just. Much of what my colleagues in Cyrenians do every day are acts of love. Their acts of love are amazing but are not unique; the same could be said of staff and volunteers in organisations right across the country. And not just in the Third sector but across all three sectors, there are people who chose to act with love to others in their daily work. It's not in their job descriptions but its why they do their jobs so well.
It is made manifest in many ways. Our Prison Visitor Centre in Addiewell is the first in Scotland to teach families with a member leaving jail still struggling with an addiction how to administer Naloxone. It's a brutal thing to admit it is what is needed but it saves lives; what more loving act could there be.
When people ask me what Cyrenians do, I answer, "We build trusted relationships."
Whatever the problem, the answer is trusted relationships. By this I do mean loving relationships but even I am not yet brave enough to call them that. But that is what they are. The very principle of holistic, person-centred work which is the heartbeat of what Cyrenians and so many others do is to make the relationship between the person giving support and the person being supported as equal as possible. It is built on compassion and care but also reciprocity and love. It is still professional, it is still boundaried but it is at its heart a relationship, a human connection not a transaction or a delivery of a service. It is formed and shaped by acts of love. "Love is what makes the world go round" says the song, not money.
The Independent Review of Care which led to The Promise to Care Experienced young people has as its ambition to:
Create a Scotland where all young people can grow up feeling "Loved, safe and respected, so they can realise their full potential"
Imagine if all our policy documents began with a similar ambition; that what we do will mean those we support feel "loved, safe and respected". Imagine if the answer to the question what your job always was "I create and make loving relationships". This Valentine's Day maybe we can try to celebrate the love which isn't about red hearts and roses but is about changing lives through compassion, care, respect, and reciprocity. Are you brave enough?