Community and acceptance can change the picture of LGBTQ+ homelessness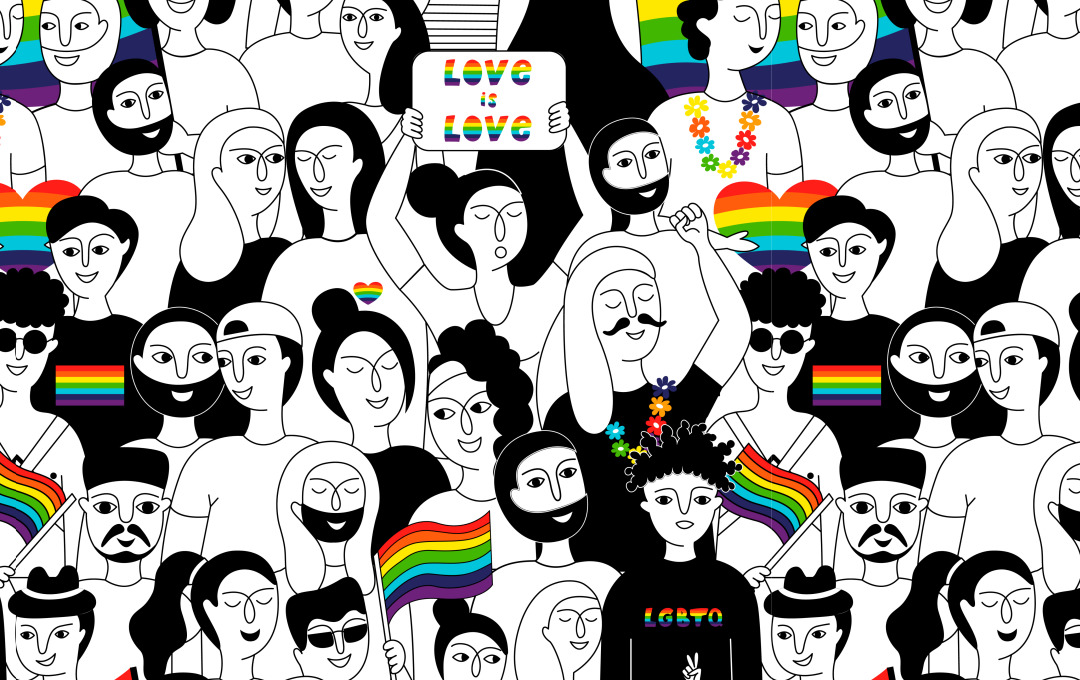 Our LGBTQ+ Group explores the history and present of LGBTQ homelessness, and how that's shaped a history of struggle, activism and community support.
Although Scotland is now seen as one of the most progressive countries for LGBTQ+ rights, it's only been about 40 years since homosexuality was illegal here, and Section 28, which prevented "promotion" of LGBTQ+ identities, wasn't repealed in Scotland until 2000.
In a modern Scotland, where we've made so many strides in the last few decades with equal marriage legislation, adoption equality, inclusive education initiatives like TIE, and a wealth of gay, bisexual and transgender voices in the public eye, it's easy to imagine that we've moved beyond homophobia and biphobia.
But the public and legal acceptance of queer identities is still fairly new, and many LGBTQ+ people today grew up in a Scotland which told them that who they are was unacceptable. Even among younger people, people who were born after Section 28 was repealed, acceptance isn't a given – legal discrimination may have been reduced, but there are many ways that LGBTQ+ people continue to be marginalised (and with transgender rights a political background at the moment, legal protections for people in the community feel increasingly precarious).
Young LGBTQ+ people in Scotland are often met with rejection and anger from those around them; almost a quarter of young people dealing with homelessness in Scotland are LGBTQ+, and 7 in 10 of those surveyed reported experiencing violence, rejection or harassment from their families. A UK-wide 2021 study found that young LGBTQ+ people experiencing homelessness overwhelmingly reported family rejection, abuse, and lack of support from family and authorities.
LGBTQ+ people across Scotland and around the world have spoken about the ways that entrenched homophobia and transphobia have affected, and continue to affect, millions of us. The trauma that comes with the experience of rejection, abuse and shaming, as well as employment and housing discrimination, brings the types of harm that trauma often does. With many people spending their formative years in a Scotland that explicitly criminalised their existence or did not protect them from discrimination and violence, the community has for a long time seen a high rate of poverty, mental health problems, and homelessness.
But because of this history of marginalisation, community action has long been part of LGBTQ+ history, whether it's fighting and marching and lobbying for their rights and wellbeing to be recognised, or building communities of care and support in day to day life. The message that we tell each other is – you are not alone, and you can survive and build a future that's authentic to the person you are and the things you need.
In Scotland, grassroots community projects like the Scottish Minorities Group (set up in 1969) or the Lothian Gay Switchboard and Lesbian Line (set up in 1974) have organised to offer support to people struggling with issues relating to homophobia and transphobia, including familial rejection, abuse, addiction and homelessness. Organisations like Stonewall Scotland and LGBT Youth Scotland continue to represent the needs of the LGBTQ+ community in the country, and formal and informal support networks continue to develop across the country.
For those of us working in housing and homelessness, it's absolutely vital that we can work with the broader community, learning from and uplifting the community-led activism and support that has been at the heart of decades of LGBTQ+ community organising. And with LGBTQ+ people still disproportionately likely to experience homelessness, and often faced with extra barriers to support, it's also crucial that the voices and needs of the LGBTQ+ community are heard at every level of our work.
That's why Cyrenians has an organisational LGBTQ+ group – set up as a subgroup of our Equality and Diversity working group, it's a space where LGBTQ+ people and allies can come together and discuss how we ensure we're meeting the needs of a community that is still affected by decades of legal and social discrimination. Together, we're building towards a positive future for LGBTQ+ people of all ages and backgrounds.
Through making Scotland an ever more welcoming and accepting place to be LGBTQ+, and through building inclusive support for families and individuals facing rough times, conflict or abuse, we can all contribute to building a future where homelessness is no longer a common experience for LGBTQ+ people.