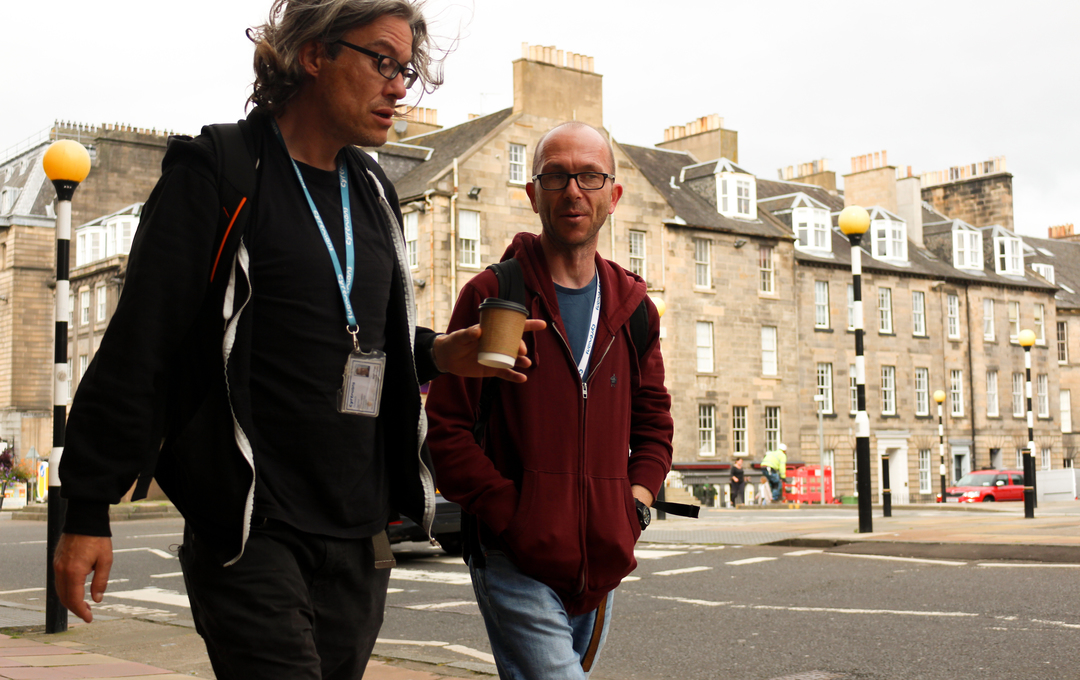 This week is #TrusteesWeek - an annual event to showcase the great work that trustees do and highlight opportunities for people from all walks of life to get involved and make a difference. Mark Diver, from our Outreach Team, shares his journey:
When I was asked to write a blog for Trustees' Week I think I was really being asked to write about my experience as a charity Trustee - but I want to tell you about my journey rather than the destination. I want to do this because I founded, and became chair of, a SCIO (Scottish Charitable Incorporated Organisation) by accident.
When this story starts, I had been unemployed for twenty years. I had such severe depression that I would do my grocery shopping at 2am for fear of bumping into one of my perfectly lovely neighbours on the stairs. A combination of the right medication for me and a skilled Occupational Therapist gave me the space and confidence to think about doing some volunteering work, and I found myself helping out at the Big Issue office on Queensferry Street once a week.
The Big Issue office was a great place to help me to re-enter society – it was part shop (there was even a till!), part office and part drop-in service. Then the staff decided to add soup kitchen to the repertoire and asked for volunteers to, erm, volunteer to make some soup and offer a welcoming smile to Big Issue sellers who popped into St John's church for a bite to eat. "Oh, and could you also make the soup?"
I said "yes" for two reasons: firstly because I can't seem to say "no", and secondly, what Scottish person doesn't think they can make great soup? The world deserves to try my soup!
Nobody came to Biggish Soup.
They wanted to sell magazines and earn money rather than sit in a church basement eating amazing soup, so I had plenty of time to get to know the church staff - such that when it was decided that Biggish Soup's time had come a member of staff from the church asked me if they could help in another way and I said "yes" as usual.
Souper Saturday opened in September 2012. It was for everybody, not just Big Issue sellers and it would concentrate on social interaction with the food as an enticement and would take place in the DRT room at St John's on Lothian Road. I doubt that I knew what a trustee was at the time.
On the first Saturday there were four guests if I was lucky, and I managed to read two thirds of Keep The Aspidistra Flying before they arrived. I was beginning to wonder if my soup was as good as I thought!
I needn't have worried; after a few weeks Souper Saturday had a hard core of about a dozen guests who would stay for the entire six hour duration as well as another dozen or so who would pop in for a bit. I still haven't managed to finish Keep the Aspidistra Flying - I was too busy learning astrophysics and number theory from talented people who happened to be down on their luck. I had two or three amazing volunteers and we would basically hold a six hour family lunch of soup and sandwiches every Saturday. The only way to differentiate it from a family lunch was that everybody got on.
At this point I decided that the 'organisation' - four folk in a church with some shopping - should have some structure: a constitution; a bank account; a few written policies, etc., so that we didn't make funders who weren't my pals run a mile! The nature of our relationship with the church, as well as our team's inexperience meant that, at that stage, becoming a SCIO wasn't really an option so we chose to constitute ourselves as a Voluntary Organisation with a view to becoming a SCIO within a year or two. However we acted as if we were a SCIO in terms of governance, administration and trustee roles so that when we took the plunge we'd have less than a learning curve.
More volunteers joined (at this stage it was still all folk I knew personally) and we formed more and better working partnerships which allowed us to provide better food for our guests, meaning that we were attracting more guests so we had to move from a space with a capacity of 20 to one with a capacity of 100. We were serving literally tons of food every year to vulnerable adults and we had a pool of 20-30 volunteers.
The actual admin part of becoming a SCIO was straightforward. Building something worthy of that status was a lot of hard but rewarding work, and the experience has shaped my career. It created me as the person who I am now, and whilst I did put a lot in, I got it back out many times over in the experiences and relationships I made there. To watch an organisation grow and flourish is definitely the most rewarding experience of my life.
I was lucky to stumble upon some absolutely amazing people along the way who were keen to become involved, many of whom are still a very important part of the organisation seven years later, whether as trustees, volunteers or guests.
I stepped down from the Board of Trustees two years ago, but a few weeks ago I was asked to start volunteering again and guess what I said?
I'll never finish that bloody book!