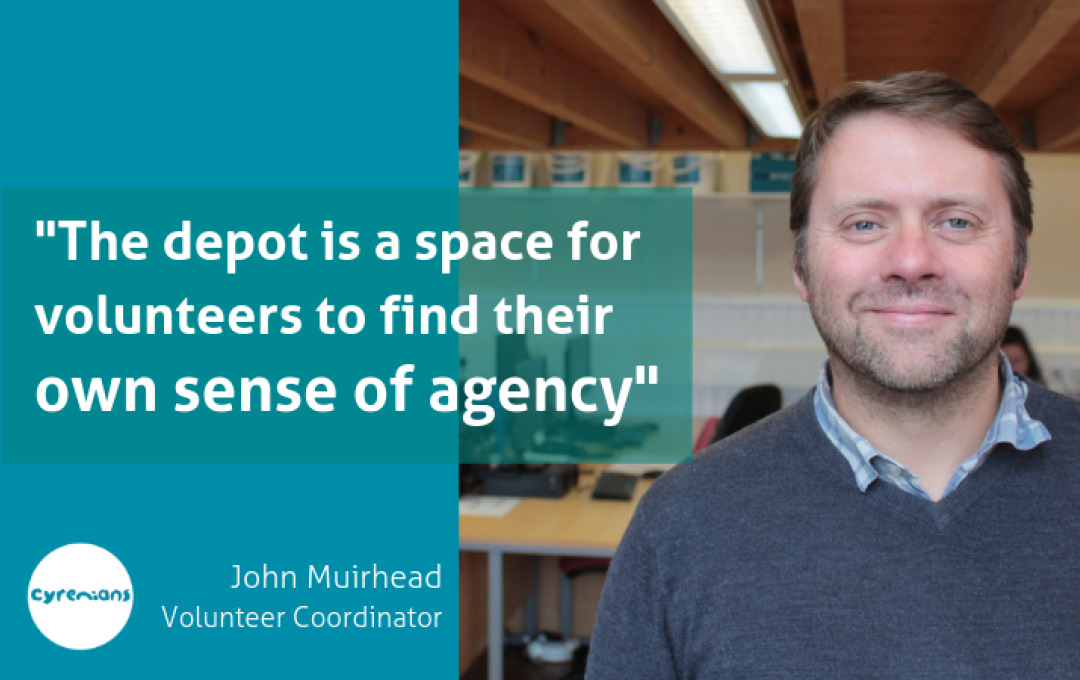 This week's guest blog is from John Muirhead, Volunteer Coordinator at our Cyrenians Fareshare Central and South East Depot. In our depot's twentieth year, we've set a target of delivering #1MilMeals. To talk about the impact of our work, we have frequently highlighted the sheer quantity of food we redistribute, and how much money Community Food Members save; for his blog, John considers the experience of our team of volunteers, and the positive impact increased space has had on daily life at the depot - an impact much harder to measure.
Recently I was asked to contribute to a funding report, to speak about how the funding has helped the volunteers. We had received funding from Asda - part of their 'Fight Hunger Create Change' programme - that allowed us to buy a new walk in fridge and freezer, and to create a new kitchen for the volunteers. It also allowed us to remove the old kitchen, freeing up space for storing more food.
Certainly all these changes simultaneously enabled operations to work more efficiently and we now redistribute many more tons of food. All good for redistributing food to those who need it the most! And all those extra tons of food, which become thousands of meals, is easy to quantify. However, I was asked to report on the impact to the volunteers. This is not so easy to quantify.
Then I began to wonder if we can define space in different ways. We now have more space for storage, but what about more space for the volunteers?
Here at the depot we have a policy that we consider our two working tables, which are at the heart of operations, as a place not to get underfoot. These are kind of protected spaces for volunteers to get on with their work. And being able to work without interruption frees up the volunteers to find that sense of achievement and, at the end of their shift, to satisfy the reason they came out of their homes to be with us for a few hours.
The depot is also a space for the volunteers to find their own sense of agency. When new volunteers come, I encourage them to spend their first few shifts in the depot, and leave going out in the vans to make delivers to our customers until later. The reason for that is going out in the vans can be seen as an easy option (although humping up to 900kg of food over 30+ heavy trays up and downstairs is not easy!). On the other hand, the depot can be a little intimidating at first. This can be especially true if you have spent the last few weeks and months of your life isolated, and lonely because of a lack of confidence. I do this with confidence in our community that there is a good space for new volunteers to fit in, feel they have something to contribute, and to find their own voice in what's important to them in coming to the depot and how they go about their work. In other words, their own agency.
However, I don't want to paint this space as all roses and sweetness. There are fall outs, and tears, and getting it wrong, and being hard on yourself, and complaints. But there is also a breathing space, to allow for reflection, and to say sorry, to learn, and to have a fresh start.
So, how do I quantify the better use of space the funding has enabled? Perhaps it's in the diligence in returning time and again for a shift, or the bank of hours each volunteer is building up, contributing to the 1200+ they all give each month. Or how about creating a measuring device for the broadness of smiles or the heartiness of laughter? Or what if we could measure the kind gestures they show to one another, and the impact this has on the each and every one of us? Or the robustness to come back for another shift when the last one wasn't so great?
All in all, we are grateful for what the funding has enabled, and it is great we can get more food to those who need it. And we are also grateful for a better space that is a small haven for our productive, diverse, and supportive volunteers to thrive in.
Find out more about our Fareshare depot here