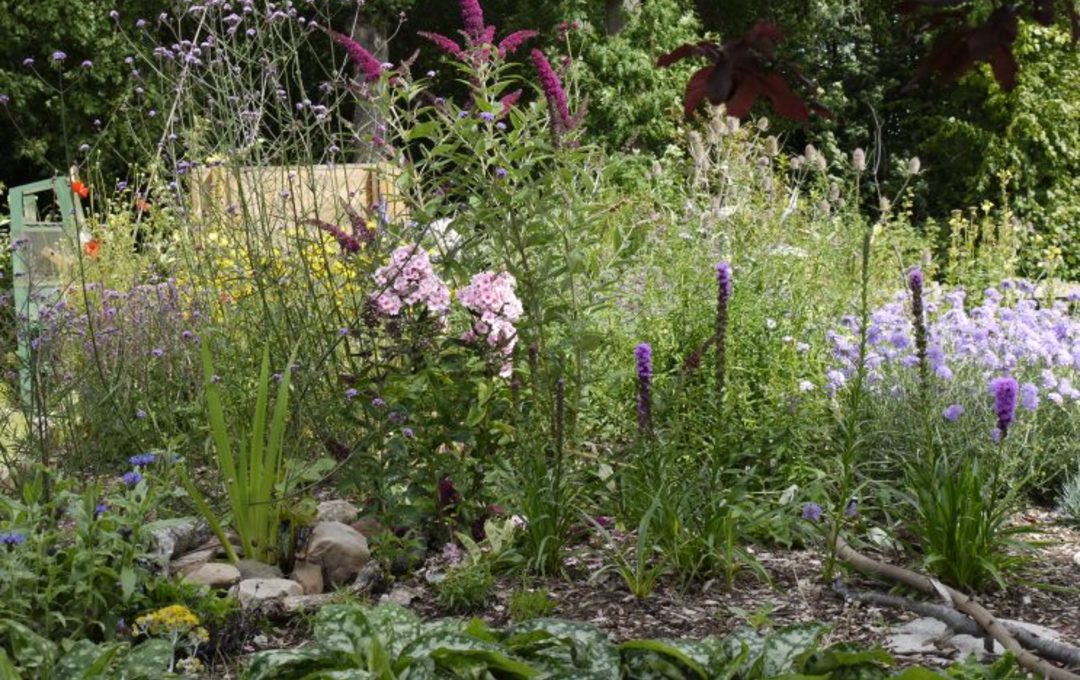 A year on from starting a big project at the Royal Edinburgh Community Gardens, volunteer Mairi writes on how the butterfly border has progressed, how it has helped her personally, and her hopes for the future.
On returning to the community gardens I was really pleased to see so much fresh growth on the plants that had been put in last year. Volunteers like myself were only just allowed to return a few weeks ago and on a limited rota. At the moment it seems that each week there is more and more colour and I know there is a lot more to come in late summer.
My biggest gardening interest is gardening for wildlife, and last year I started work on a Butterfly Border at the Royal Edinburgh Community Gardens (I wrote about this and my volunteer journey here). So have there been any butterflies? I am happy to say that yes there have been. There is an information poster to help visitors identify them - two weeks ago while I was working on the border a Small Tortoiseshell came to take nectar from the Nepeta (catmint). That was a special moment for me. If one has found our Butterfly Border, more will follow.
I want to say a little bit too about how this project has helped me personally and my hopes for it for the future. Part of the way through the project I had a difficult and very uncertain personal situation to deal with that challenged my mental health beyond coping abilities. The latter part of last year was not a great time for me and I spent a lot of time away from my volunteering. However, coming back to get on with the project was always on my mind, even though it often felt like a hopeless goal. Having something meaningful like that to focus the mind in the future is so incredibly important when going through a mental health struggle and the project did that for me.
Since then, just prior to lockdown, I received a new diagnosis of Asperger's Syndrome. I'm one of many women whose Autism Spectrum Disorder was missed as a child because of the different ways that females present and their ability to hide their stress. Some of them, like me, present with mental health problems as a teenager or young adult and even then it may continue to go unnoticed for a long time afterwards as problems are attributed to the mental health issue.
With a new diagnosis that helps me to make sense of my past I feel slightly more hopeful for my future and keen to build more on my strengths having returned to the garden after lockdown. A job still feels some way off, but in the meantime, in the Cyrenians Royal Edinburgh Community Garden, I'm in a perfect place to build on my strengths as Biodiversity Volunteer.
At this stage, the butterfly border is still in development. Of course, a garden is never truly "finished," but it is certainly now worth a visit, and any time from now until late autumn you might see some butterflies too. I'm still organising new plants and will be doing some rearrangement as I get a hold of plants that I know are more appealing to butterflies.
Patients and other volunteers have been involved in some of the earlier preparation and planting, but at this early stage of being back after lockdown I'm still getting my head round where the border is at after the period of absence, and how to plan for more involvement of others. It would undoubtedly make me feel very proud to see patients involved and if other volunteers and patients can enjoy it and benefit from it even a fraction as much as I do I would be very happy!
To find out more about our Community Gardens, click here