Happy Birthday All in for Change!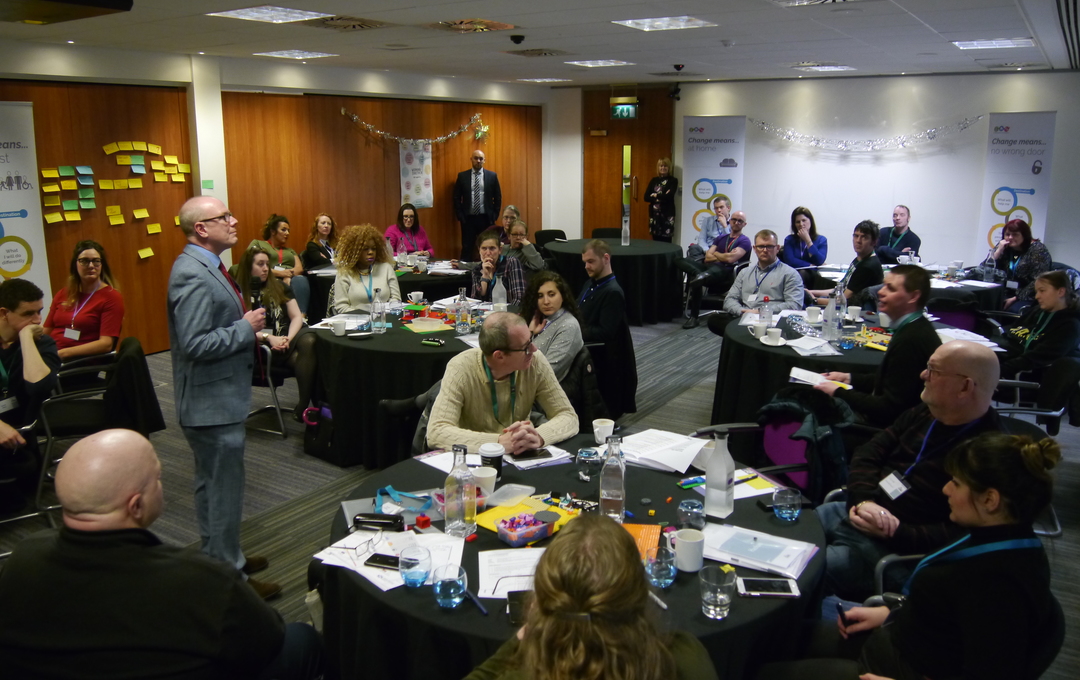 To mark the first birthday of All in for Change, Shelly Coyne, Policy and Participation Manager, and a facilitator for All in for Change, spoke with Derek Jaffray, a Change Lead from Aberdeen:
In 2019, the Scottish Government's Ending Homelessness Together Action Plan made a commitment to create The Change Team, a group of people with frontline and personal experience of homelessness, to support policy-makers to steer a programme of transformational change and report to the Scottish Government's Homeless Prevention and Strategy Group (HPSG) to inform new policy.
All in for Change is an inclusive umbrella under which a clear message and collaborative effort to end homelessness in Scotland can be driven. The programme is providing a vehicle for 'planning and policy' to plug into 'practice, place and lived experience' in a connected, informed but informal way.
This co-produced programme has navigated the pandemic, moving from in-person retreats to monthly zoom gatherings, and the wisdom and insights of the team have never been in such high demand.
Myself and Derek Jaffray, a Change Lead from Aberdeen, have had many deep conversations about life, dogs, homelessness and the future of Scotland this year. On this occasion, we spoke about his experience of the programme:
Derek, I wonder how you first heard about the All in for Change programme and why you wanted to get involved?
Well it was in 2019 and I was back in Scotland after 13 years abroad and saw a flyer for the Change Team at Aberdeen Cyrenians. I phoned up the number and chatted to someone at Homeless Network Scotland, who came up north to tell me all about the programme and what was involved and I met another Change Lead from Glasgow. And that was it, I wanted to be part of it. I felt I had really important experience to bring to the group and to the Scottish Government. I had been rough sleeping and in Belgium and homeless in Holland and it was only when I came back home to Scotland I was able to get the support I needed and move on with my life. I suppose I joined because I wanted my experience to help end homelessness here and if I can help just one person in Scotland move out of homelessness, then it'll be worth it.
Thanks, that's so interesting. So, tell me a bit about being in the Change Team.
Well it started with the launch in Edinburgh and to be honest I couldn't believe it when I was sent the train tickets and told I was going to be put up in a hotel and paid for my time and contribution. I felt a real sense of purpose. I see this as my job, I give it 1000% focus and I feel proud to be called a Change Lead and feel a buzz whenever I hear it. Particularly when I look at the change that has happened in my life in the last few years. I have had some great opportunities to influence those at the top. I had a 1-to-1 with Kevin Stewart the Housing Minister, I was a panel member for the Centre for Homelessness Impact Festival with a member of the Scottish Government and I contribute to all the discussion that make up the reports we send to the HPSG [Homeless Prevention Strategy Group].
You've mentioned some of the personal benefits you've felt too?
Yeah, definitely. It has helped my mental health and given me a sense of purpose, especially during lock down when my church and gym were closed. It's kept me going and been an important part of my recovery. I feel wiser, I think more clearly and it's helped my speech too. I like the retreats, the in-depth conversations and listening to other Change Leads.
Yeah, I think the retreats are my favourite part of it too. Well it's happy birthday to us, The Change Team is 1 years old!
The Change Team is facilitated by Cyrenians, Homeless Network Scotland and Scottish Community Development Centre.
The Frontline Network is providing additional funding over three years to Cyrenians; to provide staff capacity support and associated project costs to All in For Change. This is focusing on bringing together frontline staff working as Change Leads to work collaboratively. Cyrenians have been a Partner of the St Martin's Frontline Network since its launch in 2016, and facilitate the Scottish Frontline Network.
Remaining project funding is being provided by the Scottish Government.